World's Finest #34, DC Comics, May/June 1948.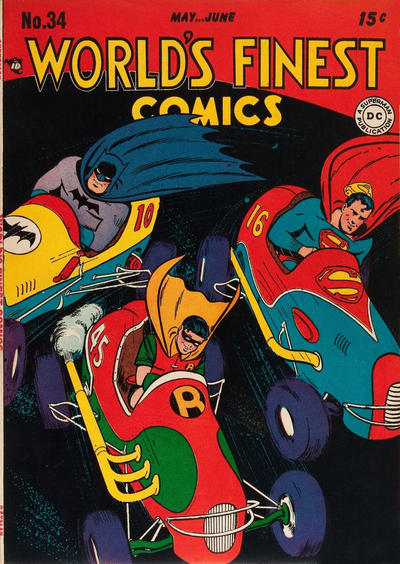 It was nice seeing one of my comic pals Warren up at the shop this past weekend. The man always has a positive outlook on things which is very refreshing. Warren asked when the next comic featuring the tried and true and practically fool proof Durajlija's Equation for Iconic Golden Age Covers (DEIGAC), was going to be featured on a Spotlight. I promised him I'd do one this week and attach a shout out.
I was narrowing down my candidates when I stumbled upon a cover that just hit me with an instant bolt of joy, I knew right away I was going to have to tweak the definition of DEIGAC to include this week's Undervalued Spotlight pick, World's Finest #34.
Who needs villains (a prerequisite in the old DEIGAC) when you have personalized hot rod co-carts!
I can't stop looking at this Win Mortimer cover, the heavy black margins around most of the book makes me pine for a higher grade copy and the splashes of strong primary colors across the cover make me shutter to think what it would feel like to hold a high gloss copy in my hands.
Yes this week's pick is pure cover bliss, a cover that for some reason has stayed well hidden, maybe because its buried in the ghastly run that is World's Finest?
Unfortunately there is little sales data on this book, In November 2017 a CGC 3.0 sold for $110 while a year earlier a CGC 5.5 sold for $235. Both sales were well into the resurgent Golden Age market so I can tell these sales amounts were not cover driven. Gah!, were was I in 2013 when the highest graded copy, a CGC 9.4, sold for $1,673.
Cover driven demand has been raging the last couple of years and will continue to be a significant driver of value. Classic covers and high demand covers are by no means set in stone and there are certainly still many future "must have" covers still out there hiding in the 31-40 Overstreet price groupings.
This is a cover you find at conventions like the New York Comic Con or Baltimore Comic Con, hit those old time dealers and dig into their Golden Age bins, odds are they'll be itching to get rid of late 1940s World's Finest comics.
The 48th Overstreet price breaks for this book are $659/$1130/$1600 in the 8.0/9.0/9.2 grade splits.
Strengths that make this comic a good long-term investment are:
Fantastic Win Mortimer cover, the type that can quickly become highly prized.