X-Men #35, Marvel Comics, August 1967.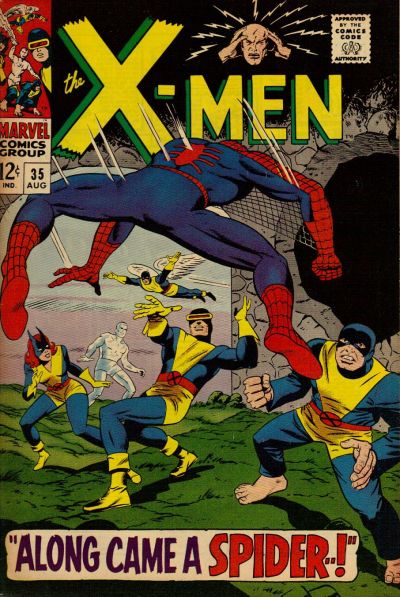 I was reading something about Warren Buffet and the way he bought stocks, it was all about finding quality and value. I thought I'd try Mr. Buffet's technique to see if I can weed out some Undervalued comics, and I did. One good example is this week's Undervalued Spotlight, X-Men #35.
X-Men #35 is one of the easiest comic books sell, instantly recognizable with the famous Dan Adkins cover depicting Spidey unexpectedly dropping in on the X-Men. It satisfies so many collecting strains because it delivers on so many levels. X-Men collectors, Spider-Man cross-over collectors, cover collectors, first appearance collectors, black cover collectors (getting a copy that has no stresses along the top has always been tough).
X-Men #35 offers up the first appearance of the Changeling. The Changeling dies several issues later in X-Men #42 but as we all know nothing stays dead in comics, the Marvel character Morph is a second incarnation.
Warren Buffet would approve because X-Men #35 delivers that quiet under the radar value that makes it a good addition to the portfolios – I mean – collection.
The comic book marketplace seems to be retreating a bit as I write this, especially high profile keys that have enjoyed steep price increases over the past several years. I think books like X-Men #35 are great safe alternatives to those now volatile key issues.
Recently a CGC 9.4 sold for $800, down from a $1,000 prior sale, a recent CGC 8.0 sold for $192 again well down from a recent prior sale. I wouldn't worry too much about timing out the trough perfectly because you can't, just take advantage of these softer prices and nab yourself a nice tight copy with high gloss and a crisp look to it.
The 48th Overstreet price breaks for this book are $168/$372/$575 in the 8.0/9.0/9.2 grade splits.
Strengths that make this comic a good long-term investment are:
Great Dan Adkins cover that is coveted and instantly recognizable.
First appearance of The Changeling
X-Men #35 covers a lot of collecting strains