Marvel Holiday Special #1, Marvel Comics, 1991.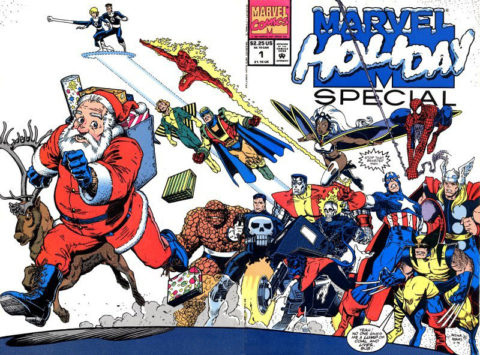 Merry Christmas.
The relationship between Christmas and American comic books goes beyond everything, the day is so entwined in the medium, so celebrated over the history of comics that it's hardly important noting that many of the creators of these special comic editions were not even observers of the day, nor were/are a portion of the people consuming the books. Of course, these comics are specifically designed for those that celebrate Christmas on December 25th, the rest of us though don't seem to mind jumping on for the ride.
My favourite part about this time of year is the general goodwill people have towards each other, all we need to do is figure out a way to carry this feeling over into the rest of the year. At any rate, the Christmas post lets me goof off a bit and pick books that are more fun to have than anything else, there will be no retirement portfolio advice today just advice on the joy of owning a Christmas themed comic book.
For Christmas 2019 the Undervalued Spotlight shines on Marvel Holiday Special #1.
Marvel Holiday Special #1 features a great Art Adams wraparound cover that has Santa running away from all the Marvel heroes! What gives?
Marvel Holiday Special #1 is also the first issue of Marvel's annual Christmas Specials. The issue is an 84 page giant with tons of fun Christmas themed stories from X-Men, Fantastic Four, Punisher, Thor, Captain America, Ghost Rider, Spider-Man and more. You certainly got your money's worth with this one back in the day.
There are no recorded CGC sales for Marvel Holiday Special #1 but you should be able to find it in the bargain bins. My advice is to grade one at CGC 9.8 and be the first to market with it, I'm betting it fetches $100.
Make sure your copy is tight, crisp and square to the corners!
The 48th Overstreet price breaks for this book is $4 in the 9.2-grade split.
Strengths that make this comic a good long-term investment are:
First in the series of Marvel Holiday Specials
Great Art Adams wraparound cover
Cheaper than cheap