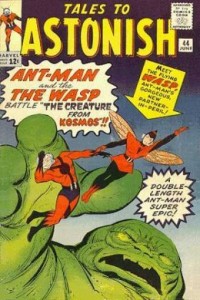 Tales to Astonish #44, Marvel Comics, June 1963
Early Marvel Keys are one of the most collected group of comic books in the hobby. A hobby wide consensus regarding a book's status as a legitimate Marvel key is enough to send it's value way up. The Tales to Astonish title had already given us Hank Pym, the Ant-Man a year and a half earlier. In Tales to Astonish issue #44 Janet van Dyne becomes the Wasp. Pym and van Dyne eventually become partners and later marry (Avengers #60 Stan). The Wasp joins the original Avengers team (Avengers #1, 9/63). She would end up leaving and coming back to the Avengers several times. The Wasp's longest Avengers run begins with issue #137 (she eventually becomes Avengers chairman in issue #217). It was in this run that the Wasp divorced Hank Pym after violently slapped abused and struck her. Domestic violence was groundbreaking subject matter for superhero comics in the late 70s and early 80s and the Wasp was at the very forefront.
The Wasp dies in the Secret Invasion mini-series (mercy killing by good ole Thor). Good things superheroes never truly die. A Wasp cameo in the upcoming Avengers movie is too exciting even to think about!
The Overstreet Price Guide shows $400/$775/$1150 as the splits at the 8.0/9.0/9.2 grades.
Strengths that make this comic book a good long term investment are:
– Considered one of the early Marvel keys
– Early Marvel creation by Stan Lee and Jack Kirby
– Character pre-dates Doc Strange, X-men and Daredevil
– Involved in ground breaking (for the superhero genre) domestic violence storyline
– A founding member of the Avengers
– Pick this up anywhere near guide for copies graded 8.0 and nicer
Walter Durajlija is an Overstreet Advisor and Shuster Award winner. He owns Big B Comics in Hamilton, Ontario, Canada