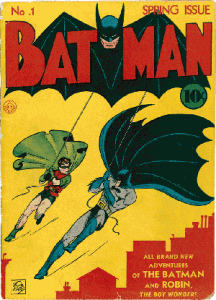 Batman #1, DC Comics, Spring 1940
For me Batman #1 delivers a lot. The comic outperforms two other notable title launches in several ways. A quick look at the credentials of Batman #1 vs. those of Superman #1 and Amazing Spider-Man #1 highlights just how important the first issue of Bats is. Pick up a copy of the Overstreet Price Guide and read up on the above issues, I'm sure you'll agree that Batman #1 brings the most to the table. The Joker's first appearance will trump J.J. Jameson any day. The first female villain in comics is nothing to sneeze at either. The introduction of the Cat, later called Catwoman, is historically more significant than the intro of the Joker. The Joker though, is probably the most famous villain in all of comics. Batman #1 is also the launch of Batman's flagship title and is easily one of the most collected titles in all of comics.
Batman's guide value at the 9.2 grade seems too low relative to the comic book where Batman made his first appearance. Batman #1 represents 23.8% of the Detective Comics #27 value at the 9.2 grade ($1,050,000). Superman #1 ($500,000) holds 41.7% of the value of Action Comics #1 ($1,200,000) while Amazing Spider-Man #1 ($50,000) represents 50% of the value of Amazing Fantasy #15 ($100,000). Given Batman #1's stronger credentials relative to Superman and Amazing Spider-Man I would argue that its value relative to Detective #27 should be higher.
The Overstreet Price Guide shows $85,000/$167,500/$250,000 as the splits at the 8.0/9.0/9.2 grades.
Strengths that make this comic book a good long term investment are:
– 1st appearance The Joker
– 1st appearance The Cat (Catwoman) – 1st villainess in comics
– Launches Batman's flagship title, still going strong at 700+ issues
– Undervalued relative to its parent book Detective #27
Walter Durajlija is an Overstreet Advisor and Shuster Award winner. He owns Big B Comics in Hamilton, Ontario, Canada