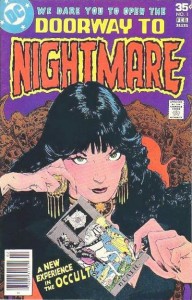 Doorway to Nightmare #1,  DC Comics, February 1978
Nimue Inwudu is one very cool character!
Inspired by the Sorceress Nimue of the Camelot legend the immortal Madame Xanadu reads Tarot cards, tells fortunes and delves into all things mystic and supernatural. She picked up the Madame Xanadu handle while in the service of the great Khan of Xanadu.
Very sexual in nature she's had many affairs over the eons, both lesbian and straight and she's factored into the development of DC characters as diverse as Zatanna, the Phantom Stranger and the Spectre.
Madame Xanadu first appeared in Doorway to Nightmare #1, (2/78). Artist Val Mayerik and writer David Michelinie developed the character based on Mike Kaluta's expansions of the premise of the unnamed host character from DC's Forbidden Tales of Dark Mansion.
Doorway to Nightmare was the last of the DC Mystery titles in the 1970s that included Dark Mansion of Forbidden Love, Tales of Ghost Castle, the aforementioned Forbidden Tales of Dark Mansion and several others. This mini genre of DC Comics Mystery/Supernatural books is highly collectible and can trace its origins back to the late 1960s when House of Secrets (#74) and House of Mystery (#181) changed to the Mystery format. Some view this Mystery line of DC's as the seed for the future DC Vertigo line.
The 40th edition of the Overstreet Price Guide shows $18 at the 9.2 grade.
Strengths that make this comic book a good long-term investment are:
Mike Kaluta cover art (and a Mike Kaluta creation)
$18 for a high grade copy? Very low price for a high-end copy means there is a lot of room left for this book to go up
DC's from the late 1970s are getting tougher and tougher to find (except for Kamandis , they're everywhere)
This Lady's been around, she once beat Satan at a game of cards (winning back her immortality)
Part of the very collectible DC Mystery group of titles that were so popular in the 1970s