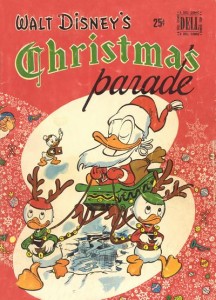 Dell Giant Christmas Parade #1, Dell Publishing, November 1949
In late 1949 Dell had this great idea of throwing together a truly giant Christmas themed book of comics. Christmas Parade #1 was a whopping 132 pages thick and featured a great 25 page Donald Duck Christmas story by the one and only Carl Barks. Other popular Disney characters like Mickey Mouse, Dumbo, Cinderella and Bambi also make appearances in Christmas Parade #1.
Even at 25 cents the book was an instant success and it led to a solid 10 plus year run of not always related comics that are now collectively known as the Dell Giants. This then makes Christmas Parade #1 the very first Dell Giant! These Dell Giants are very, very collectible comic books, especially in higher grades.
The Dell Giant series produced some other memorable comics namely Vacation Parade #1 from 1950 and the colossal 212 page Peter Pan Treasure Chest from 1953. Christmas Parade #1 is the third most expensive Dell Giant behind the two just mentioned.
Because of the heavier and thus less forgiving paper stock needed for the covers of Dell Giants high grade copies are far and few between.
The 40th edition of the Overstreet Price Guide shows $504/$877/$1250 as the splits at the 8.0/9.0/9.2 grades.
Strengths that make this comic book a good long-term investment are:
1st of a successful format
25 pages of Donald Duck by the master Carl Barks
High grade copies are extremely rare
The most collected of the Christmas themed comic books