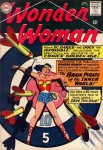 Wonder Woman #156, DC Comics, August 1965
Wonder Woman comics from this era have always sold for well above guide. I'd say the run from #105 right through the Jones #200 more often than not trades over guide, especially in the higher grades.
This Undervalued Spotlight focuses on #156. In this issue we actually have a mention of a comic book store and of comic book collecting as a hobby. There is mention of old DCs selling for $100.00. This was 1965, 5 years before the first price guide and 5 years before the 1st San Diego Comic Con.
The Dream Merchant Book Store offered old comic books from the "Golden Age" of comics at quite the mark up from the original 10 cent cover. Was the guy crazy, was he evil or was he simply a commerce visionary?  I like the part where it mentions the titles getting big money, not a Timely to be had.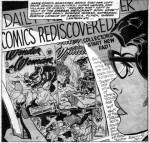 This is a great little gem to own. It's obviously tapped into the very early pulse of a thing that would grow into a monster and that alone makes it worth having.
The 40th edition of the Overstreet Price Guide shows $63/$107/$150 as the splits at the 8.0/9.0/9.2 grades.
Strengths that make this comic book a good long-term investment are:
The Dream Merchant Book Store selling old comic books for $100
Important historical context for comic book collectors
Wonder Woman issue in that tough #105 to #200 range
High grade copies are extremely rare – only 1 9.4 on the CGC Census as of this post