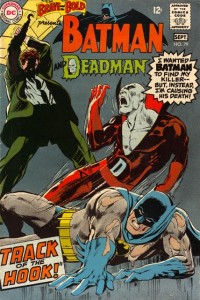 Brave and the Bold #79, DC Comics, August/September 1968
Neal Adams knew something was wrong with Batman even during the absolute height of the character's popularity. In a panel at the 2010 San Diego Comic Con (with excerpts reprinted in a recent Back Issue Magazine) Adams recalled his frustrations with the campy schlock that was Batman in 1968. Adams fondly remembered a darker more dangerous Batman "usually he's out at night, usually he's doing some terrible things and he scares people. This guy (TV Batman) was telling jokes"
There was no denying the success the campy Batman was enjoying though. In the late 1960s the hugely popular Batman TV show was spilling over into record monthly comic sales. DC Editor Julius Schwartz couldn't have been happier.
Neal Adams actually approached Mr. Schwartz a few times basically confronting his boss on what Batman had turned into. "Well, its selling comics" was the reply Adams got. Schwartz would not let Adams onto the Batman of Detective titles, if it ain't broke, don't fix it.
Thankfully Neal Adams is a persistent guy and with Schwatz's permission he approached Brave and Bold (Brave and Bold was a Batman team up book at the time) editor Murray Boltinoff asking to draw a Brave and Bold story. Boltinoff asked Adams if he was going to change the stories. Adams replied "No, I'm not going to change a word. I just want to put them at night. And I'd like (Batman) rather than to walk through a door, come in through a window."
As simple as that. Neal Adams had just set the taking back of Batman in motion.
A few months later, after Adams had done about 3 issues of Batman in Brave and the Bold Julius Schwatz stopped Adams in the halls of DC and asked "Why are all these letters saying the only Batman at DC Comics is in Brave and Bold?"
Actual letter I dug out of Brave and Bold #82
Brave and the Bold #79 represents one of those pivotal moments in comic book history, certainly a pivotal moment in the history of Batman. It was a moment that started a movement with other great moments (one of which I have lined up for a future Undervalued Spotlight) and this movement back to a darker Batman eventually led to the publishing of the greatest Batman stories ever told!
Brave and the Bold #79 boasts a penciled and inked cover by Neal Adams. The 23 page story is scripted by Bob Haney, pencils and inks are by Adams.
The 41st edition of the Overstreet Price Guide shows $65/$113/$160 as the splits at the 8.0/9.0/9.2 grades.
Strengths that make this comic book a good long-term investment are:
1st Neal Adams work on Batman
A turning point issue, quietly but unmistakably  changing the direction of the character
Early Deadman appearance