I was first issued during the late Golden Age, more specifically, during the Atom Age of comic books. Those of you of similar vintage as well as those of you who were first issued during the Silver age or even the early Bronze Age will remember that those arcane vinyl artifacts called 45s had an "A" (or plug) side that was supposed to be the hit and a "B" (or flip) side that was supposed to be the filler or lesser backing song. I've still got about a thousand of these sitting in my basement next to my long boxes (I won't even mention the couple of thousand LPs sitting on shelves down there that are what got me through high school and university in the sixties and early seventies.)

On occasion these B-sides became hits in themselves and sometimes even outshone their original A-sides in popularity.  I can think of "Gloria" which was the B-side of Van Morrison's Them single of "Baby Please Don't Go" (1964), The Beatles' "I am the Walrus" which was the flip of "Hello, Goodbye" (1967) and "We Will Rock You" B-side of Queen's "We are the Champions" (1977).
In the same vein, I think that there are a few WECA book back covers that merit attention and offer lots of historical information to mine and I wanted to share some of them with you.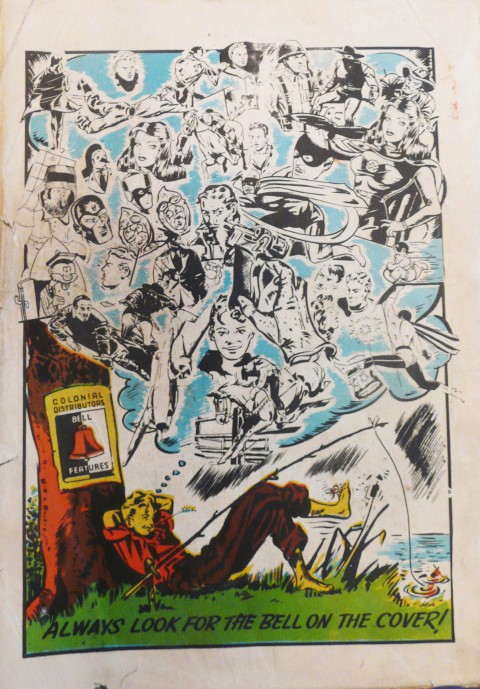 For me the best of them all is the back cover of the 1943 giant compilation of remaindered Bell Features books called Colossal Comics (see picture at the top of this page). This looks to me like a paste-up collage of actual figures from the original panels.  Gerry Lazare's version of The Wing is there twice but surprisingly, Nelvana seems to be missing, unless that's her with her back to us in the uppermost left-hand corner. If I'm wrong and this is a one piece original drawing, this would be best pieces of original Bell Features art to have. How many names of the characters in this collage can you come up with?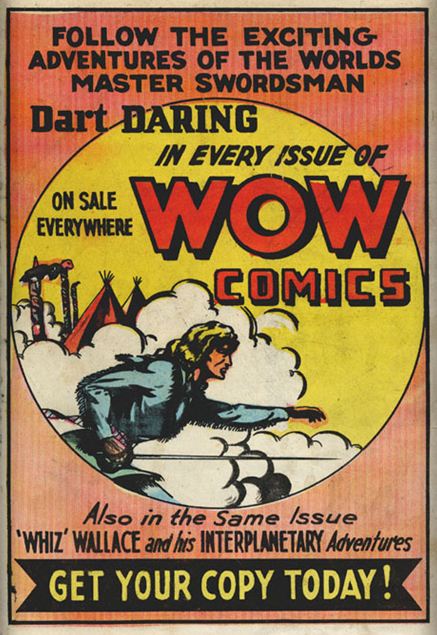 Dime Comics Vol. 1 No. 1 has a great back cover featuring the feature character from early issues of Wow Comics and  the back cover of Wow Comics Vol. 1 No. 5 shows us the three Bell titles that existed at the time of its issue.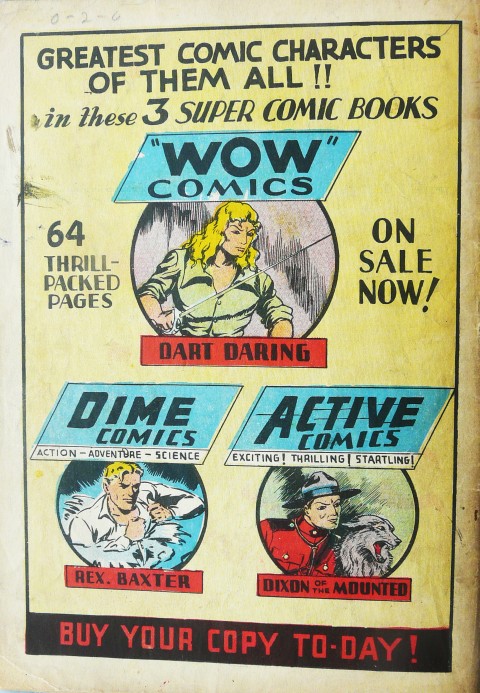 Some Bell book back covers from 1945 gave us information about the six bigger size compilation reprints that the company put out that year.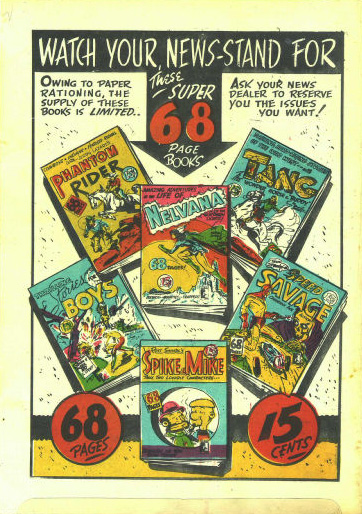 Some Bell book back covers from 1946 showed us what titles and directions Bell came up with trying to stay afloat in that final floundering WECA year. I've never come across an issue of Capt. Wonder or The Dreamer Comics.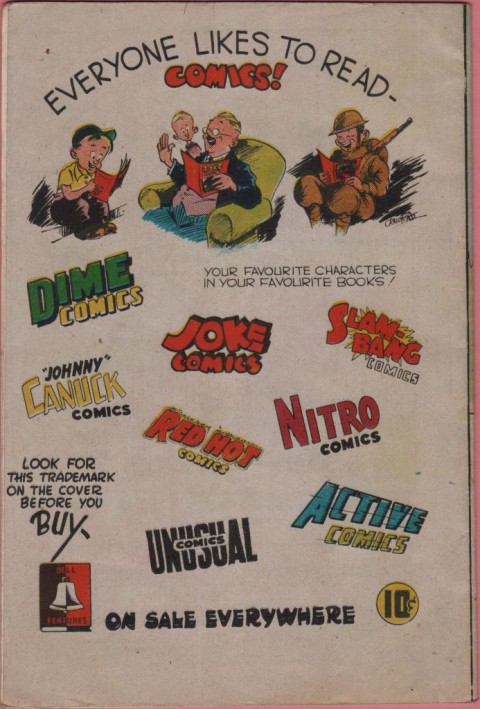 Other back covers such as that of Freelance Comics No. 1 also featured their own brand characters grouped appropriately under the three other existing Anglo-American title mastheads.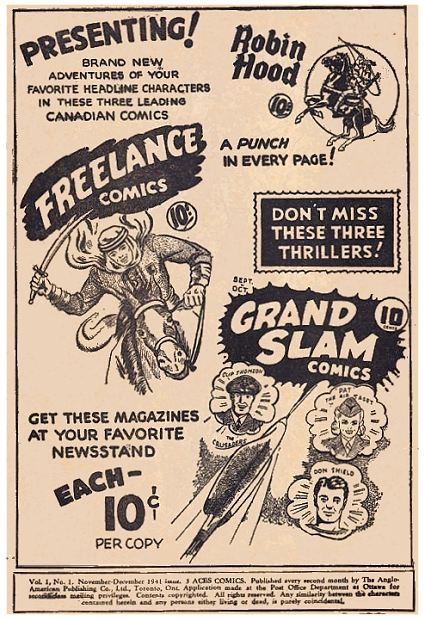 A year later in Robin Hood Comics Vol. 1 No. 11 you can see the changes that had taken place and by the very next issue we can see what has taken over (notice the misspelling of the magical empowering word at the top… simple error or intentional?)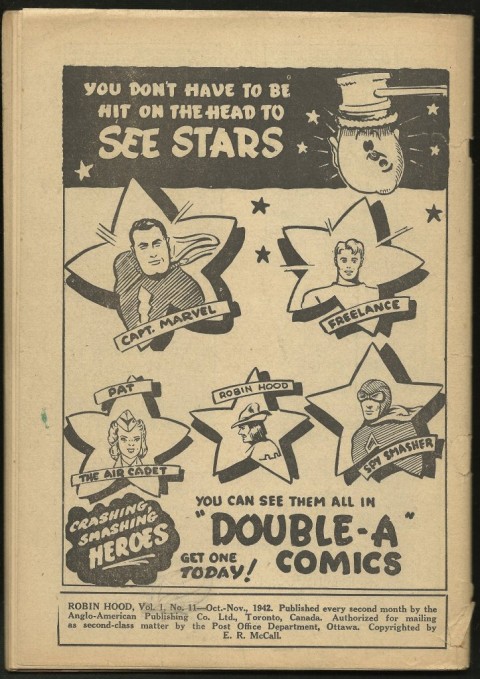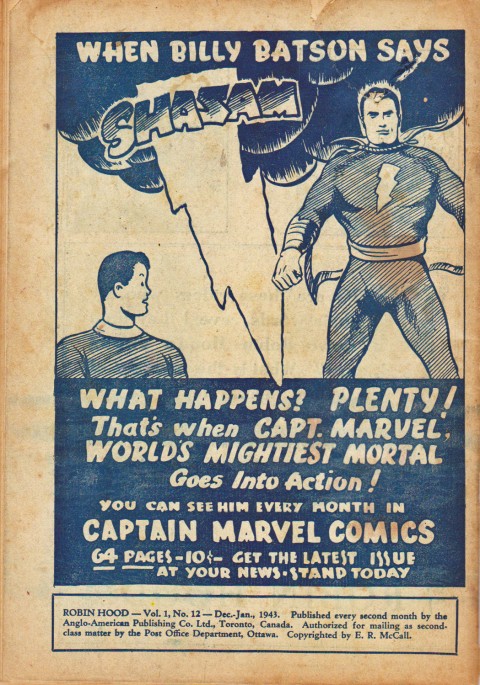 Educational Projects in Montreal promoted its Classics Illustrated type of comic called Famous Authors Illustrated one shot on the back cover of Canadian Heroes Vol. 1 No. 3.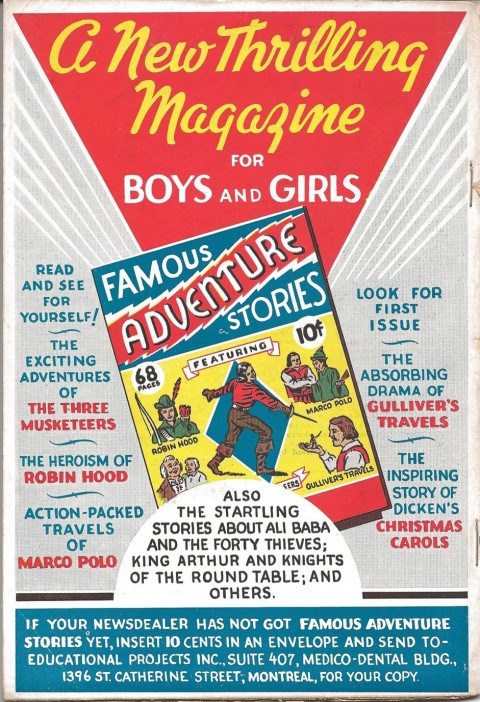 Back covers of later issues such as Canadian Heroes Vol. 3 No. 6 and Vol. 4 No. 5  displayed some of their other related product (which probably featured work from their main comic artists as well).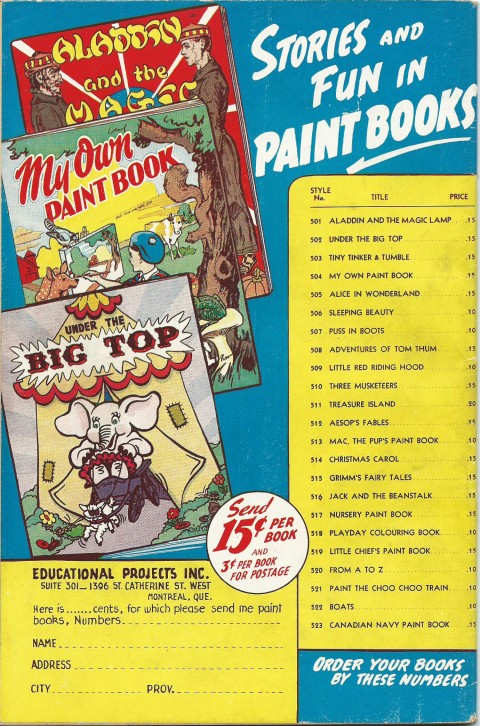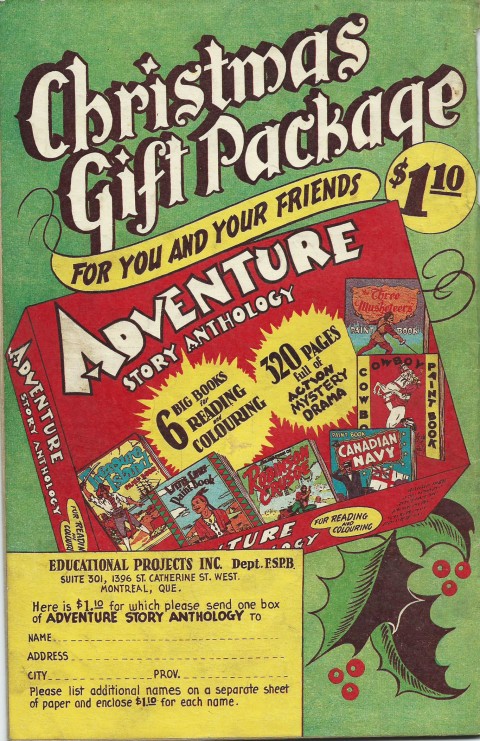 Maple Leaf Publications out in Vancouver also did a good job of promoting its own product on its back covers as with Bing Bang Comics Vol.  1 No. 5, where we see the line-up for Lucky Comics and Better Comics Vol. 3 No. 6 where we find the mid-run line-up for Rocket Comics.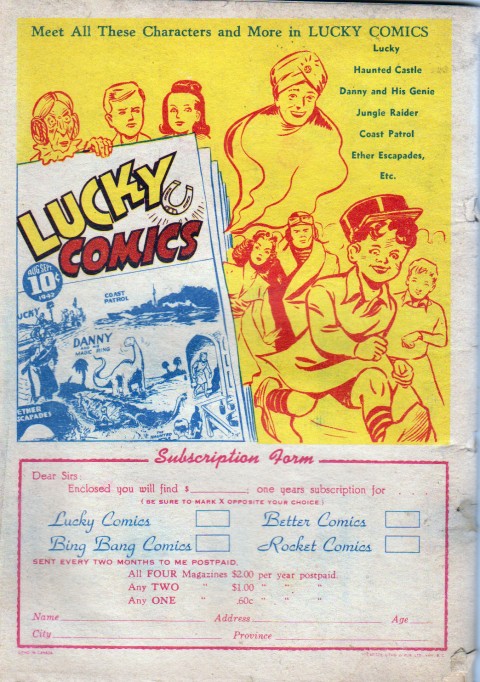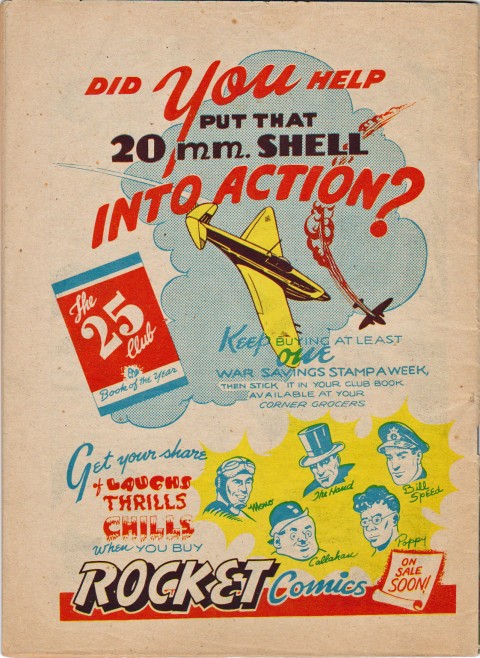 The later Maple Leaf back covers were probably some of the best that the WECA books had to offer and in 1945 and featured full page, poster-like drawings of their central characters. You'll notice on some of these that in 1945 Maple Leaf Publishers acquired a new script-like logo. Better Comics Vol. 6 No. 1 displays both of these elements.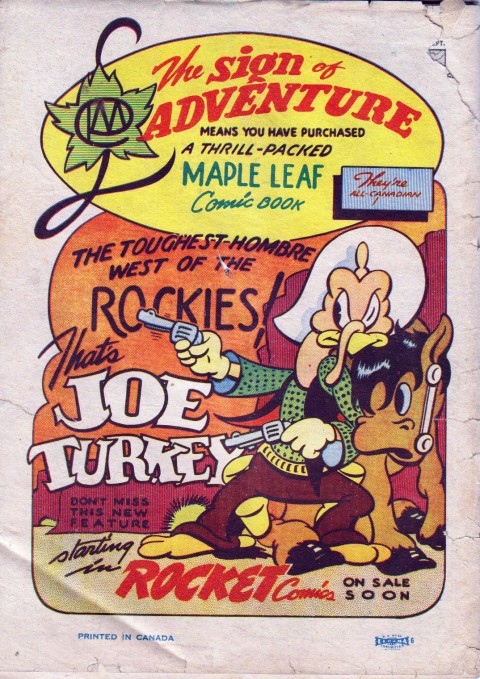 A few months later in the full-colour, last issue of the title, Better Comics Vol. 7 No. 4 gave us the potential of a new feature, "Gunsmoke Terror" which would never materialize (I hope that the artwork exists somewhere).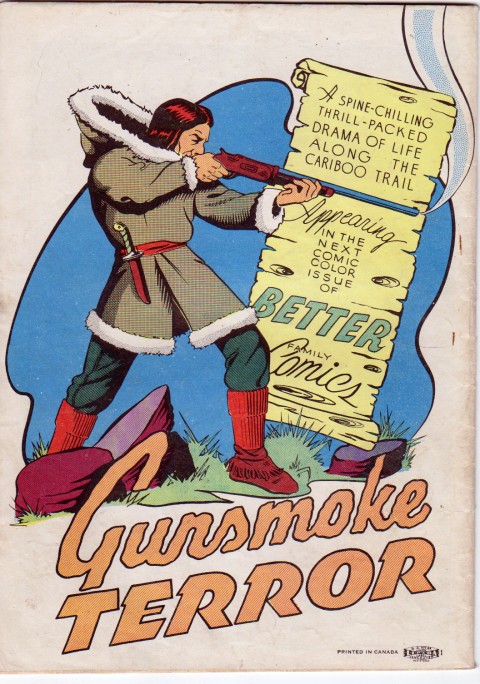 Bing Bang Comics Vol. 5 No. 1 gave us a great Jon Stables back cover that featured Canada's version of Alley Oop, Piltdown Pete.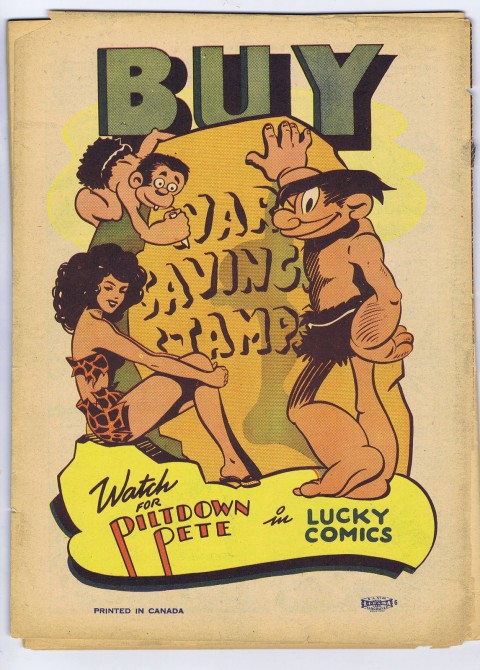 Perhaps my favourite WECA back cover has to be Lucky Comics Vol. 5 No. 4 which could easily have been a poster for a forties Brok Windsor movie. Who the heck is The Ghost's Granddaughter and who doesn't want to know more about her?!?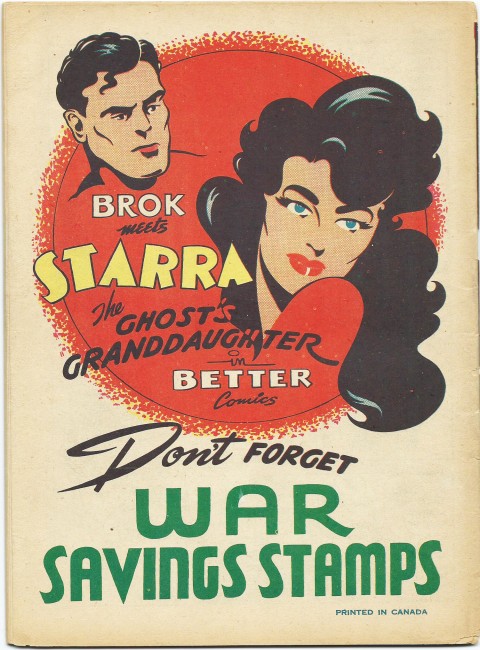 I guess my point here is that WECA back covers often weren't just relegated material such as subscription ads, ads for toys and other send away items, or for quick art courses, they were often works of art in themselves and completed these books. Look out for them.