Beginning with the November 2013 issue Marvel Previews will be free for all in its digital form. Since it's a catalog that only makes sense, but Diamond has been charging all of us for years to see what's coming out soon by way its Diamond Previews magazine. A few years ago Marvel left Diamond Previews and began publishing its own glossy catalog but continued the practice of charging for it, which will still be the case for the print format. Here's the press release sent to retailers this morning.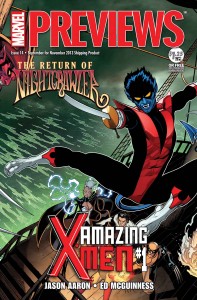 Want to see all the exciting upcoming comics, collections and more from Marvel in one place?  Now it's easier than ever before! Marvel is proud to announce that starting on November 6, 2013, the popular Marvel Previews catalog will be available digitally for FREE with the purchase of any Marvel print comic that contains a digital comic redemption code! The Marvel Previews catalog will also be available in the FREE section of the  Marvel Comics app for iOS and Android devices.
Marvel Previews is a monthly 96-page, full color guide to all of Marvel Comics and is your best source for upcoming comics, storylines, collected editions, special inside looks at series and more! The printed edition of Marvel Previews will also continue to be shipped monthly to retailers.
Starting with print comics on-sale November 6th, you will receive a FREE digital copy of the Marvel Previews catalog when you redeem any digital comic redemption code on Marvel.com. Don't have a digital redemption code? Don't worry – you'll find your FREE digital copy of the Marvel Previews catalog in the FREE section of the Marvel Comics app as well!
"The goal is to aid comic shops, retailers and fans." says Marvel's SVP of Publishing David Gabriel. "By putting information about new print products and collected editions in the hands of our growing digital customer base, we can inform those customers about the great Marvel products available at their local retailers!"
The Marvel Previews catalog will still be offered in print, three months prior to the on-sale dates listed in the catalog. Marvel Previews will not transition to a free download until the month its contents are on sale. Retailers can still enjoy selling the catalog to customers within the usual window.
Why they're bothering to hype the free copy available to Marvel.com uses if they redeem a digital code is beyond me, since in the next breath they indicate it's free anyway in their other platforms. Here's hoping the print edition includes a free digital copy. The final paragraph outlines the gotcha: the free digital Marvel Previews will only be available the month the books are released. If they're doing that it would make sense to put links on every book going to the Marvel store so they can score immediate digital sales.
It would be wonderful for the other publishers to offer their Diamond Previews section available for free on their digital platforms, since DC, Image, Dark Horse, IDW and a bunch of others design and submit their catalog sections for publication. Diamond is standing firm at charging for the digital and print editions of Diamond Previews, and you have to pay for the digital even if you buy the print edition. Many retailers offer a free copy to their subscription customers, but in the end someone is paying for a catalog of things for sale…that they'll buy when it comes out. Genius on Diamond's part, really, and it would make no sense for them to cut off a revenue stream. Let's hope the other publishers follow Marvel and offer their catalogs digitally for free.