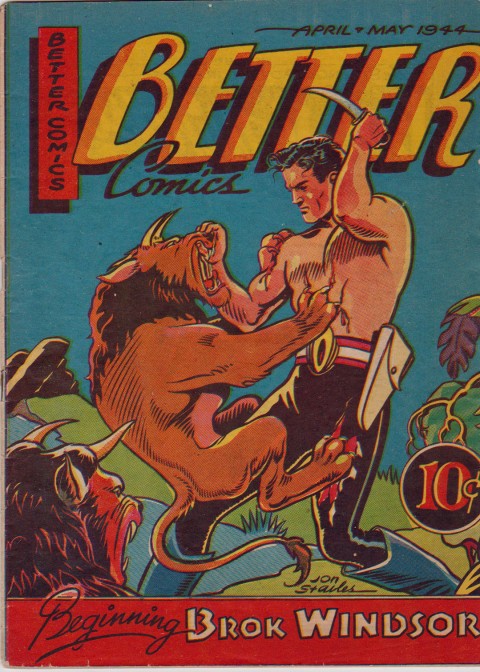 John Stables (most often signing his work Jon St. Ables) has always been amongst the most appreciated of the WECA artists and his name is consistently placed at the head of lists of those artists best representative of the excellent, professional quality of Canadian war-time comic art whenever the artistic output of the Canadian Whites is brought into question. He was inducted into the Shuster Hall of Fame in 2006 and the write up with the induction by Robert Pincombe and Peter Hansen supplies you with the necessary details of his life and career.
He was one of a number of WECA artists not born in Canada. His global journey took him from Lancashire, England where he was born in Ulverston just a couple of days before Christmas in 1912 to Winnipeg, Manitoba when he was six where he eventually became competent in the field of commercial art. By the time he was 17 he was already a working "show card writer" which was the fundamental "first step" in becoming a professional sign writer (a job that the legendary folk singer Woody Guthrie had as well). The show card writer had the skill to create precision sign lettering before the existence of computer generated fonts.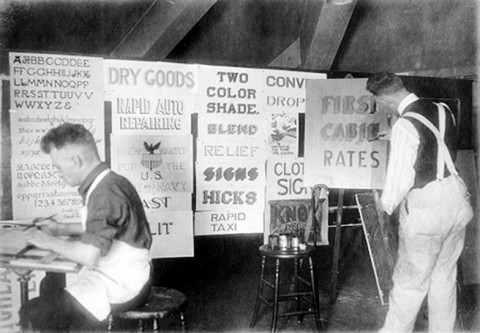 The onset of the war took him to Victoria, B.C. where he applied his art skills to the war effort and where he married his wife Esther Anne on May 15, 1942. He seems to have begun doing work for Maple Leaf Publications in Vancouver early in 1944 with his Brok Windsor strip for Better Comics and his Piltdown Pete strip for Lucky Comics. Towards the end of the summer in 1949 he moved with his family to Seattle seeking permanent residence in the U. S. and job opportunities with Walt Disney and Boeing and even became a naturalized American citizen in 1958. Stables never had a middle name but, on the occasion of his naturalization as an American, he found that he could make a name change and he chose the middle name "Brock," in tribute to his flagship Maple Leaf character. He had already given this middle name to his second, American born son, Thomas. John Stables died in Seattle just a couple of minutes before the dawn of the new century on Dec. 31, 1999.
The feature I want to talk about in this post is Stables' "Bill Speed."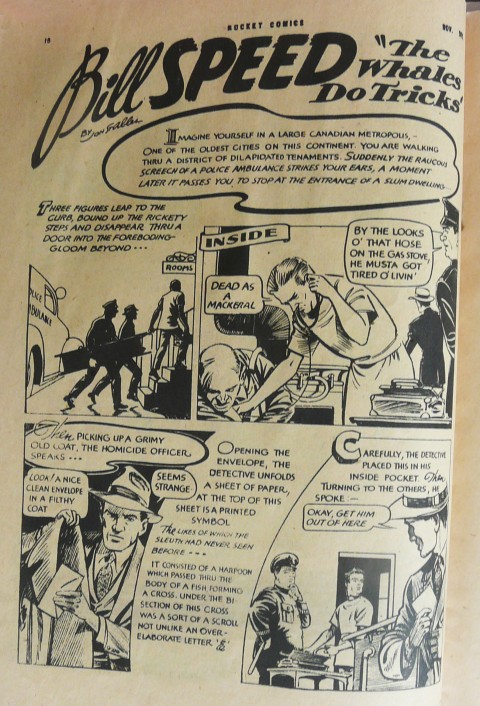 Lt. Commander William Speed was based in Naval Headquarters in Ottawa in what seemed to be some sort of intelligence branch that investigated home front crimes with a naval connection during the war. Bill Speed had a definitive profile with an almost Dick Tracy roman nose. He smoked a pipe and tackled crime solving in his naval uniform. After the war he became a civilian crime fighter and adventurer.
In later issues of Rocket Comics Shirley ("Ley") Fortune would join forces with Stables, probably inking his pencils, and they would combine their names to sign as the artist "Stabfortson."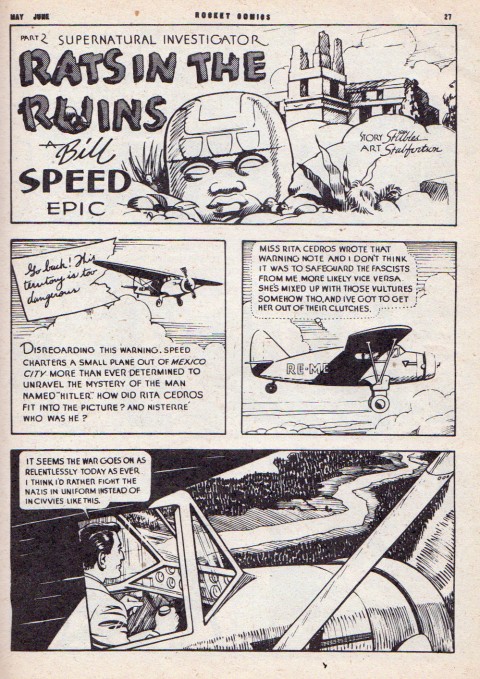 What I want to look at in this post is the short syndication in 1946 of one of his other strips called "Bill Speed" from Rocket Comics. You can see John Stables working on an installment of the syndicated "Bill Speed" strip in the photo on page  of John Bell's last book, Invaders from the North (Dundurn Press, 1996).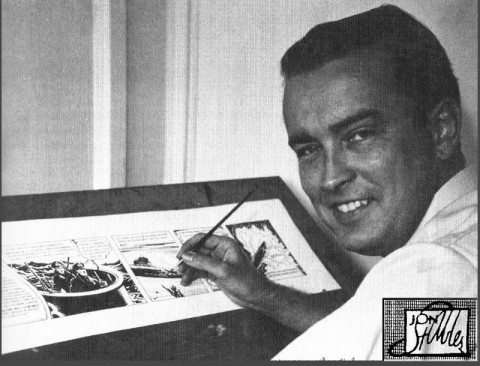 Bell guesses that this photo might be from around 1947 but more properly it is from the summer of 1946, just around the time that his first son Jon was born (June 26, 1946). Here is that installment as it appeared in The Coast News weekly on August 16, 1946.

Peter Hansen, Maple Leaf and John Stables researcher, informs me that this local paper serviced the Sunshine Coast in Vancouver and he estimates that it had a circulation of about 2500.
I can find the strip appearing a dozen times in The Coast News on Fridays in the following issues from 1946: August 2, 16, and 23; September 6, 13, 20, and 23; October 4, 11, 18, and 25; and one final time on December 6. Here are some examples: click image to enlarge.


It's a shame these are all that seem to have been published but perhaps some others or even some unpublished examples will eventually be uncovered.
In 1945, Stables also put out a few colouring books that came out of the Maple Leaf Publishing Homer St. address in Vancouver. The Globe and Mail even published a reference to one on p. 19 of its May 26, 1945.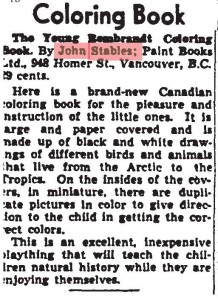 Whites enthusiast and detective Jim Brigham has brought to my attention the fact that John Stables did the cover for the 1948 Pacific National Exhibition programme. This was just a year before he and his family left for Seattle and the states.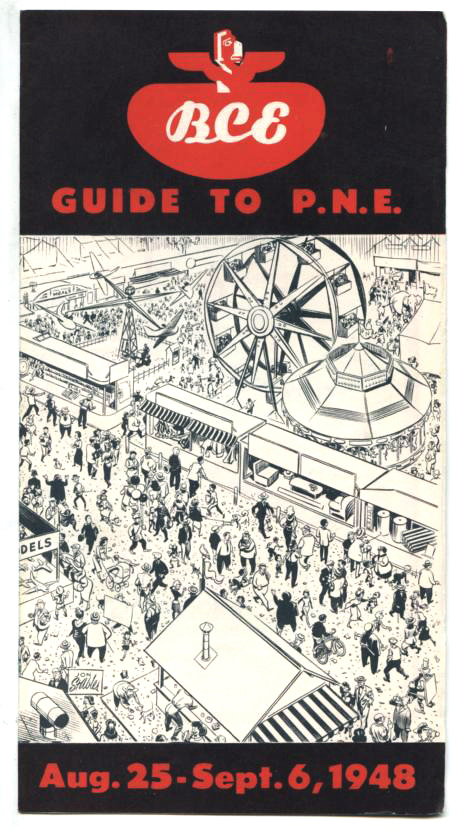 I don't know why John Stables never broke in the states the way that other former "Whites" artists did such as Edmond Good and Mel Crawford, but he deserved to. John Stables is another great Canadian illustrator we can call our own.