Comics as art
"Words and pictures are yin and yang. Married, they produce a progeny more interesting than either parent." ― Dr. Seuss
Doing this column, with its necessary research and the knowledge gained from that research, has, by default, gained me some sort of notoriety as a supposedly informed individual about those peculiar Canadian wartime comic books and the people behind them. Similarly, by default, I have developed and expressed my own opinions about the worth of certain creators and the characters they offered up, as well as about the limits and scope of these books when I use the term 'WECA books' to set certain parameters. But these opinions are just that, my own opinions and not an attempt at establishing an orthodoxy (only at a little bit of precision when it comes my development and use of the term 'WECA comics').
The latest opportunity I've been given as a result of this is to present a talk on these comics at the RiverBrink Art Museum in Queenston. The talk will be on Sunday September 27th at 2pm (I understand there is actually an admission fee of $10). As a topic I've decided to talk about the relationship of fine art and WECA comics. We'll take a look at artists who were already established as fine artists, such as Adrian Dingle, The Kulbach twins, Oscar Shllienger, and Avrom Yanovsky, and then "stooped down" to do these war time Canadian comics. We'll also look at those young teenagers, many still in high school, such as Murray Karn, Jack Tremblay, and Gerald Lazare who were still learning their craft in the in the comics and then developed enduring careers in commercial and fine art.
My difficulty with this whole thing is the actual fact of giving a talk on comic books at a fine art museum. There has been a deep and longstanding suspicion about comic books being art at all. From the beginning, and they've only been around in the form we know for about 80 years, comic books have been made to be remaindered. They were disposable, like Kleenex after one or two uses. Parents were always telling us to stop reading them and do something more edifying (I learned to love reading and probably learned to read through comic books). Many actually tore up, threw away or gave away our comic hoards.
A painting, a sculpture, or a symphony is created for repeated use and is clearly fashioned to endure. It is the original that bears the weight as a work of art and copies or prints or any other subsequent iterations are of appreciably diminished stature. Comics on the other hand, though they have a single original at their source, carry their cultural weight and popular appreciation in the copies stamped from the original, though in recent years the recognition of the worth of original comic art pages has increased geometrically. Fine art is built on a stone base while comics are built on sand, but does that make them any less interesting or without any intrinsic worth?
Neither fine art nor comic books are created for critics. They are both meant to be "read," to engage and challenge their audience. Even in comic books, a relationship is built between the sequence of panels and the reader. The comic panel illustrator builds a narrative snapshot by snapshot — sometimes the narrative is done for him and sometimes it's his own, but his illustrations are a translation of that narrative meant to draw the reader in. Even in the most banal comics, we project ourselves into the panel.

Art presents moments in which we find out who we are. In its best form it gives us a glimpse of something of worth up ahead just disappearing around a corner, something we can never quite fully get to. Very often it fills in the gaps between things rather than just revealing the things themselves. The best of comic books can do this in their combination of drawing and sequential narrative.
But the aim of comics doesn't have to be so lofty and noble. When I read those post-Fantastic Four #1 Marvels in the early sixties as they hit the stands (and even those pre-hero monster books) it was just plain wide-eyed fun. What was the imagination of these creators going to show us next (in fact we anticipate the CGI wonder that will be thrown at is when attending a Marvel movie nowadays in the same way). You can't forget the role of nostalgia in this whole enterprise as well and when we read any comic we are reading those first comics over again.
I'm one of those lucky collectors who has somehow managed to keep those comics he first bought off the shelves from over 50 years ago. I confess I'm lost in today's world of graphic novels, direct sale comics and corporate Fan Cons.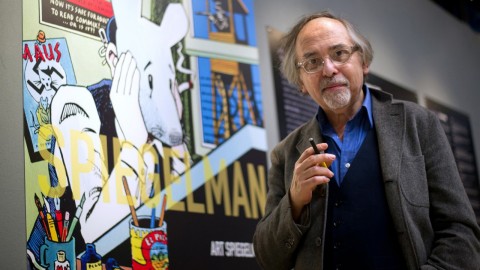 However, if during my talk, I'm asked whether I consider comics as art, I'm not sure how I should or will answer. What is the best way to answer this question and what examples are best to offer up (I welcome any suggestions)? I know that Lichtenstein was co-opted by the fine art world to represent comic culture in the sixties, that Spiegelman's Maus won a Pulitzer in 1992, and that many leading Museums and Art Galleries, including the Louvre, have featured solid displays of comic art. Publishers IDW opened The San Diego Comic Art Gallery this past June.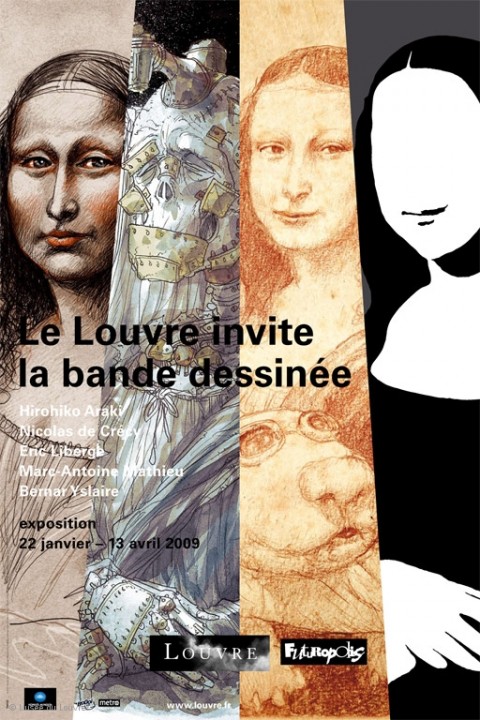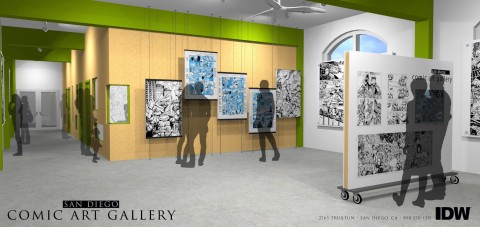 I know that comics are highly collectible and can command astronomic prices as can original art pages. I know that comics have their classic masters (and just as in the fine art world, these artists become their body of work once they pass away), their schools and genres, and their body of critics. Just as museum pieces can produce an "I get it." brain and soul buoyancy in the viewer, certain comics can evoke similar aesthetic sensibilities. But I don't think there is anything like a Comic Con or Artist's Alley in the gallery art world. A fine artist feels a field of sunflowers, figures on a hillside, a reclining nude, or an abstract emotion and translates that for the reader. A comic book artist, most often, is attempting to translate his own perception of a narrative through the slow motion strobe light of sequential panels.
If Banksy did a one-off original comic book and left it on a subway seat, would it turn out to be worth more than Action No. 1?
Let me know if you have any views on comic books as art and what comic pages you would place in a gallery or museum exhibit. I'd certainly like to have more ammunition for that talk if the question comes up.
Joke Comics No. 11
For the last couple of years I've consistently asked collectors who have significant Canadian wartime comic collections whether or not they have a copy of Bell Features' Joke Comics No. 11. Though there aren't great numbers of these collections around, nobody had ever come across a copy. The microfiche edition of the Bell Features collection at the Library and Archives up in Ottawa doesn't include a version for this book (of course, the microfiche does have a number of other holes because it just represents what the holdings themselves are).
Now, I think I can say with a solid amount of certainty that a Joke Comics No. 11 was never printed. It looks to me that Bell Features simply skipped over No. 11 and went right from No. 10 to No. 12 for some reason; probably simple human error somewhere along the production line. There is a similar precedent in the run of Wow Comics. There is no, by coincidence, properly numbered Wow Comics No. 11. Instead, production error produced two consecutive copies with a cover number of 10. Here are the two covers and the pirate cover is the true No. 11.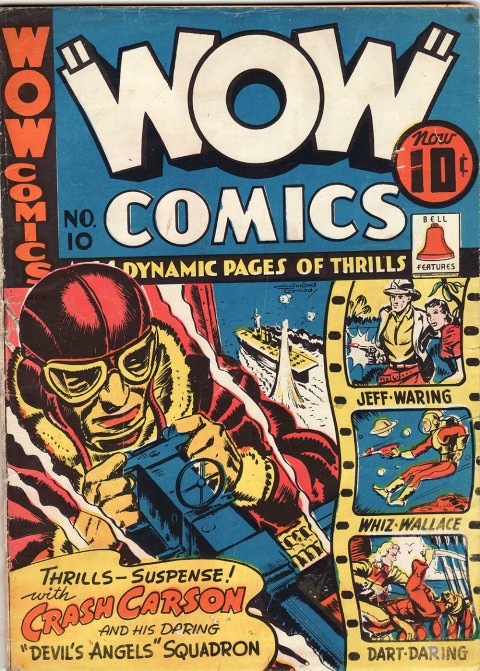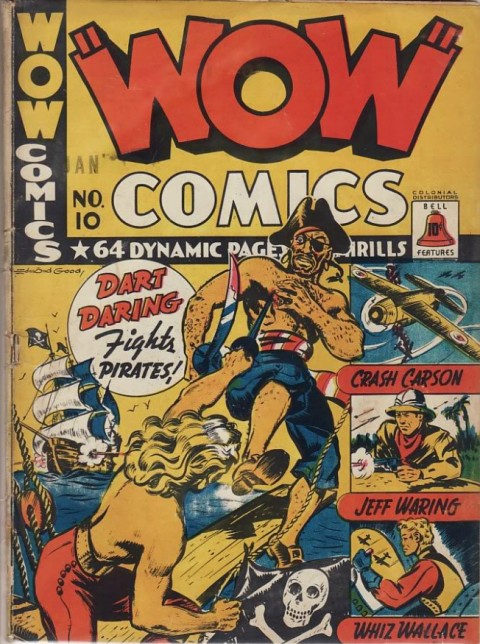 But back to the gap between Joke 10 and Joke 12. There are two continuing series in these two books: Ross Saakel's "Spike and Mike" and Ted Steele's "Pvt. Stuff." The "Spike and Mike" story in Joke Comics No. 10 is the second installment in the "Mike and Spike on the Moon" arc which ran from Joke Comics No. 9 to No. 13.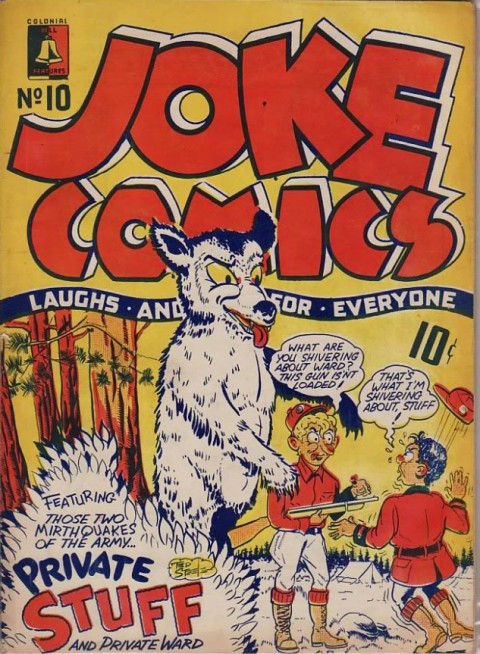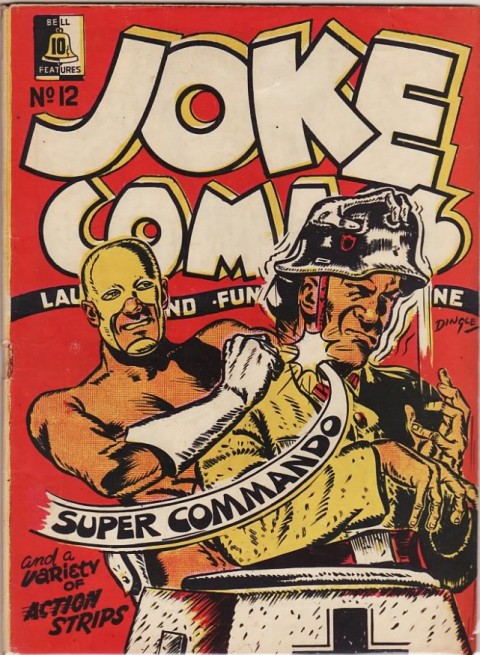 In Joke Comics No. 9 the boys find themselves threatened by an old maid who has designs on Mike and in running away from this manage run into a scientist who has just invented a rocket that he wants the boys to try out and they take off in it just as the old maid finds out where they are. In the last panel of issue 10 they manage to land the rocket and radio back to the scientist that some kind of monster is approaching. The splash page for the "Spike and Mike" in Joke Comics No. 12 is a seamless continuation from the last panel in issue 10. The monster is revealed and it's closing in on our two heroes. The synopsis of the story so far also describes what has happened in issues 9 and 10 only.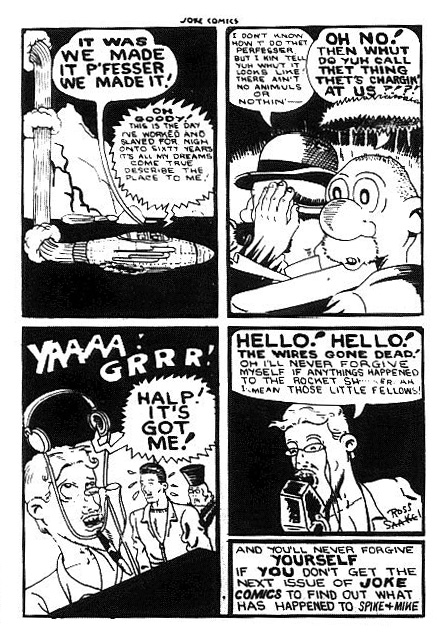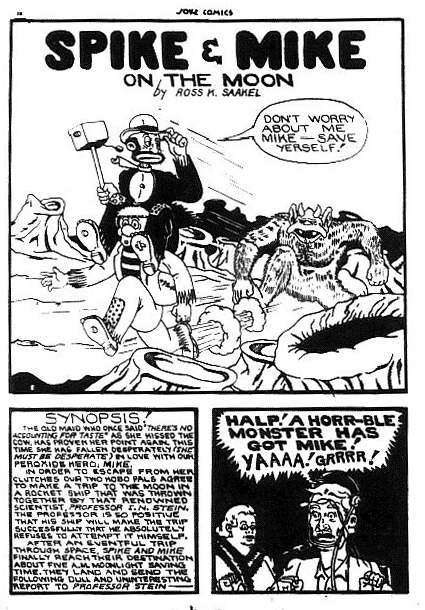 The "Pvt. Stuff" story in Joke Comics No. 10 starts with Stuff and his pal Pvt. Ward enjoying a month's leave from the army by going on a hunting trip in the Canadian north. After a couple of campground adventures they head on down the river in their canoe but quickly fall asleep and wake up to find themselves, in the last couple of panels, dangling over the very edge of a giant waterfall. The first page of the Stuff story in Joke Comics No. 12, again, is seamless with the one in issue 10. It shows the boys at the top of the waterfall and going right over.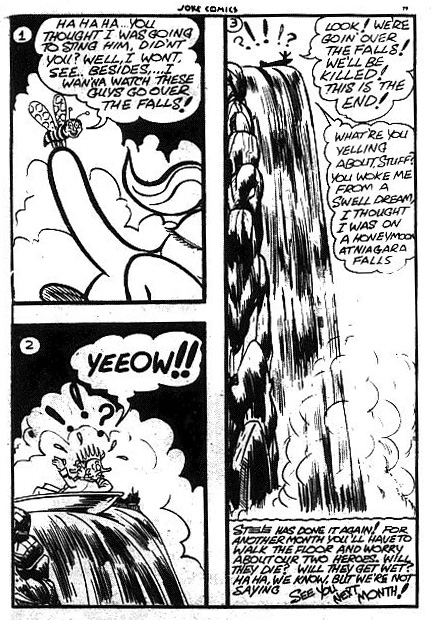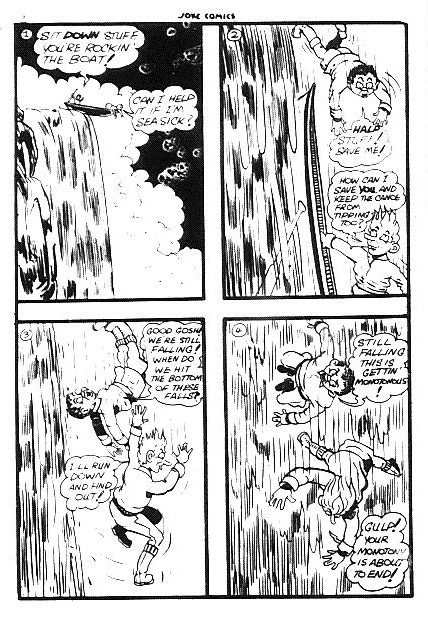 There is nowhere for a Joke Comics No. 11 to fit in between the end panels of the stories in issue 10 and the first panels of the stories in issue 12. On the basis of this evidence I have to assert that Joke Comics No. 11 was never published and the title skipped an issue number between 10 and 12 probably due to some human error.
As a postscript, now that heart of the con season is over with the Labour Day end to Fan Expo, there is a bit of a wind down with Hamilton's Hammer Con on Oct. 3-4 and London's one day Forest City Con on Oct. 18th. The Joe Shuster Awards website has announced that this year's award ceremony will be held at Forest City Con on Oct. 18th. It hasn't been announced what time of day the ceremony will be held or what the specific room venue will be, but if you're going to attend the con try and make a point of taking in these awards: you might be sitting next to one of the winners and it's a chance to see a lot of great Canadian creators in one place that isn't an Artists Alley.