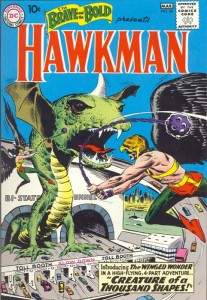 Brave and the Bold #34, DC Comics, February/March 1961
Fan Expo Toronto was both a lot of fun and a lot of work. The fun always wins out though because you get to see lots of old friend, and make lots of new ones.
From the business end the Big B Comics booth was busy all 4 days. The delicate mix of our low-end bargains, mid-range run fillers and higher end keys must have been just right because we moved a lot of comics.
Going into the Con I told myself I'd mentally record what comic buyers were looking for, I was ultimately hoping to flush out this week's Spotlight in this way.
I can only recall two people asking for a copy of Brave and the Bold #34 and neither decided to pick up my low-grade copy (maybe a 3.0). I remember looking the book up in the Guide for one of the guys interested and I remember that in low grade it wasn't worth that much and that the price I had on it was below guide.
It got me to thinking on how odd it is that I still have this book considering the current piping hot market for other DC keys of the period including Brave and Bold #28 and Showcase #30.
I poked around some CGC Census stats and market results for this book and knew right away that this week's Undervalued Spotlight had to be Brave and the Bold #34.
Looking at some GPA data I see that a CGC 8.5 is trading at 19% above the 2013 average while a CGC 7.0 has only inched up 7% compared to the 2013 results. These are poor numbers considering the massive jumps being made by the books I mentioned above, Brave and the Bold #28, Showcase #30 and most of the other early DC Silver Age keys.
I think we all get the sense that the DC keys from 1956 to 1963 are all entering a phase of value appreciation. There will always be those books that are first out of the blocks and we're seeing those right now. All it means is that books like Brave and the Bold #34 must be next?
This book is scarce in any kind of higher grade, as of this post there are only 21 graded higher than that underperforming CGC 8.5 I mentioned earlier.
I'm really liking DC's from this period as holds for now, I think Warner's push to tie the DC Universe together cinematically will translate into higher demand for these already hard to source DC books.
Personally I've always liked the Kubert monster cover with that sky blue backdrop.
For a keeper copy of Brave and the Bold #34 I'd go after at least an 8.0. Just make sure it's square and tight!
45th Overstreet price breaks for this book are $1196/$2698/$4200 in the 8.0/9.0/9.2 grade splits.
Strengths that make this comic a good investment are:
First Silver Age Hawkman and Hawkgirl
Silver Age Key DC's are a hot commodity and will continue to be for the near future
Currently underperforming on the market