It's an understatement to point out that most average income collectors, like me, have been priced out of battling for WECA comics through online auctions now that the comic collecting community has more widely become aware of them: of their quality, their distinctiveness, and their importance to Canadian culture. BUT, and I put that word in capitals, I believe that there are still collections (big and small) on the ground waiting to be unearthed. What surprises me is that all this interest in Canadian golden age comics hasn't led to more coming out of the woodwork as I would have expected. But, and this one needn't be in capitals, maybe this is a good thing because it shows us how rare these books are and makes them more precious.
Early this past October, I received a small comment on a post about Manny Easson I made back in March of 2013 saying that a reader, Marilyn O'Neil, had some of the comics I was writing about. Any comic collector knows what sort of "zing" this sends down your spine and, in over fifty years of collecting  (both vinyl records and comics) there have been a number of these memorable moments—each as special and powerful as the other and you never tire of them.
A couple of weeks and a couple of email exchanges later, I was able to meet Marilyn and her husband Dale who, it turns out, was the brother of Manny Easson's second wife, Phyllis.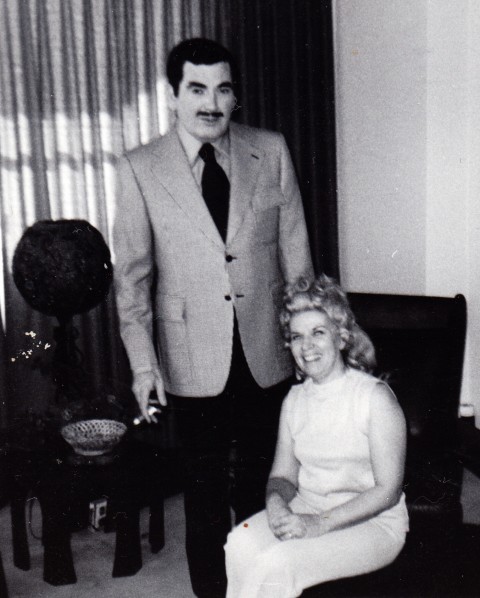 Manny passed away in 1982 and his widow was Phyllis who had 13 copies of The Funny Comics featuring Dizzy Don that Manny himself had kept along with 3 original sketches by Manny from the seventies. They only knew Manny from the time he got married to Phyllis, which was in the late sixties but I was able to interview them about Manny and they were able to supply a good deal of interesting information. While talking with this nice couple for a good part of the afternoon, I learned that Marilyn actually grew up on the same street I had in the North End of Hamilton, just two blocks away.
I had never seen a picture of Manny Easson before and Dale and Marilyn had a number to show me. It seems that Manny cultivated the "Ernie Kovacs look" (for you youngsters, Kovacs was a pioneering and leading TV skit comedy comedian of the late fifties and very early sixties who died in an auto accident in January of 1962) and even had his own omnipresent cigar.  Dale and Marilyn also told me that Manny had the swagger and penchant for humour that Kovacs had as well.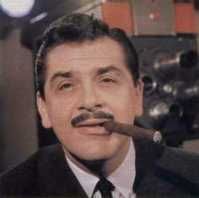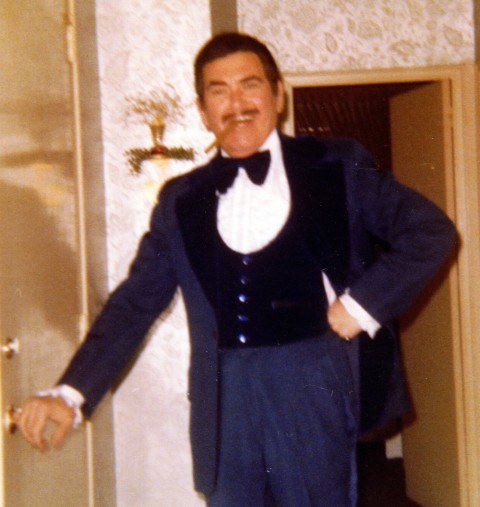 Sadly Phyllis had to be placed in care this past summer and now Dale and Marilyn had these Manny Easson items and were willing to part with them. I explained my interest in the area and some of the work I have done. They had found my post by Googling "Manny Easson." I must mention that the greatest direct benefit of doing these posts has been the contacts I have made through them that have led to interviews about the creators, occasional comic finds, and many new friends who share my interest and passion for these first Canadian comic books and the people behind them. Anyway, I made a fair offer for the books together with the sketches and left it with them for the weekend. On the Sunday of that weekend, I received a call from Dale saying that they wanted me to have the collection and that they would accept my offer. I met with Dale and Marilyn the next afternoon and was able to take the following picture.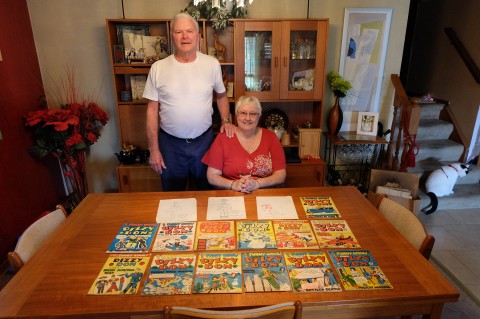 These books were all in decent shape (5.0 or better and a few 7 and 8s) but more importantly, the collection had belonged to the creator, Manny Easson. There was one oddity. All the copies I have seen of The Funny Comics No. 7 have a yellow cover.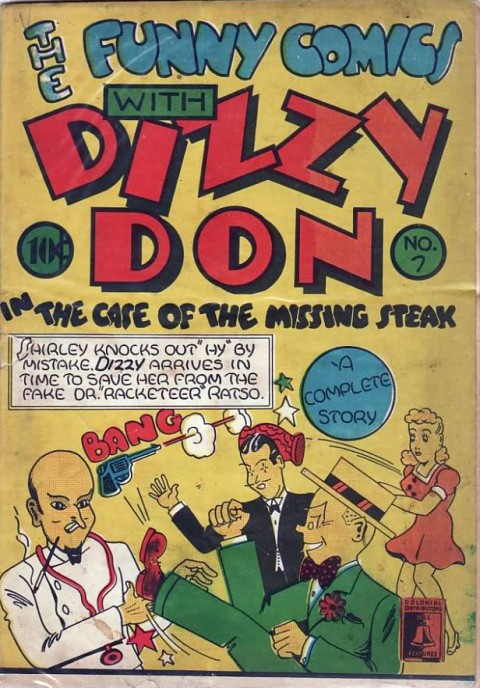 The one in this set looks like it never got to the yellow printing plate and is white where all the yellow should be. Maybe Manny pulled it of the printing line just before it got to the yellow treatment!?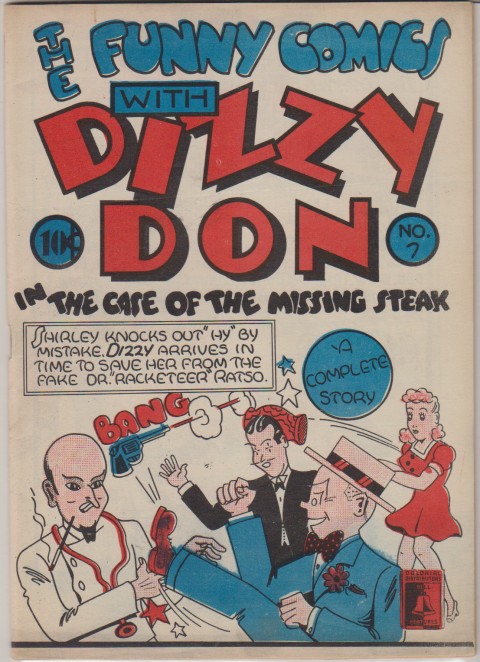 If I get these books slabbed, this one variant, at least, should be known as "The Easson Copy."
There's the next question. Should I get these 13 books slabbed and will CGC accept provenance letter I got from Dale and Marilyn stating that these were Manny's own copies in order to grant this baker's dozen of books some sort of pedigree standing? Will they also make note of the variance in Manny's Funny Comics No. 7 in the comments on the book? I don't generally like getting my WECA books slabbed, but this may be the only way to establish and preserve the pedigree of this tight little collection.
Another thing I'd like to point out quickly is that I now have two copies of The Funny Comics No. 19 but they are different. The one in this Manny Easson collection has the normal cartoons printed on the inside covers, while my other copy has blank inside covers much like the 1945 15 cent compendiums (Nelvana, Speed Savage, Phantom Rider…) which coincidentally appear in an ad on the back cover of this number. Possibly, the blank inside covers version is a later printing, but I wonder how many other examples there are of this type of thing?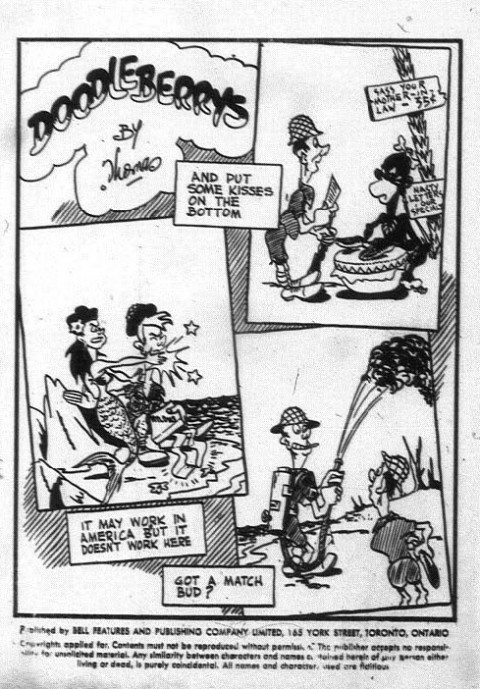 To close out this post which, in fact, my 97th in this series, I want to announce that I will be stopping my weekly entries after my one hundredth post. I hope I have accomplished what I intended to do by helping set this grand WECA wheel in motion and I want to use the time saved on my main project which will be an art book sized (think Fantagraphics and IDW examples) collection of original Bell Features art pages from the collection at the Library and Archives of Canada who have kindly given me license to reprint the 150 or so pages I've selected. Each artist's selection of pages will have an accompanying bio and interview with the artists themselves where available or their descendants. I hope to have a finalized version ready by the end of the summer at the latest and dedicating myself to this means that I will be able to make my usual posts only occasionally as the news arises (perhaps monthly or so).  The denouement begins….