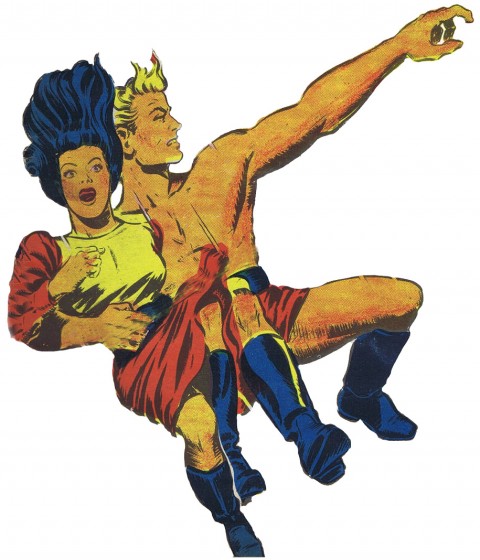 A couple of interesting original art pieces by Edmond came up on Heritage this week  and this made me want to draw attention to his WECA work in this week's post.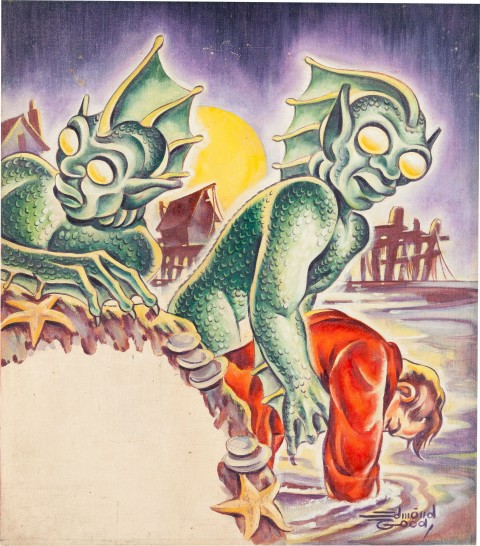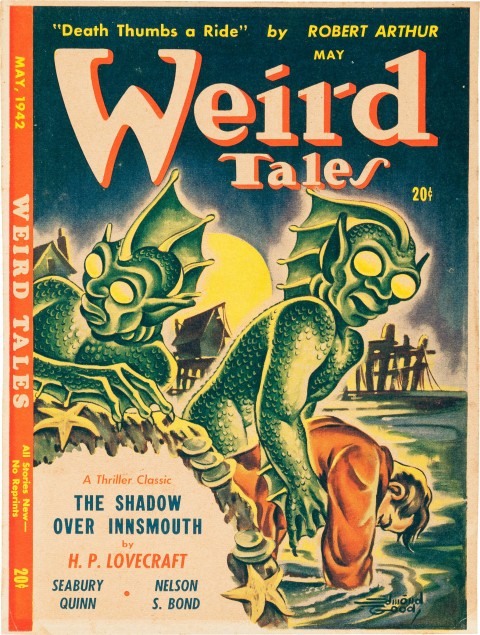 The first piece is an original Canadian pulp cover for May, 1942 issue of Weird Tales. This was the first issue in the second series which ran from May 1942 to November 1951. This issue is the Canadian edition of the January 1942 issue in the States with a new cover and the contents in a different order. This two issue lag behind the American editions lasted up till January 1945 and continued to run one issue behind until the last issue. This seems to be the only cover signed by Good.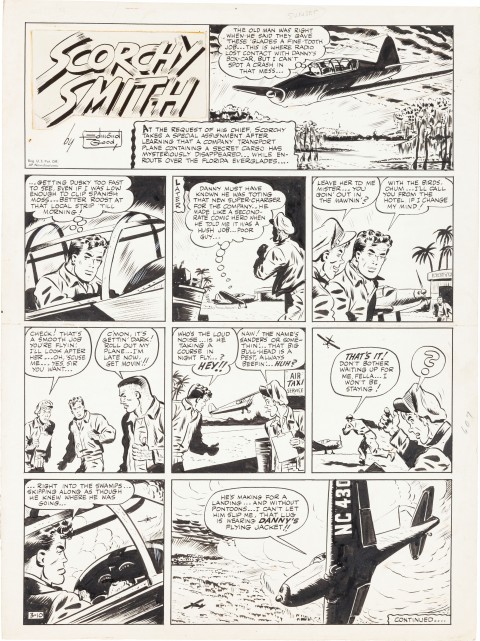 Secondly a "Scorchy Smith" Sunday page from the mid-forties when he was based in upstate New York.  Good took over Scorchy from Frank Robbins who left the strip to work on Johnny Hazard in 1944 (I can't leave out the great Noel Sickles who took over the strip from its creator John Terry –brother of well known animation artist Paul Terry—in 1933 to 1936). It appears that Good worked on Scorchy Sunday only for a couple of years from 1944-46 with the first strips appearing at the start of 1944 but he ran with the dailies into the fifties.
Edmond Elbridge Good was one among a number of Bell artists (including Adrian Dingle, Jack Tremblay, Avrom Yanovsky, Oscar Schlienger and the Kulbach brothers) who was not born in Canada. Good was on July 1, 1910 in Saco, Maine to Canadian parents born in the Maritimes. His parents came back to Canada while he was about 10 and settled in Hamilton, Ontario. Edmond grew up in the Westdale area at 74 Paisley Ave. North in between McMaster University and Churchill Park..
After high school  (probably Westdale Secondary in Hamilton) he attended the Hamilton Art School and became a professional commercial artist. He married Audrey Harrison in 1936 and  was probably hired  by Cy Bell and made Art Director for Bell Features late in 1941 (by which time they had two children, Aledra and Barton) and he served as such only for a few months  until the arrival of Adrian Dingle in the late Spring of 1942 (Triumph Comics No. 7 May/June 1942) who became the new Art Director for Bell. Edmond Good was one of two artists (the other was Leo Bachle) who had a "Pen Portraits" page in Dime Comics. Good's was on the inside front cover of Dime Comics 9.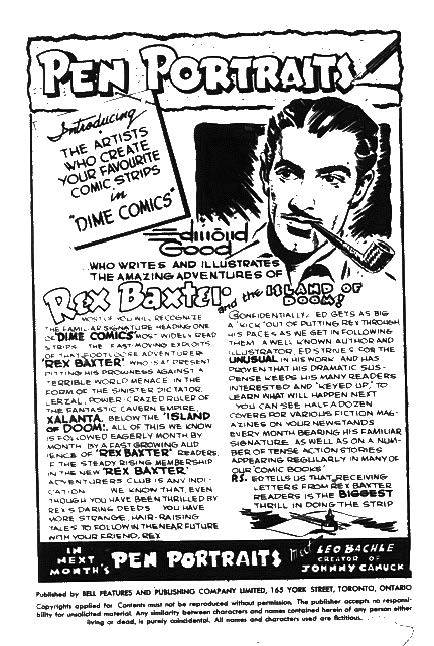 Good's first work for Bell was the creation of Rex Baxter for Dime Comics No. 1 (Feb. 1942) as well as writing credits on a text story entitled "Devil Wolf" in Wow Comics No. 5 and a text  story credited to both himself and his wife entitled "A Trail of Plunder" (both these stories were illustrated by Murray Karn) in Wow Comics 6. He also did a filler page Good did all the covers for Dime Comics up to No. 13 and for Wow Comics 8-13, and for Commando Comics 1-6, as well as Active Comics issues 11 and 13.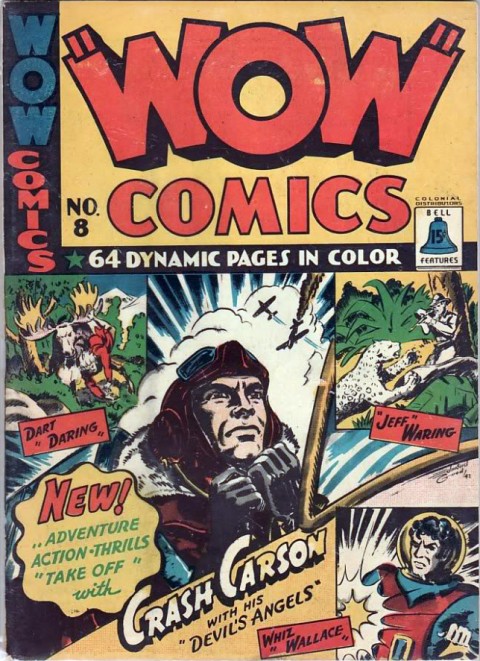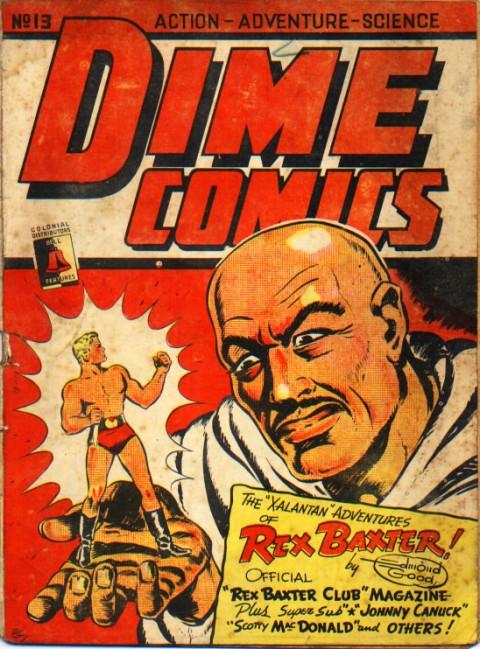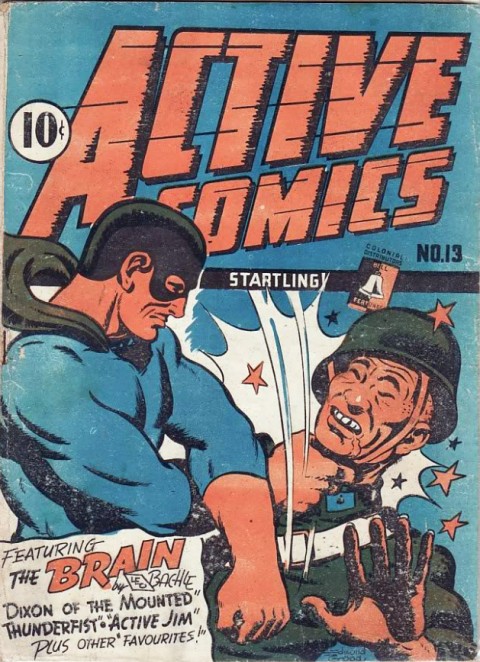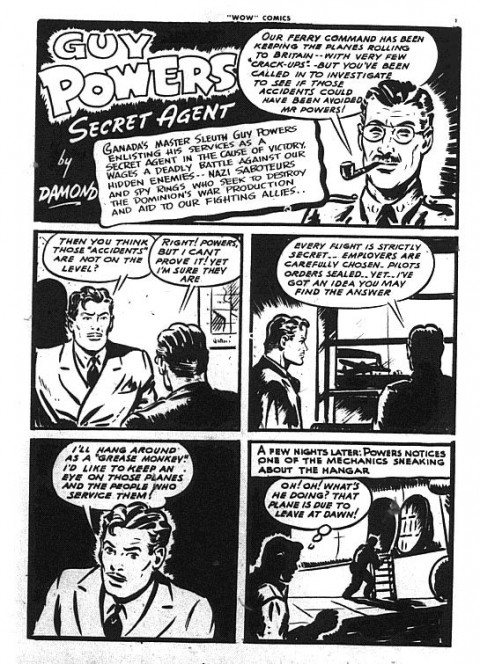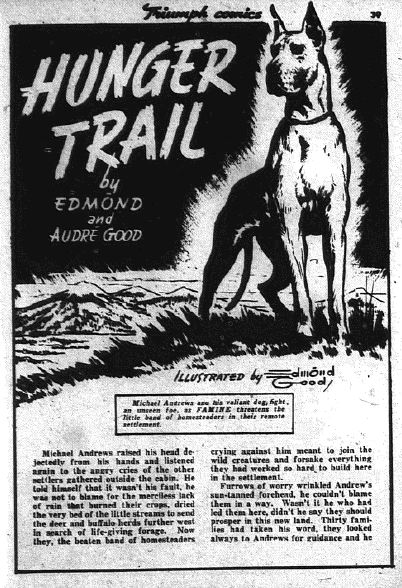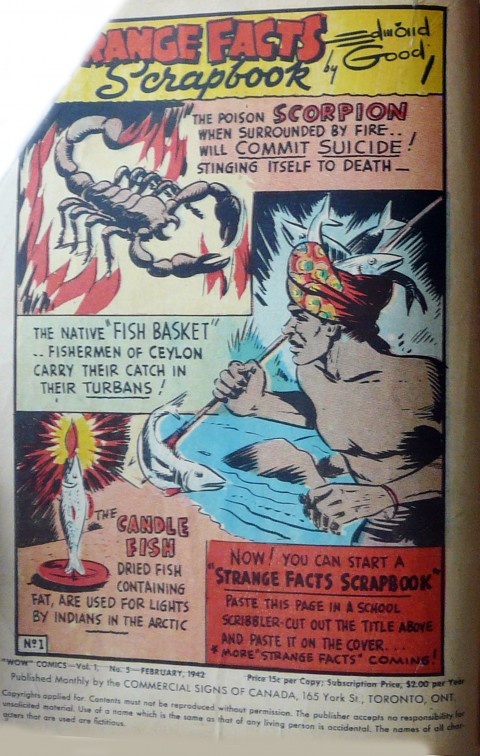 At the same time he was working on Bell comics, he also did some pulp cover work and besides the Weird Tales issue above there are at least two signed Canadian Pulp covers for Thrilling Detective Stories from 1942.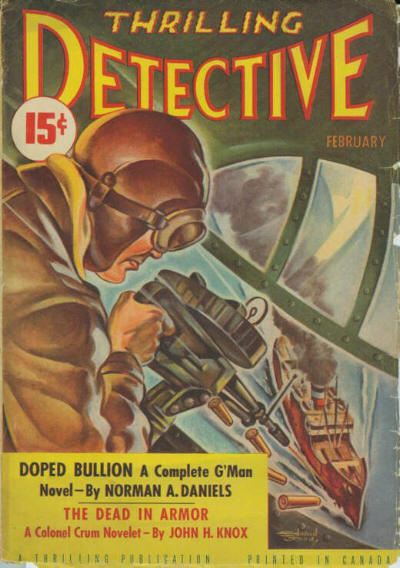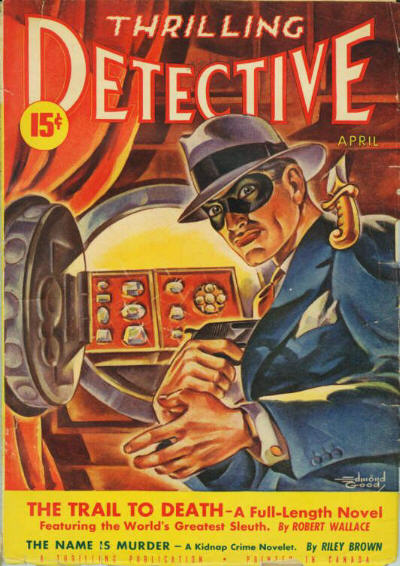 By the summer of 1943, Good appears to have been working on settling in the U.S. permanently and had a residence in the artistic enclave in Connecticut. By the end of 1943 or the start of 1944 the family was living in Kingston, upstate New York.
Along with the Scorchy material he was doing the "Mike Gibbs, Guerilla" strip in issues 90-94 of Adventure Comics in 1944. Good is best known for doing Phantom Detective stories in Thrilling Comics from 1946-48, being the original artist on the Tomahawk who first appeared in Star Spangled Comics 69 in 1947, the good girl art he did in Dagar Comics in 1948-9 and the long run he had with the title character in Monte Hale Western Comics for Fawcett from 1949-53.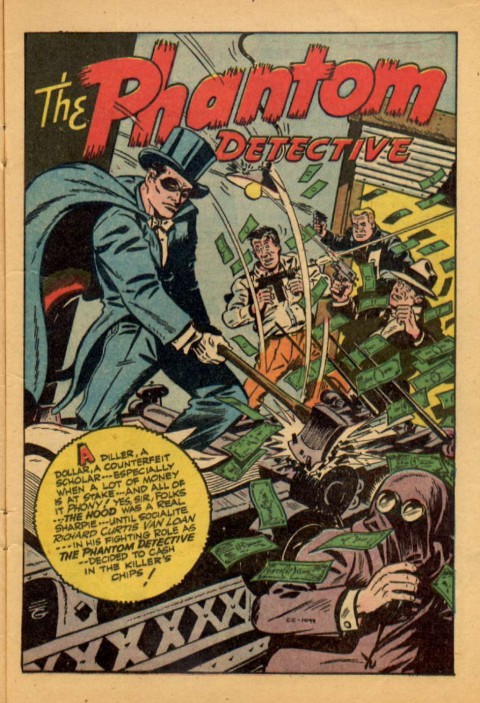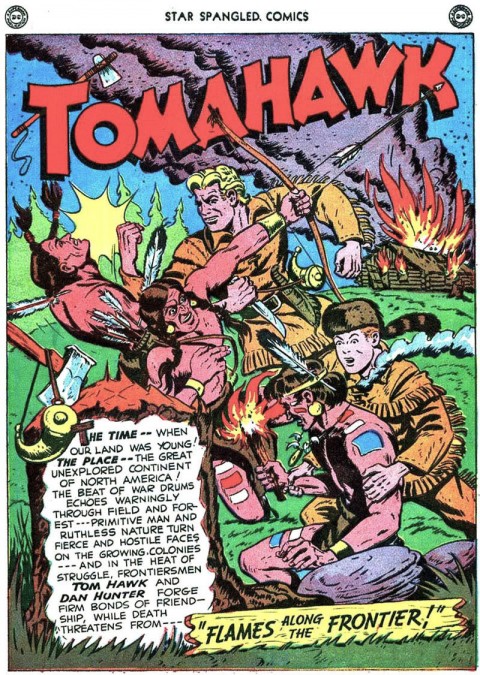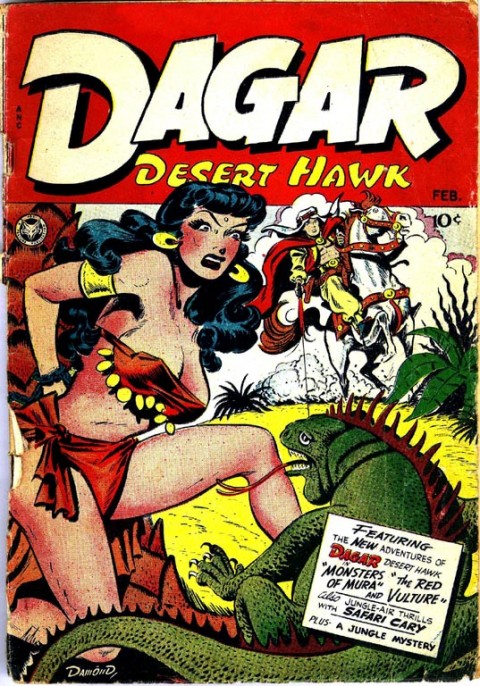 In the mid-fifties he established his own publishing company Good Comics Inc. and put out four issues of Johnny Law, Sky Ranger Comics which was written and drawn by Edmond Good.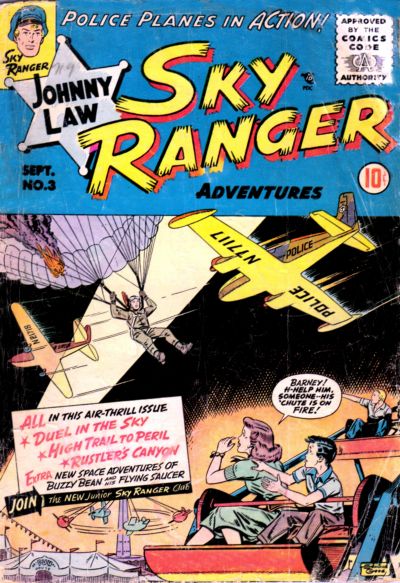 After the mid-fifties, Good seemed to drift away from comics and into commercial/advertising art and found work in Albany, New York, even setting up his own advertising agency in Syracuse for a while.  Having been successful in writing radio scripts and winning the script writing contest for the Dr. Christian Radio Show in 1951, Good also began to write television scripts successfully and had some accepted for Kraft Theatre and even the BBC.
By the end of the fifties he had moved the family to Florida and was hired by Tupperware at its Orlando headquarters as its Artistic Director, a position which he held until his retirement in 1974.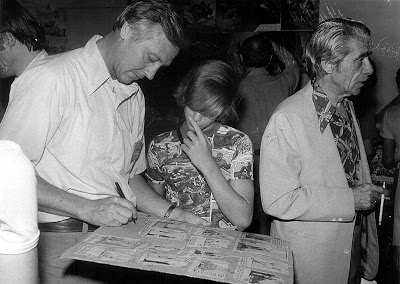 In 1977 he moved from Orlando to Altoona where he died on September 13, 1991.
I hope that the painting for the Canadian cover of the Weird Tales pulp finds its way back to Canada at the end of the auction.