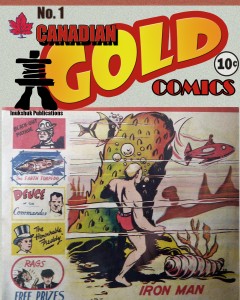 Our Fan Expo panel on the Canadian Whites was held on the final afternoon just a couple of hours before the whole show closed down. We ended up getting just about 50 people in the audience… not bad for a relatively esoteric and arcane subject.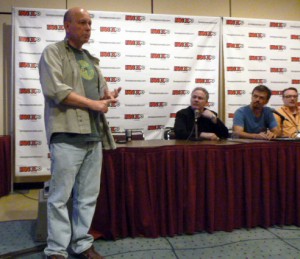 I had the pleasure of moderating and was surprised to see how many of the crowd were relatively younger and how many approached the speakers' table to ask questions even after our time had run over and the next session was getting set up.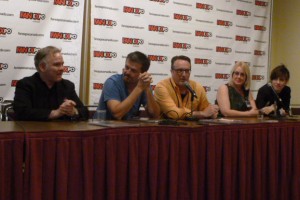 Again the panel was made up of Stephen Lipson (Canadian Whites collector extraordinaire), Walter Durajlija (the man behind Big B Comics), Robert Pincombe (animation writer, Canadian Golden Age historian and blogger), Hope Nicholson (Associate Producer on the "Lost Heroes" Documentary) and Rachel Richey (Canadian Golden Age researcher and operator of the Comic Syrup blog).  Hope and Rachel broke the great news that they have officially obtained the rights to reprint the entire run of Nelvana stories from Triumph Comics Nos. 1-31 and will go public with online fundraising in October with the goal of hard copy to appear next year.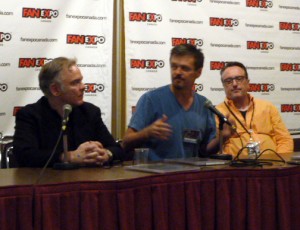 I have attached a recording of the presentation in two parts. The recording apparatus had to be adjusted so that the recording does not begin with my welcome to the audience. Instead, it begins after my introduction of first panel member Stephen Lipson and Stephen is already in the middle of talking.
Panel Presentation Pt. 1
Panel Presentation Pt. 2
Up till now the whites have generally been viewed as if they were akin to paleolithic French cave paintings, innately arcane and understood and touched by only a rare handful of people. It's gratifying to see that the World of the Whites (and really, the World of Canadian Comics in general) is on the uptake and being talked about and listened to more and more. This year has so far been a good one for the Whites and my strong feeling is that next year will be an even better one.