On Sunday night Toronto's Silver Snail hosted the Nelvana crowd-funding (details of this have been posted in Andrew Ardizzi's most recent entry) launch party but a half-an-hour before the scheduled start of 7PM the Kickstarter campaign achieved and surpassed its 25,000 goal. It quickly became a crowd-funding-goal-reached celebration party and our Auroral Angel was hovering happily over all the heads in that upstairs room and smiling down.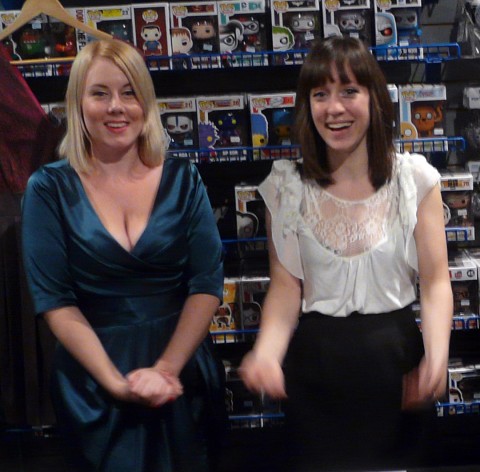 The two principles, Hope Nicholson and Rachel were beaming with Northern Light themselves as you can see in the picture above and well they should have been because they could announce that the crowd-funding goal had been reached and surpassed .  Their goal is to have a finished product available by April of next year and now they have the funds to make a proper go of it. Knowing these two empowered young ladies, I'm certain that they will come out with a quality product that will do justice to the legacy of the Canadian "Whites."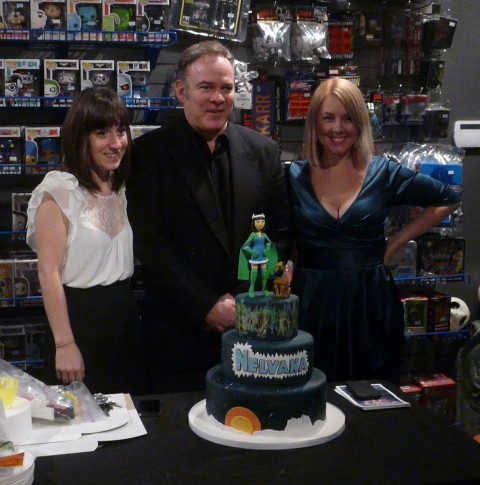 Stephen Lipson, whose collection of Triumph Comics, I understand, will provide the bulk of source material for the reprints, provided a solid and concise introduction to the World of the Whites. Stephen's involvement is another sign that this will be product of the first order when it is finished. Also in the crowd were artists Ramon Perez who will be the artistic supervisor of the project and artist Francis Manapul who has contributed a print to the project.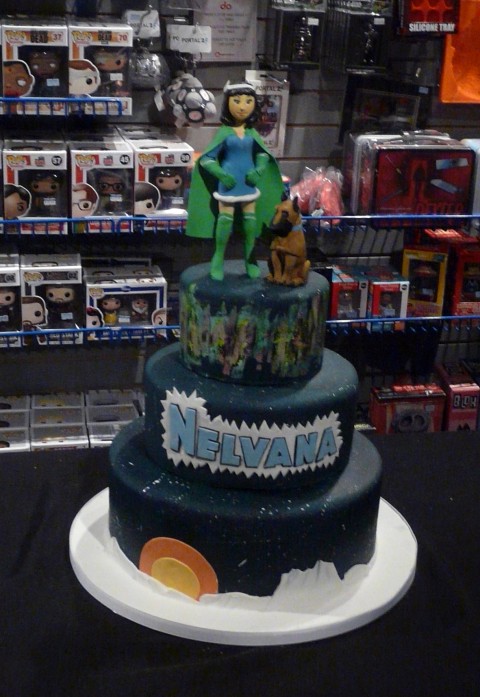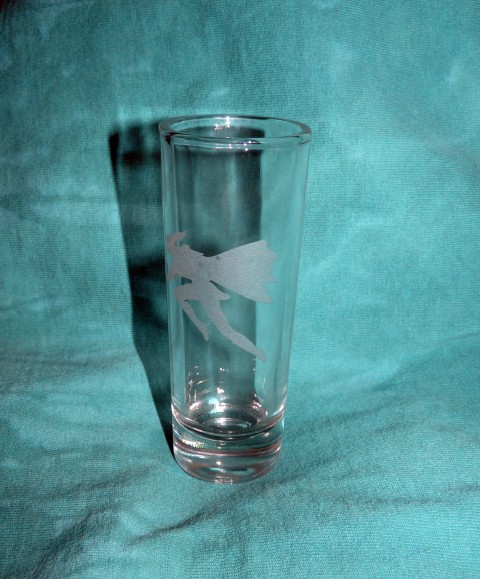 There was a gorgeous cake in the centre of everything and eventually it was made into vanilla and chocolate wedges and parceled out to those present. At the bar there was a limited number of commemorative shot glasses available free to those who purchased a drink. I'd arrived unprepared with no cash but Robert Pincombe purchased two and, after knocking back the contents of the first, chivalrously presented me the empty etched glass to my delight… thanks, "Pinky."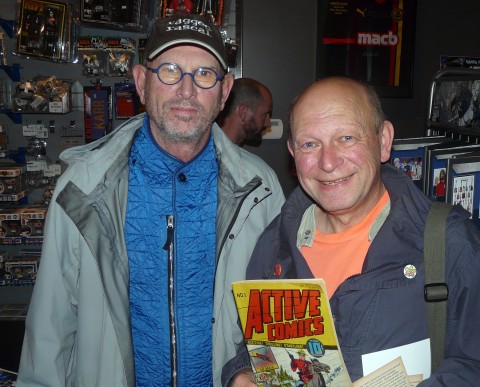 One unexpected surprise was the entrance of Patrick Loubert (one of the founding members of Nelvana Studios along with Michael Hirsch and Clive Smith, and again along with Michael Hirsch one of the authors of The Great Canadian Comic Books released late in 1971) with two of his wonderful children in tow and a great looking copy of Active Comics No. 1 which he fished out from a manila envelope .  He claimed that it was just the one on top of a pile he had at home. He was congenial with everyone who approached him and agreed to share further information about his involvement with the Canadian Whites (so keep tuned to this station).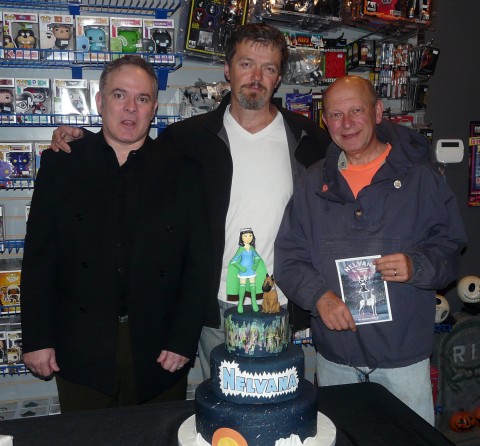 All in all, a great night and it was a great celebration that was wonderful to share—thanks for driving, Walt! The footprints in the snow that had been trailing off into the darkness of the Arctic expanse have reappeared and are returning toward us. 2014 will be a snowball of a year in the World of the Whites.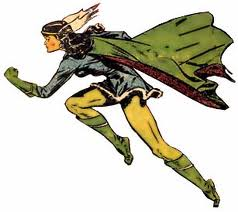 With the closing paragraph of his last Undervalued Spotlight on Triumph Comics No. 1 Walter Durajlija opened up the door on something that's been brewing in our discussions about the Canadian Whites for some time now and, in fact, was a small topic of discussion on Nelvana Night last Sunday:  should we provide an initial and tentative price guide section for the WECA Whites in the Overstreet Price Guide much like there is now a section for Platinum books and Promotional comics?
The opportunity has arisen to do this because Overstreet has accepted a large article on the Canadian war-time comics that I put together for publication in its next edition and our group (right now Stephen Lipson, Walter Durajlija, Jim Finlay, and myself) working on the Whites has offered to put together a starting point for them based on recorded sales so far and Overstreet does seem to be keen on this.
The question is this: Will a published price guide for the Canadian Whites be detrimental to the searching out and acquisition of these books by collectors or not? Will it give the advantage in the hobby to buyers or sellers alone or benefit or hurt both sides of the hobby together?
Even the announcement that a price guide for these books will come out may affect the availability and purchase price of these books right now. No matter what side of this debate we fall on, we must accept the fact that an eventual published price guideline on these Canadian war-time comics is inevitable and the first one should be put together by people who know these books and who know the prices that they have exchanged hands for over the last few years. My personal position is that done competently and skillfully such an initial price guide has to be an asset to the hobby.
Here are some points to consider when debating this issue but the main one for me is that this "hobby" has been going on in the Land of the Mists somewhere in the Canadian Wilderness over the last couple of decades and its mythic status needs to be crystalized and made open and available not only to the Canadian (and American) collecting community (especially younger collectors) but to the Canadian public as a whole as a solid part of our traditional heritage:
Establishing the size of the listing itself will be a benefit to the hobby. In our estimation right now there are between 700-750 (maybe even a few more) individual issues that need to be codified. This is less than the initial runs of Action or Detective Comics and will really only take up a sliver of a record in the guide.
Some runs like those of the Maple Leaf titles (which are the least understood of the bunch) are not consistently numbered but have 3-7 volumes in which the number of issues put out for each volume vary considerably. These wrinkles need to be ironed smooth.
Distinguishing marks such as first appearances, crossovers, costume changes, Hitler appearances, artists cameos, etc. need to be revealed and recorded and may have a bearing on future values.
Artists and writers (most commonly one and the same in these books) must be accounted for where there is a certainty (even Gerald Lazare, when I spoke with him recently, thought as some collectors have done, that he had created The Wing when, in reality and in issue 14 of Joke Comics, he had only revived John Hilkert's creation that had already appeared a few times earlier in the title).
 Whatever valuation is posted will be a tentative and provisional one, but definitely a considered and informed one as well. It would serve as foundation for the evolution of a steadily more accurate valuation as subsequent editions come out.
The corollary to this is that we would need to have a couple of new Overstreet Advisors whose specialty would be an expertise in these Canadian war-time books and who could offer a brief annual report on sales and significant initiatives in the field.
Lastly, such an initial guide would serve as the ideal and perhaps even necessary companion piece to the article on the history of these books that is going to appear in next year's Overstreet Guide.
I'd love to hear everybody's take on this "debate" and any other angles that can be brought to bear on the discussion. I certainly would greatly value any additional input or guidance on this issue.