We've just gone over the hump of a year that's so far been slowly improving. I hope that the light will continue to grow as we head into Labour Day, Thanksgiving, and the Christmas holidays.
I remind you again that this year is also the 80th anniversary of the first Canadian floppy, Better Comics Vol. 1 No. 1 (March 1941) and I want to bring you up to speed on some of the initiatives that are taking form.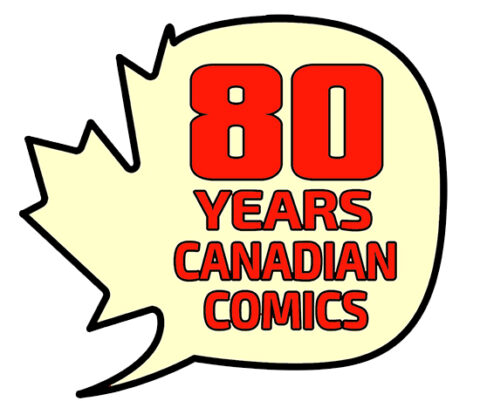 First, work on the Better 1 reprint is chugging along like one of those long oil tanker trains that crawl across our country. We're just heading into the Rockies now and finally got written permission from the Miller family to use Western University's digital copy of the book for the source of the reprint material. This reprint train is expected to finish its journey and arrive on the west coast sometime between Labour Day and Thanksgiving.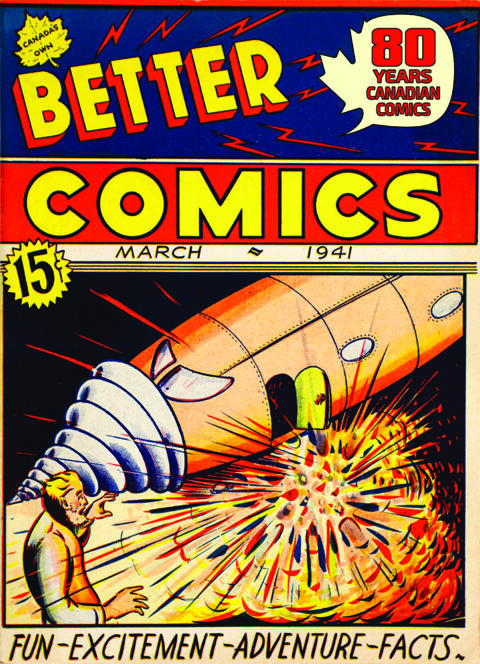 Second, plans for my 48-page tribute to the Canadian wartime comic creators are also proceeding along well. We've got twenty contemporary artists onboard each donating one-page, black-and-white takes, on a creator from the wartime period in Canada. Here are the pairings I've managed to put together with some help from people like James Waley and Ramón Pérez:
| | |
| --- | --- |
| WWII ERA SUBJECT | CONTEMPORARY ARTIST |
| Harry Brunt | David Collier |
| Aram Alexanian | Joe Ollmann |
| Gerry Lazare meets Ross Mendez | Ron Kasman |
| Fred Kelly | Michael T. Gilbert |
| Jack Tremblay | Rick Trembles |
| Ross Mendez | Seth (only a possible, if time and commitments permit) |
| Adrian Dingle | Ho Che Anderson |
| Tedd Steele | Ramón Pérez |
| Doris Slater-Titus | Patti Titus |
| Gerry Lazare | Dave Sim |
| Ed Furness | Tim Hammell |
| Jon Stables | Ken Steacy |
| Manny Easson | John MacLeod |
| Murray Karn | Steve LeBlanc |
| George Menendez Rae | Jim Craig |
| Edmond Good | Sam Agro |
| Leo Bachle | Vince Marchesano |
| Al Cooper | Art Cooper |
| June Banfield | Rebecca Rosen |
| Ley Fortune | Emanuelle Chateauneuf |
A couple of things to note here. Seth was very much interested but cannot be fully committed. He has decided to try and do Ross Mendes who was one of his teachers at OCAD, but everything depends on if he can squeeze the project in, given the commitments and deadlines he has. Rick Trembles is doing his father, Jack Tremblay, and Patti Titus is doing her mother, Doris Slater-Titus. I really look forward to those two family pieces. Art Cooper is not related to Al Cooper.
The plan is for the comic to have the original tribute drawing on the right side when the comic book is opened and a photo of the original wartime artists along with some brief bio points and an image of the contemporary artists who created the tribute page along with some brief bio points on the facing, left page.
The cherry on the top of all this is that Ramón Pérez and the RAID Studio on Queen St. W. in Toronto near Roncesvalles have given us exhibition space in their storefront gallery in December to display all the originals, so let's hope Covid-19 is mainly behind us by that point.
The title of this tribute comic will be "Trailblazers" which is being designed with the help of John Farr who designed my Heroes of the Home Front book. Here is a pic of the current working copy of the cover which still has some work to be done on it but should resemble the final product somewhat: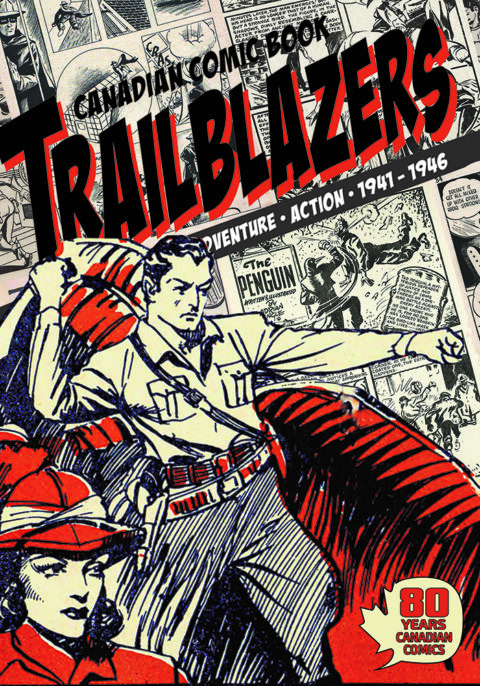 And here are a couple of finished pieces for the interior:
This project won't involve a Kickstarter but will be funded from the proceeds of the online Canadiana comic auction we held just over a month ago. I plan a small run of about 200-300 books and still have to figure out the best way to distribute them (comic bookstores, online web page, sign-up mailing list, etc.). Right now it looks like the retail for the comic will be about $9.95 CAD.
Interestingly, the "Trailblazers" gallery show won't be the only one in the foreseeable future that will feature Canadian wartime comic book artists. I've had my proposal for an exhibit featuring local area Hamilton wartime comic book artists accepted by the Carnegie Gallery in Dundas. This exhibit will feature original work by Aram Alexanian, Harry Brunt, and Win Mortimer. Alexanian and Brunt worked for Toronto's Bell Features during the war, while Win Mortimer (who went on to later fame as one of the main Superman and Batman artists for Golden Age DC books) was working at the Otis Elevator plant in North End Hamilton producing safety and propaganda posters. At that time the Otis Elevator plant had been converted to military production.
Here are three pieces that will probably be featured in the exhibit:
This exhibit is scheduled for most of March of next year and will be co-curated with John Farr, son-in-law of Aram Alexanian. We have also received support from Win Mortimer's son James, who runs the Win Mortimer Trust for Artists. With this exhibit, we hope to raise the awareness of the local area general public and comic community concerning the contribution of Hamilton region wartime cartoonists to the genre. I hope we can also get some attendance from the GTA.
The final 80th Anniversary initiative is also proceeding apace and constructively. This is the idea of a Symposium focussed on Canadian Comics. Our planning team consists of me, Meaghan Scanlon, Zachary Rondinelli, Candida Rifkind, and Dominick Grace. This will be a two-day virtual symposium title "80 Years and Beyond" (with probably a passing nod to Buzz Lightyear) and Dominick Grace who is Head of English at Brescia University College (which is associated with Western University in London, Ontario) has managed to garner the support of Brescia to provide our online infrastructure.
The two-day symposium is intended to be free and has presentations designed with accessibility to the general public in mind without giving up the backbone of a critical approach. Creators, fans, publishers, and scholars will be blended together and should produce rich dialogue. The symposium is scheduled to run this coming October 15th and 16th, with the first day focusing on the past 80 years of Canadian comics and the second on contemporary Canadian comics and their possible future directions. Instead of formal keynote addresses, each day will begin with an introductory dialogue. For the first day's introductory dialogue, I will be in conversation with John Bell and for the second day, Cole Pauls will be in conversation with Ho Che Anderson as moderated by Candida Rifkind.
We hope that this symposium will be the first iteration of many annual ones to come. After 80 years (and really much longer if we take the term 'comics' to mean more than just floppies), Canadians are in a position for a stand-alone appreciation, celebration, and critical examination of what we can call our own comics and the place they hold in the constellation of global comics. Look for more announcements in the coming weeks about "80 years and Beyond." The virtual symposium is free, but you'll have to register online, so also look for this online registration form to appear in the next few weeks.
I mustn't forget to note that the Doris Slater-Titus Exhibit at the Glenhyrst Gallery in Brantford didn't open until we in Ontario entered Stage 3 of the pandemic. Because of this, it has been extended to August 22. This is a great chance to see the breadth of artistic work produced by Canada's first female comic book artist. If you can't make it, the exhibit will travel to Chatham in November.
All in all, a great few months coming for Canadian comics. Let's see how it all unfolds.