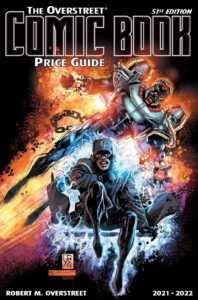 The 51st Overstreet Price Guide hit the stands last week and I'm having fun perusing my copy. I think everything I said in my report ended up being wrong so remember that next time I recommend a book.
I like looking at the Top Comics from the eras and I like making random observations, some of which I'm about to share with you.
Of the top 100 Golden Age books Detective Comics has the most entries at 17 and is followed closely by Action Comics at 16
Action and Detective account for 1/3 of the top 100 Golden Age books
Detective Comics #27 had the highest Guide value jump in the Golden Age at 20%
Should Vampirella #113 be on the Copper Age list? It's a true magazine and not a comic
There at 2 funny animal books still hanging on to the list, Walt Disney's Comics and Stories #1 and Four Color #4, both of course went up 0%, how many more years before we see the Ducks go?
The Silver Age should be top 100 as well, lets get ahead of all the price increases still to come, give us the top a Silver Age top 100!
Fantastic Four #5 had the highest Guide value jump in the Silver Age at 79%
Only 5 Silver Age books posted a 0% increase in value and all 5 were DC, Brave Bold #28, Green Lantern #1, Showcase 14, Our Army at War #81 and Flash #123
Showcase has the most Silver Age entries at 8, followed by Fantastic Four at 6, the Showcase total sounds wrong but time will fix this
Teenage Mutant Ninja Turtles related books represent 20% of the Copper Age list
The Bronze Age should be top 50!
The overall percentage increases in the Golden Age were very small, almost all these top 100 are big key books, I wonder if the Promise Collection will make these increases all jump in the next Guide
The one book from the Modern Age I'd like to own that I don't own now is Bone #1
The one book from the Bronze Age I'd like to own that I don't own now is Scooby Doo #1
The Bronze Age is 20% made up of 35 cent price variants
Why is Uncle Scrooge #179 still on the list, we'd rather have that than say… X-Men #101?
Giant Size X-Men #1 had the highest Guide value jump in the Bronze Age at 117%
You have to get to book #10 in the Copper Age before you hit a traditional hero book in Amazing Spider-Man #300
Actually only 8 of the top 25 Copper Age books are traditional hero books
The Crow #1 had the highest Guide value jump in the Copper Age at 139%
There's no way a Green Lantern #76 should be worth more than an Amazing Spider-Man #129
The Silver Age is more evenly split that it should be I think, 27 for Marvel and 22 for DC, plus Richie Rich, I'm thinking that should be 33 and 16 ish
Only 3 books out of the 25 in the Bronze Age had a 0% increase, Uncle Scrooge #179, Green Lantern #76 and Iron Man #55
They should up the Romance books to top 25, for me
Action Comics #1 is worth more than double the top 50 Silver Age comics in Guide value
Every single Western showed a 0% increase except 1, Western Picture Stories that went up 3%, I'm thinking that might have been a typo
Ditto for the Platinum Age with only 1 avoiding the goose egg with a 3% gain, again, probably a typo
The Modern Age saw some of the best returns ever! 9,900% for Spawn #175, 11,567% for Star Wars: Knights of the Old Republic #9, 16,567% for Spawn #174 and how about a nice 23,233% return on a Star Wars: Clone Wars #1
I never look at the Top 10 Crime, Horror, Western and Science Fiction lists
Action Comics #242 at #15 is the 1st DC Silver Age to introduce a new character, the villain Braniac
I'm pretty confident there are people out there that own all 50 of the Silver Age books but I don't know if there is anybody that owns all 100 Golden Age comics, in any grade
Showcase #4 is now 4th in the Silver Age as it continues its fall, it will be caught by X-Men #1, Spider-Man #1 and Journey #83 in the coming few years
I like Bone #1 being at the top of the Modern Age
I like the Turtles being #1 in the Copper Age
I don't like Star Wars 35 cent Variant being #1 in the Bronze Age, I think it should be Hulk #181
I like Amazing Fantasy #15 being #1 in the Silver Age
I can't argue with Action #1 being #1 in the Golden Age, but I think it eventually could be Detective Comics #27
I'd like to hear some of your random and casual observations in the comments below.
Last night we closed out another weekly internationalcollectiblesexchange auction on eBay. We went light this week as we had some people on holiday but we still produced some great results. Our very tight and crisp copy of Amazing Spider-Man #101 sold for $1,410. It was a CGC 8.0 with Off White to White pages and the book had nice gloss and was perfectly centered. We just beat the 90-day average and were well above the last sale recorded for the book. Advantage buyer on this one, such perfect centering, great page quality and a key issue that will just see more and more demand in the years to come.