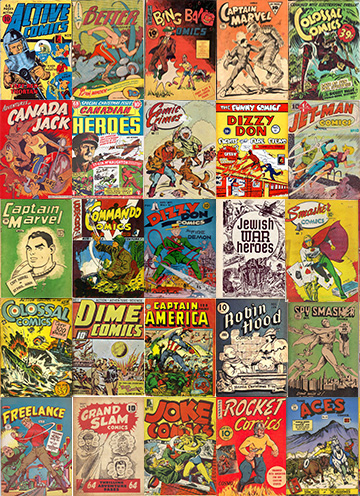 This is a two-part post containing first my own, kind of orthodox, view on what constitutes a WECA comic followed by fellow WECA collector Jim Finlay's view on a finer and more porous line of distinction between the WECA period and the reprint FECA period that followed it. Readers views may fall on one side or the other, or somewhere in between or outside these perspectives and we encourage any clarification of our ideas in your comments.
As much as I'm fond of the term "Canadian White," my affection for it doesn't override the imprecision with which it has been employed in collecting and resale circles. Though it has had traditional currency since the sixties, in today's internet intense collecting and marketing worlds can anybody really provide a one or two sentence definition that tells you what a "Canadian White" is and what it isn't? Can anybody put the definition of a Canadian White into a tweet?
This term came about because when most of them started turning up collectors' hands a generation or so after their demise just after the Second World War; people noticed that they were different from American comic books because they had no colour register imprinted over the black-and-white line drawings in their panel work. So when you came across a book like this and its indicia showed that it was printed in Toronto, Vancouver, or Montreal, you knew you had a "Canadian White."
However, until recently, nobody had really examined the nature and scope of these books and they had their place as outliers in the collecting field. Their rarity and obscurity made them the elusive targets of a relatively esoteric group of collectors. But with columns such as this one and the work of other researchers and the current efforts in reprinting these books, they are coming back into the general Canadian comic book consciousness. Yet it still is not uncommon to see the term being applied on internet auction sites (especially by American dealers) to Canadian reprint books that came out from 1948 to 1953 or so.
It must also be noted that some of these books, such as the early issues of Better Comics, had colour stories in them and that as the war came to a close Anglo-American started producing all of its titles as full colour books and a couple of the other companies tried this conversion in 1946 as well, so that these books weren't all in just black-and-white.
As you know, I am a proponent of the term "WECA Comic" for a book from this period because of the fact that these Canadian comics came into existence out of a politico-economic manoeuvre by the Canadian government (the War Exchanges Conservation Act, hence the acronym WECA) which banned the importing of American Comics and that these comics disappeared when this Act was gradually repealed by the end of 1946. See my post from a couple of years ago where I first talked about this topic.
I put together a tentative list of books that I think comprise the WECA period in a post from a couple of weeks ago. All these issues fall between the appearance of Robin Hood Comics No. 1 and Better Comics No. 1, March 1941 to the appearance of the last issue of Robin Hood Comics with its cover date of Dec. 1946-Jan. 1947. I feel that all comics printed and published in Canada during this period should be considered WECA comics and those that fall outside this period should not.
In this way, the four Fox reprint titles issued by Anglo-American Comics with the cover dates March, 1941 are WECA comics even though they are reprints and the Classics Comics titles issued by the Toronto offices of Gilberton Publishers in 1946 are also WECA comics. Even reprints of regular American titles such as Exciting Comics No. 39 published by Publication Enterprises of Toronto with the cover date of March-May 1945 should be considered a WECA book. Of the books mentioned in this paragraph, I think only the Fox reprints would be usually considered "Canadian Whites."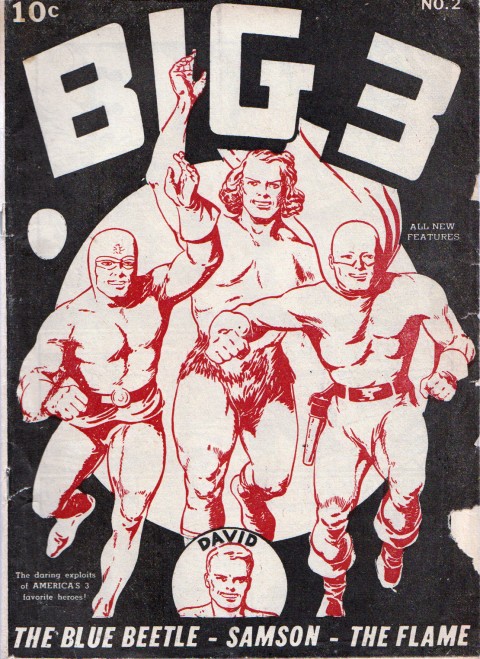 In order for a comic to be considered to be a WECA comic it must not only fall within these 1941-46 parameters but it has to have been published/printed in Canada. By this definition we have to exclude the 128 page Captain America and 128 page Marvel Mystery which were published by Timely in 1942 for distribution in Canada and somehow got around the WECA government restriction on American comics. The Cap Annual was a square bound issue with the cover of Captain America No. 22 and the contents of Marvel Mystery Comics No. 33 and Captain America Comics No. 18 in black-and-white. Since these comics appear to have been published in The States, even though they were only distributed in Canada, to my mind, we cannot consider them WECA books though they're value to American collectors seems to eclipse the monetary ceiling of any WECA book so far.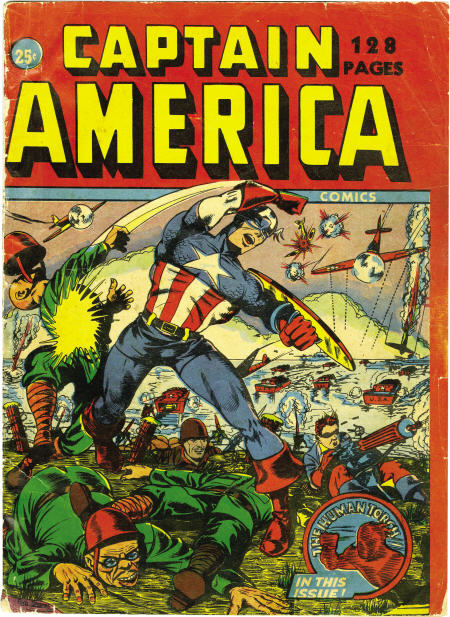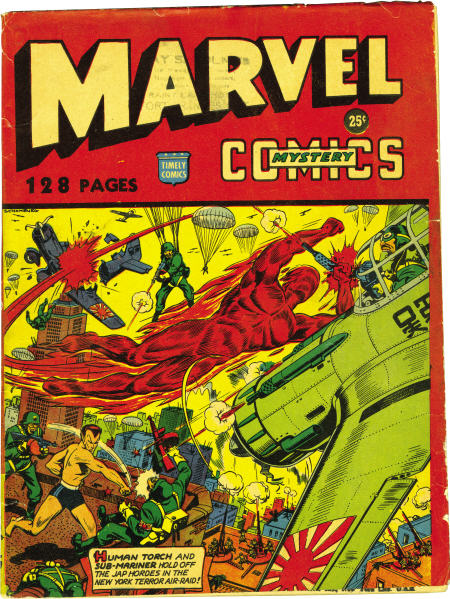 Conversely, we can call those comics published in Canada with printed British prices and/or price stickers on them and distributed in the UK as WECA comics.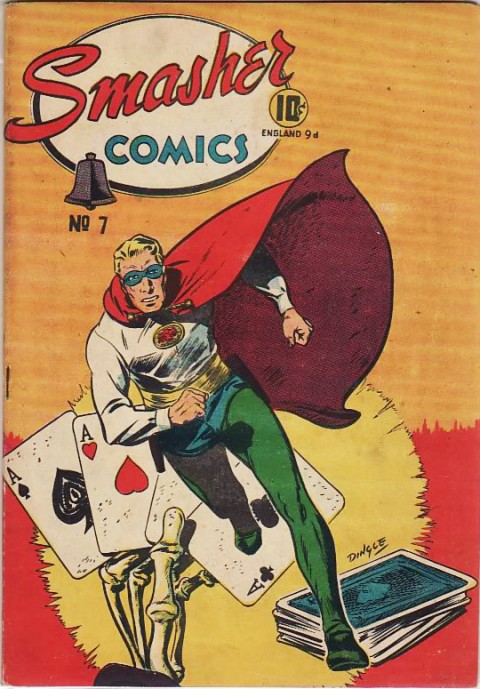 There is a Speed Savage compilation comic for distribution in the UK with a cover that seems to have been drawn by a UK artist, yet still has a 10 cent price point on it. I have never seen the inside of this book and wonder if the book was actually printed in the UK which would place it outside the direct WECA spectrum for me.  There were even a couple of the 1946 Anglo-American titles (such as Robin Hood Comics No. 32) that were published in Ohio for distribution in The States. For me these are quasi-WECA or WECA variant books and not precisely WECA comics.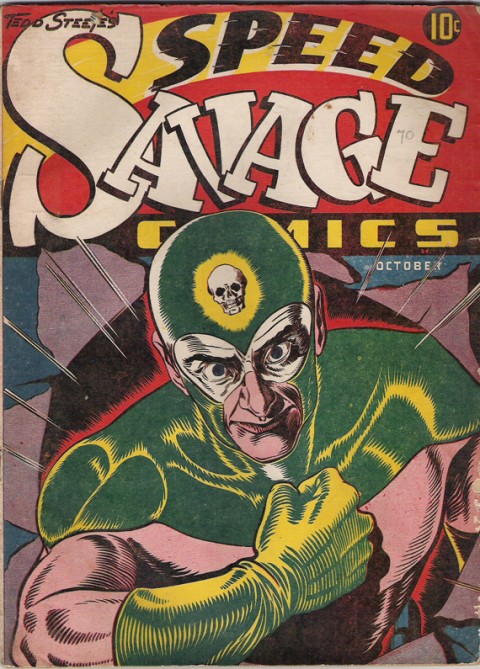 Now, if we take this very orthodox definition as a working definition for that particular set of war-time Canadian comics that include Anglo-American, Bell Features, Educational Projects, and Maple Leaf Publications products, then we must exclude those comics put out in 1947. These include the F. E. Howard issues of Dizzy Don Comics Nos. 3 and 4 and Super Duper Comics No. 3. Manny Easson had already broken away from  Features to produce Dizzy Don Comics 21 and 22 through his own company, Dizzy Don Enterprises.  The two F. E. Howard issues of Dizzy Don Comics were published in the States for American distribution with issue No. 3 being a reprint of Dizzy Don Comics 22.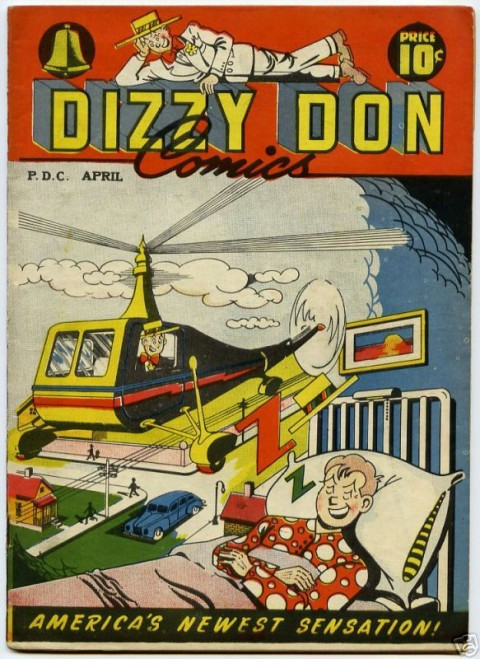 This period of Canadian comic book publication from 1947-1955 or so is mostly a period of reprinting American comic books and I've chosen to term it the FECA period and I have briefly discussed it in a previous post.
Super Duper Comics No. 3 is the real "tugger" on my WECA restriction.  Besides Dizzy Don, F. E. Howard also purchased the rights of another number of Bell Features characters and put previously unpublished stories in this issue. It leads off with Doc Stearne in his first new full story as "Mr. Monster." Now in the final panel of Doc Stearne's appearance in Triumph Comics No. 31 (the final WECA issue of the title), the promise is that the next story will appear in a new title called Unusual Comics. The first issue of this title did appear in 1946 with an original Fred Kelly cover but it only contained American reprinted material.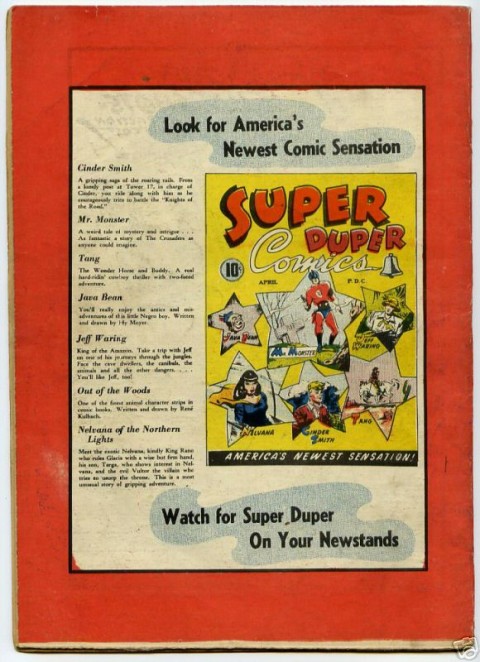 Bell Features tried desperately to continue publishing original Canadian material with Slam-Bang Comics No. 7 in 1946 but this effort was quickly hammered down by the flood of American comics on the shelves. In fact, two of the stories, Murray Karn's "Jeff Waring" and Rene Kulbach's "Out of the Woods," appearing for the first time in Slam-Bang Comics No. 7, are reprinted in Super Duper Comics No. 3.
I'm convinced that the stories that appear for the first time in Super Duper Comics No. 3 were not newly produced in 1947 for that issue.  By 1947 almost every artist that was involved in the Comics of the WECA era had moved on to another field or had moved to the States looking for similar work. F. E. Howard had purchased the rights to the Bell characters he featured in and Bell packed it in in 1946 with a few finished and unpublished stories still in the offices or at the warehouse (Who knows how many of these finished stories never saw the light of day at all and if Bell wasn't the only company that had unpublished material languishing in their files when they folded. I know that Gerald Lazare clearly remembers finishing a story that featured the Chesler character "Master Key" before he left Bell in 1946.) These are what show up in Super Duper Comics No. 3. So though the book features original Bell WECA characters in previously unpublished stories, the book came out after the WECA period was over and, I feel, should not be included as a WECA book, though the book is still extremely valuable and a part (maybe an addendum) to the WECA story.
To me the proper analogy might be finding an couple of unpublished Cap, Subbie, and Torch stories from around the start of the comic code and printing them up  in a comic six months after Showcase  No. 4. That wouldn't make that a Golden Age book even though it would contribute to the knowledge of that period and in a certain way be connected to it. It certainly would still make it a valuable comic book.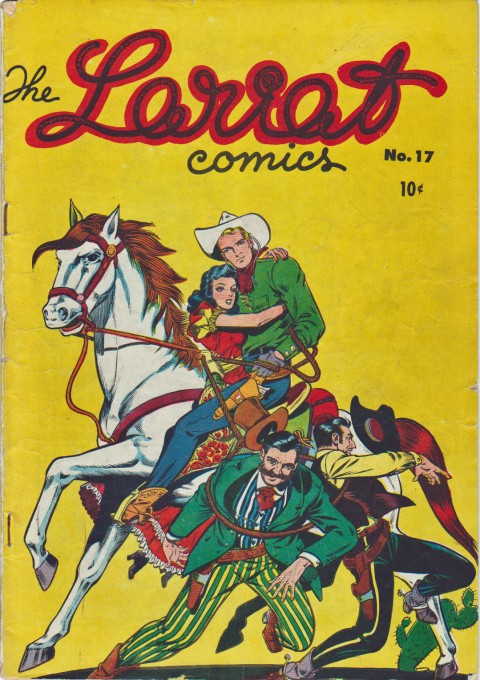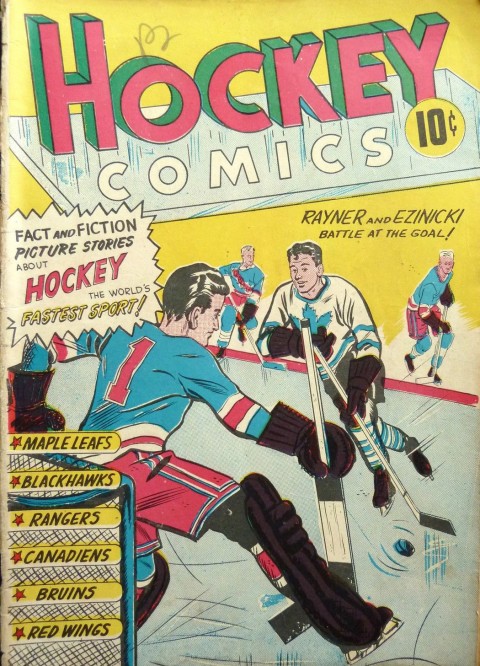 Jim Finlay: What are WECA and FECA comics?
To me a WECA comic is defined by its Canadian content and a FECA comic is defined by its foreign (US) content.
Does the WECA and FECA period of Canadian Golden Age comics have a definitive timeline where WECA era ends and the FECA era begins?
There is a period from around the beginning of 1946 to the end of 1947 where the publishers were shifting to publishing US reprint material and phasing out original Canadian content where both existed until the publishing of US reprint material became business model for the existing Canadian Publishers until the end of this period in 1955.
The vast majority of WECA comics are known as Canadian Whites which were published from 1941-46 with all Canadian content.
As early as 1941 there were books I call WECA Reprints that were published in Canada, usually in black and white much like Canadian Whites. Books I consider in this category  include Fantastic Comics 16, Mystery Men 20 published by Anglo-American, Super Comics  nn,  Black Hood nn, Bingo Comics 1 by F.E. Howard,  and issues with colour interiors like Atomic Comics 1 by Daniels Publications, Active Comics 29, Dime Comics 29 by Bell Features.

During the WECA period there were also books I call WECA Hybrids that were published in Canada with a mix of Canadian Content and US content. They were mostly in the later 1946 part of the WECA period Books I consider in this category include Weekender V1_3 by F.E. Howard  and Unusual Comics  1, Jet-man Comics 2, Terrific Comics 3, Red Hot 3, F.B.I. 2 from Bell Features.

The vast majority of FECA comics are what I call FECA Reprints which were published from 1946-55 with all US content. What makes them Canadian is they were published in Canada, the bare minimum that all Canadian comics share.
Some are indistinguishable on the cover from a US edition, unless you know what to look for, and you need to see the indicia or back cover to ID its origins. Some of the more well-known FECA Reprints have original cover art and titles that are clearly distinguishable from other comics and make them more sought after too. Books I consider in this category are many and include Famous Athletes 1 by Anglo-American, Thrilling Danger nn, Spy and Counter-spy 2 by Export Publications and Zoot 11, Terrific Mystery 34, Jungle Drums 20, Ranger Trails 18 by Bell Features and Sun Girl 3, Western Winners 8 by Superior.

During the FECA period there were also books I call FECA Hybrids that were published in Canada with a mix of US reprint material and Canadian content.  Books I consider in this category include Dynamic Comics 24, Red Seal 19 by Superior, and Astounding  Jungle Adventures 10 by Randall Publishers.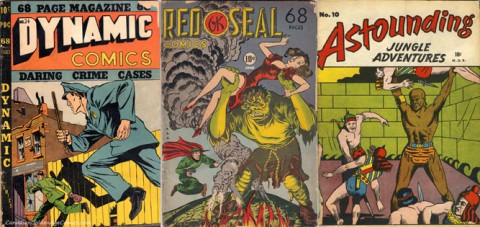 During the FECA period there were also some books I call Post WECA books that are all Canadian content WECA type books in the FECA period. The most prominent one is Super Duper 3 by F.E. Howard with the final Canadian Whites stories from Bell in colour that I would argue belong in the WECA era with only the publication date of May 1947 holding it back from joining it. Other books in this category include Science Comics 1, Captain Hobby 1 by Export Publications but their publication dates in the early 50s make them more WECA cousins than members of that immediate family.
If you think I left some books out in the above categories and they are Marvel Mystery Annual nn and Captain America Annual nn there is a reason. Although some will consider these books Canadian I would argue they are not. They were printed in the US with all reprint material from US books except in black and white. If you look at Canadian books like Zor the Mighty 1, Comic Crimes 11 and Bing Bang V3_30 no one would consider them UK comics just because they were distributed in the UK. Their publication in Canada makes them Canadian just as these two annuals being published in the US makes them US comics even if they were distributed in Canada.