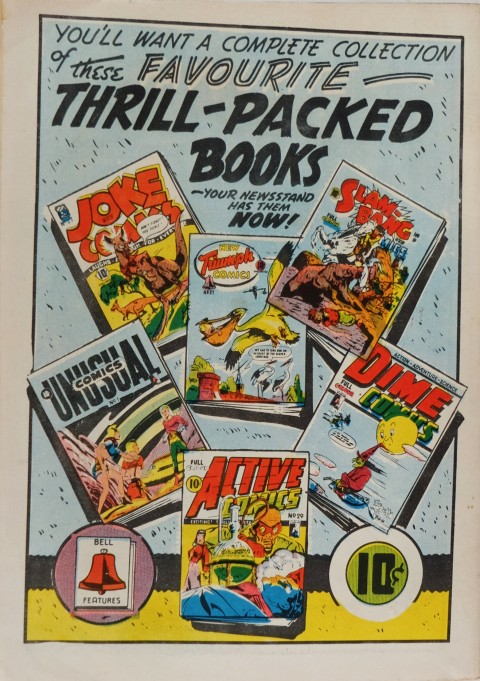 I miss doing this column and I wish I had enough hands and time to do justice to it and the other work I am doing. I certainly don't want to give the impression that the column is dead.
There's a lot going on in the WECA world with the two newest reprint projects, Rachel Richey's Johnny Canuck and Hope Nicholson's Brok Windsor in the very final stages and soon to be on your local comic book store shelves. It's also time to start thinking of nominations to the Shuster Awards Hall of Fame and my own front runners are Doris Slater/Titus who was the first woman in Canadian comics, and Tedd Steele, the prolific Bell Features artist and creator of Speed Savage. I'd love to hear other suggestions.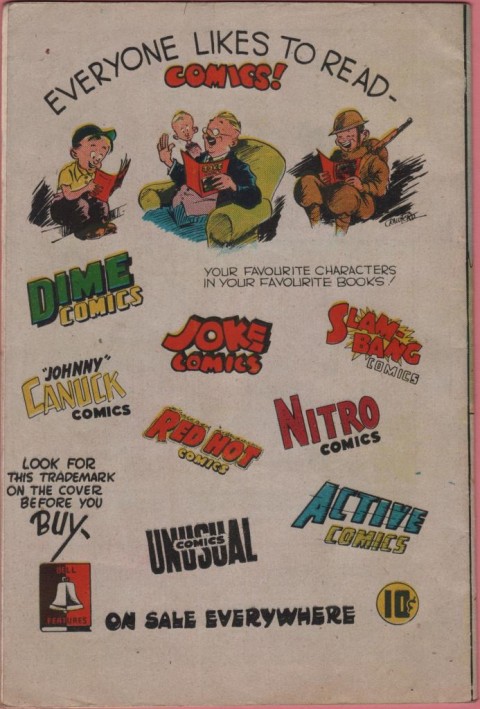 What I'd like to do for this column is to offer up a working copy of a WECA comic book checklist I knocked together the other day. The question that it both presupposes and raises at the same time is "What is the definition of a 'WECA Comic' or if you prefer to call it that, a 'Canadian White?'" As you know, I prefer the name "WECA comic" for these books and for me this means any comic that was published in Canada between the cover date of Robin Hood Comics Vol. 1 No. 1 (March, 1941) and the last issue of that same title, Robin Hood and Company Comics Vol. 3 No. 34 (Dec. 1946-Jan. 1947). This forms a continuous streak of Canadian war time comics whose existence was the result of an Act of Canadian Parliament enacted on Dec. 6, 1940. Whatever falls between these two bookends is, to me, a WECA Comic.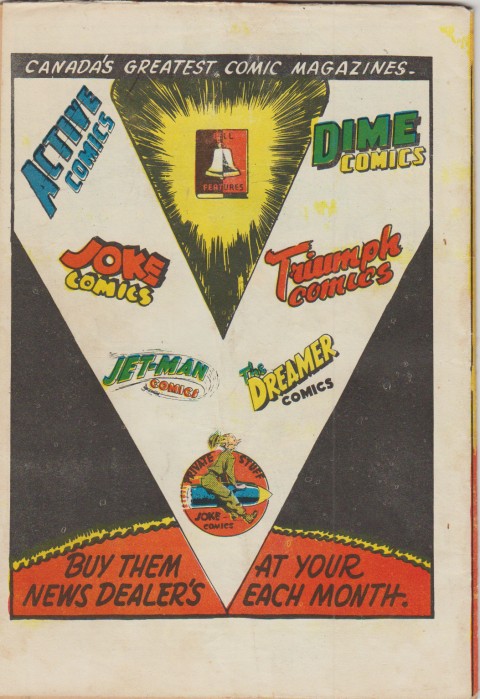 This may lead to some controversy because, according to this definition, a book like Super Duper Comics No. 3 (May 1947) which features a handful of the old Bell characters (including Nelvana, Nitro, and The Penguin as The Blue Raven) in full-colour new stories. But to me the almost six-month gap since the last continuous WECA comic prevents this book from coming into the fold.  By May, 1947 we are already into the next era of reprints but, I can also see the argument that because these characters are original WECA characters the Super Duper Comics No. 3 should be considered to be a WECA comic. The same might be said of the 1947 F. E. Howard Dizzy Don Comics which were, in fact, American publications. Please chime in with your own thoughts, definitions, and examples of comics that should definitely be "in" or definitely be "out."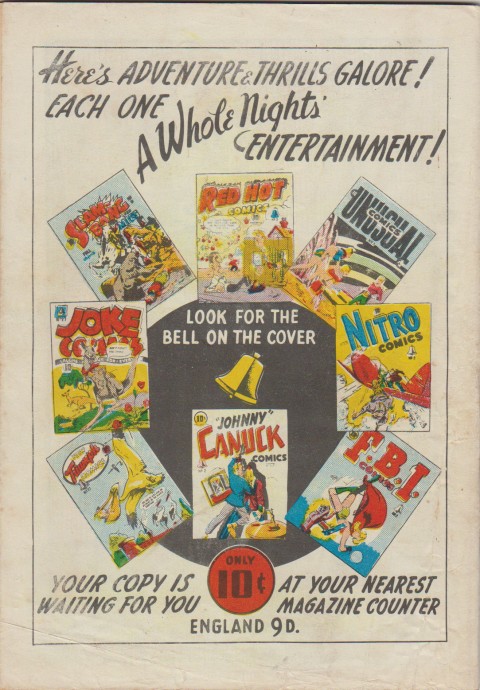 Anyway, here is the working list as Rod Serling would say, "for your consideration." My initial total comes to
| | |
| --- | --- |
| Publisher | # of Titles |
| Anglo-American | 309 |
| Bell Features | 216 |
| Century Pub. | 18 |
| Educational Projects | 37 |
| Feature Pub. | 3 |
| F. E. Howard | 10 |
| Hillborough | 7 |
| Maple Leaf | 133 |
| Marvel Annuals | 2 |
| Rucker | 14 |
| TOTAL | 749 |
Anglo-American           (Total = 309)
Capt. Marvel:  V. 1 N. 1 -12; V. 2 N. 1-12; V. 3 N. 1-12, V. 4 N. 1-12.
Freelance:  V. 1 N. 1-12; V. 2 N. 1-12; V. 3 N. 1-2; Freelance/Robin Hood 27-30; Freelance 31-35
Grand Slam: V. 1 N. 1-12; V. 2 N. 1-12; V. 3 N. 1-12; V. 1-7; G-Slam/3-Aces 44-50; G-Slam 51-56
Robin Hood: V. 1 N. 1 -12; V. 2 N. 1-12; 31-34
Spy Smasher:   V. 1 N. 1 -12; V. 2 N. 1-12; V. 3 N. 1-3; V. 4 N. 1-11
Three Aces:  V. 1 N. 1-12; V. 2 N. 1-12; V. 3 N. 1-12; V. 4 N. 1-3; 51-55
Whiz: V. 1 N. 1-12; V. 2 N. 1-12; V. 3 N. 1-12; V. 4 N. 1-7
Whiz/Spy Smasher:  V. 4 N. 6-11
Fox Reprints (1941)   4
Mighty Midget Reprints (1943) 4
Holiday Comics Gift Book
Red Rover Adventures
Bell Features              (Total =216)
Active Comics: 1-28
Commando Comics: 1-22
Dime Comics: 1-28
Funny Comics: 1-20
Dizzy Don Comics: 21-22
Joke Comics: 1-26
Triumph Comics: 7-31
Wow Comics: 1-30
1945 Compendiums and Slam Bang 7 and British Speed Savage     9
Reprint Books: Active 29-30; Dime 29-30; Joke 27-28; Triumph 32 (27); Unusual 1-2; Red Hot 1-3; Terrific 1-3; Johnny Canuck 1; The Brain 1; Doodlebugs 1; FBI Comics 2, Johnny Canuck 2; Jet Man 10; Comic Crimes 11; Smasher 7; Slam-Bang 8; Unusual Comics 1-2;
Century Publications                        (Total=18)
Blazing Comics
Blue Circle Comics
Bombardier Comics
Circus Comics
Coverless Comics: Conquerors; Dr. Mercy; Golden Lad
Jeep Comics: N. 1-2
Latest Comics
Space Nomads: N. 1-2
Three Ring Comics: 3 variants
Twinkle
Zor The Mighty: N. 1-2
Educational Projects             (Total=37)
Canadian Heroes: V. 1 N. 1-6; V. 2 N. 1-6; V. 3 N. 1-6; V. 4 N. 1-6
Famous Authors, Canada Jack 1-shot, Action Stories of the Mounties, Pict. Story Annual
Jewish War Heroes 1-3
Feature Publications             (Total=3)
Lightning Comics 10-12
F. E. Howard (Total=10)
Archie Comics Special
Bingo Comics
Black Hood Comics
Capt. Commando
Super Comics: N. 1 Citren
Super Comics: V. 2 N. 2-6
Hillborough Studios              (Total=7)
Triumph-Adventure: 1-6
Top-Flight
Maple Leaf Pubs.                   (Total=1
Better Comics: V. 1 N.1-10; V. 2 N. 1-10; V. 3 N. 1-7; V. 4 N. 8-9; V. 5 N. 10; V.  6 N. 1-2; V.7 N. 3-6; N. 37, 38
Bing Bang: V. 1 N. 1-10; V. 2 N. 1-10; V. 4 N. 1; V. 5 N. 1-7; V. 3 N. 29-30
Lucky: V. 1 N. 1-10; V. 2 N. 1-10; V. 4 N. 1-3; V. 5 N. 3-10, 32, 33, 34
Rocket: V. 1 N. 1-8; V. 2 N. 1-10; V. 3 N. 1-2; V. 4 N, 3-4; V. 5 N. 5-10; V. 4 N. 1; 30
Your New World
Misc.                                       (Total=2)
Captain America Annual
Marvel Mystery Annual
Rucker Pubs.                          (Total=14)
Lucky Coyne Comics: No. 1
UN Battle Heroes
UN War Heroes
Scooter Comics: N. 1-2
Snuggy Comics: N. 1-2
Weekender:  V. 1 N. 1-4; V. 2 N. 1-3