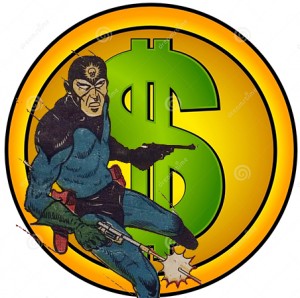 If you think about it, WECA comic books, under their affectionate and familiar nomenclature "The Canadian Whites," have been, up until recently, in a sort of hidden dimension, almost an alternate, parallel universe one step out of phase with our own and therefore invisible. People had trouble finding portals into it and sometimes seeing a WECA book was akin to a Sasquatch sighting. They had been concealed from us, even though they were somehow with us, like Edmond Good's hidden kingdom of Xalanta in Dime Comics or Dingle's frozen world of Glacia in Triumph. Their limited numbers were cached somewhere miles beneath our feet and waiting to be broken through to by a Rex Baxter or a Nelvana. The Word of the Whites was mysterious, shrouded by mists, but periodically chronicled by this and that explorer (Alex Ross, Loubert and Hirsh, John Bell, Robert MacMillan…) who said hesitantly that they had seen a map of the place or actually spoken to someone who had lived there but to the vast majority of Canadians and even comic book collectors in general, their fabric was at best woven of rumour.
My question is, does the scarcity of WECA comics put them in a universe of their own when it comes to determining their fair market value? These books are still somewhat impenetrable for the majority of collectors and maybe an accurate price guide can't be set down because of the lack of available sales data. I don't subscribe to GPA so I don't know if there is any data on sales of some of the slabbed WECA books, but so far this year I have seen about 130 of these books change hands on line, but this unusually high number of WECA books made available in a single year was chiefly due to the 100 or so books offered in the February and March ComicLink (CLINK) auctions. The usual number of books exchanged on line per year is probably below 50. I suspect that most WECA books never reach the online market and are exchanged between collectors, or dealers and collectors hand to hand—or they are discovered when collections come to light from across the country when a collector digs extra hard and uncovers one.  I have managed to add about 40 books to my collection this way this year.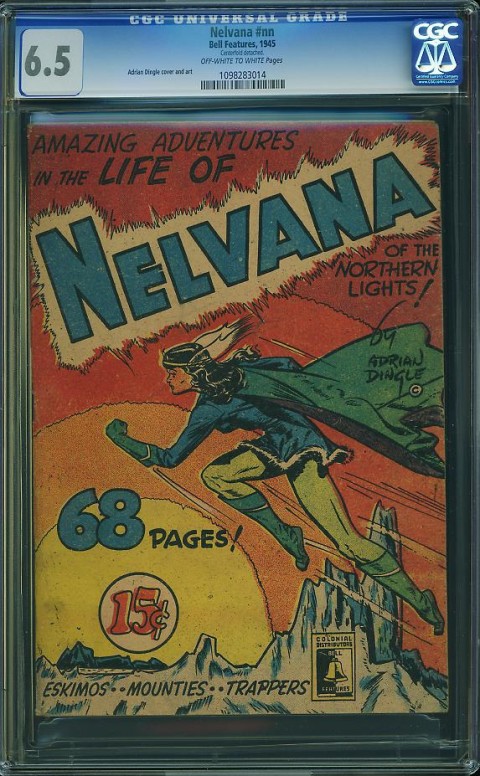 In spite of this, we can set down the things that we do know about the fair market value of WECA books.
­­Relative values can be established with higher range prices for:
First issues of a title (e.g. Triumph Comics No. 1)
First appearances of feature characters (The Wing in Joke Comics No. 4)
Cover themes (All Nelvana covers, Hitler-Nazi covers, …)
Iconic books, books that everybody wants (one-shot 1945 Nelvana compendium)
last issues of a title (though nowhere near the value of the first issues)
first work by an artist (e.g. Jerry Lazare on Jeff Waring in Wow Comics No. 17)
and so on……
Given the fact that high grade for Bronze books is probably 9.2 and up, for Silver 8.0 and up, and for gold 7.0 and up, high grade for WECA books should probably be 6.0 (FN) and up since it is so hard to find WECA books in this grade or better.
On the other end of the scale, low grade books are still desirable because they may be the only copies you ever see. That's why in the CLINK March auction even a 1.5 Triumph No. 12 was the star of the auction at $2600 and a 0.5 Triumph No. 7 with the first couple of wraps and the centerfold missing still got $850 (crazy but it happened). Scarcity and demand work together. A qualified green label or restored purple may be the "Kiss of Death" for a comic's value potential in the real world but in the WECA World perhaps not so much.
A low number of known copies of a book will escalate its value (e.g. six known copies of Triumph Comics No. 1 with a couple in archives). No known copies of the tabloid-sized Robin Hood and Company Comics No. 1. This will be compounded as time goes by with the drifting of many solid existing collections into archives–great for the researcher (like me) but a bane for most collectors.
The entrance of American niche collectors into Canadian war-time books connected with their passion has pushed up values and we can see this in the 128-page Captain America and Marvel Mystery giants as well as the MLJ connected Super Comics with their Archie and Shield appearances. Will the same happen when American Fawcett collectors get wind of the seemingly more common Anglo-American redraws?
Provenance of an item or a collection can easily add to its value. For example, a Cy Bell file copy could certainly command more than its face condition value or a Better Comics No. 1 bought from the family of Vernon Miller (or the one still existing copy signed by Miller that the family has) may be worth a multiple of its normal (whatever that is) value.
Copies signed by the artists, writers or publishers should they turn up might be worth a little more. Jack Tremblay signed a couple of his stories in some issues of Wow Comics when he appeared at TCAF in May of this year for example.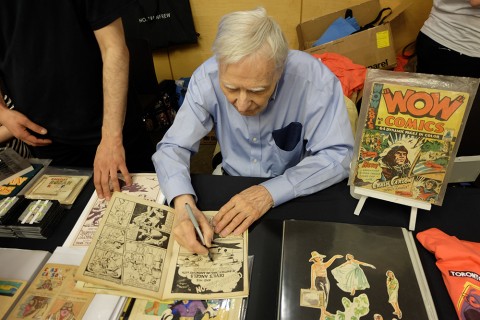 These are a few of the general value related factors I can come up with off the top of my head. I'm sure that some readers will be able to add a few more valid ones as well. The bottom line is that these WECA books certainly put the "gold" in Golden Age.
————–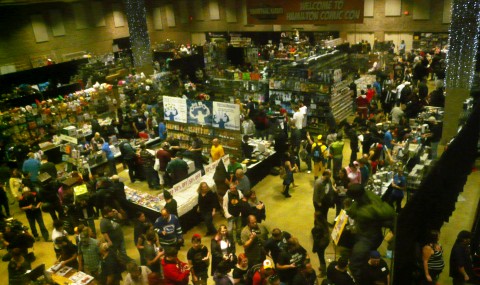 Last Saturday saw this year's version of the single day Hamilton Comic Convention (HammerCon). This year attendance seems to have more than tripled over last year with over 8000 fans coming through the turnstiles. For a quick review of the show take a look at Scott VanderPloeg's recent column, and for general info on the con you can find its online link here. I just want to draw attention to the fact that one of our own WECA Wimmin', Rachel Richey, was set up on the third floor previewing her new reprint collection of Johnny Canuck stories from Dime Comics and had on offer copies of the Nelvana reprint collection as well as comic book sized black-and-white reprints of the Nelvana origin story and newly minted first print run of 250 copies of the Johnny Canuck origin story from Dime Comics No. 1.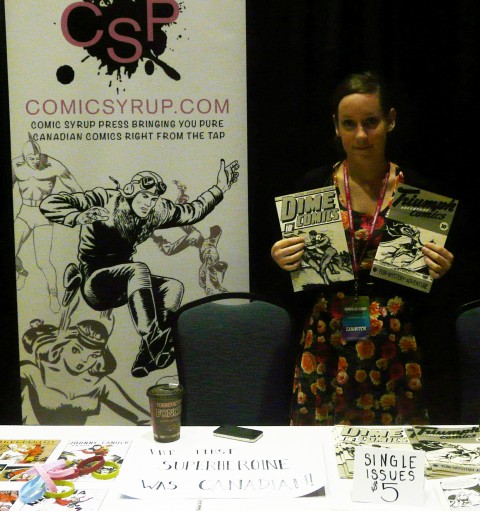 She was signing and numbering copies of these 250 for whoever bought them and will sell all of them as numbered first editions from 1-250. Rachel would love to get the Johnny Canuck reprint collection out for Christmas but more realistically expects it will be out by next Spring.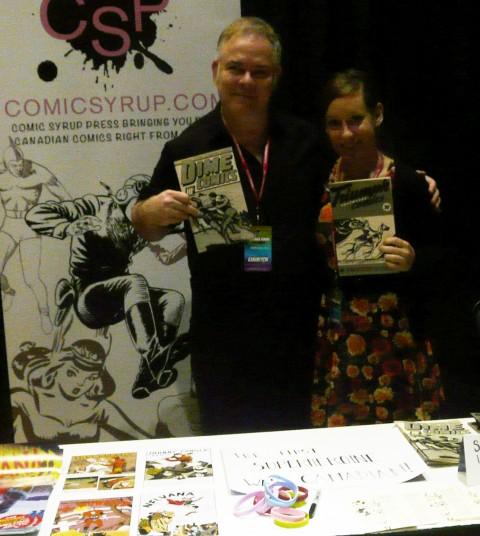 Let's wish Rachel complete success in this latest reprint effort and equal success for Hope Nicholson with her upcoming reprint volume of all the Brok Windsor stories from Better Comics.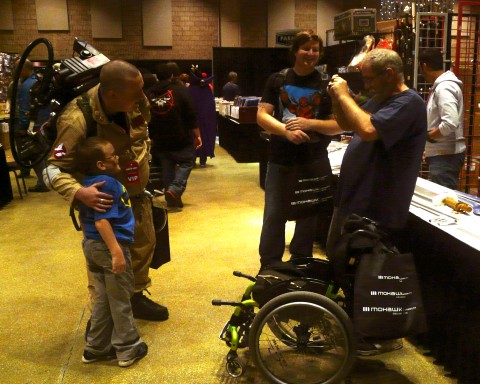 The WECA world is positively humming with an energy and activity it's never had before. Let's ride the wave.