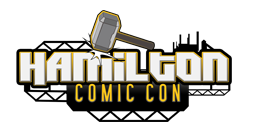 My son and I attended the 2014 Hamilton Comic Con at the Hamilton Convention Centre this past Saturday. It was a one day show in its second year; at some point they changed the name from Hammer Town Comic Con but the old URL still worked.
I wasn't able to secure a ticket last year so this was my first time at this show. It was also the first Comic Con style show for my son John who is 6; he went with me to TCAF this year but that's a different beast altogether.
First impressions: this is a show for the casual comic fan. $25 for eight hours of show time made up of two medium convention rooms filled with comic dealers, celebrities, artists, toy dealers, game dealers, weapons dealers (yes it's true), a small artist's alley and a nicely placed panel area.
We arrived at 1:00 PM and the main floor was mostly packed. John had a Batman shirt with a cape attached and a mask he wanted to wear, so somehow be picked up on the purpose of the show long before I did. Lots of cosplayers everywhere milling around. Comic dealers like Big B Comics and Paradise Comics had their usual show booth of comics, trades and toys. Other comic dealers in the room just had back issues. The Dragon was there with a manga only setup. Toy dealers seemed to have a lot of Star Wars figures at a discount and an otherwise mixed bag.
Since cosplay was a big part of the show there were prop weapons dealers with swords, shields and the lot. In the second room of the show on the third floor there was a large panel area set up on the floor which was great for easy access but made it louder than usual, which is pretty loud for a comic con. Beside that was an area for cosplay photos, which made a lot of sense and eliminated congested aisles while everyone takes pictures.  Of course that still happened, but it was limited. Below is a gathering of Spider-Men in the photo area: you can see the panel set up beside them.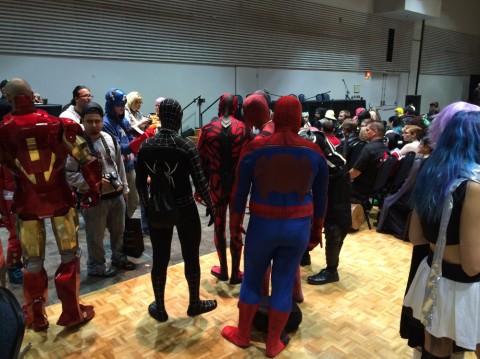 There were a few artists set up, sketching and selling artwork. I didn't see much activity there on my several passes; Leonard Kirk was working away on something as was Geof Isherwood. A steady crowd at the 1966 Batmobile (a "screen authentic replica") and K.I.T.T. (another "screen authentic replica") car, along with some long lines for the celebrities and wrestlers.
Rachel Richey was there promoting Johnny Canuck after her successful Kickstarter campaign but before getting the book in print: what a tireless ambassador for WECA / Canadian Whites! She had some Nelvana volumes available but I was disappointed to miss the chance to chat with her: there was a steady crowd at her table.
The vibe from the throngs of people at the show was about the casual fan experience, mixing comics with wrestlers, celebrities and cosplay. It was a local show in a city of 505,000 people and those from the Hamilton area came to see what it was all about and maybe pick up a movie item or a fondly remembered childhood toy or comic.
We carefully wandered booth to booth as John looked at things: I told him I'd get him one thing from the show and he's a careful chooser so I had a chance to get to each and every booth. In the end he decided against getting something at the show and asked instead if we could stop at Toys R Us on the way home for a new Nerf gun. We did get one and on the way home I asked what the best part of the show was: John replied the best part was that we had fun. I asked what was the second best part and he said there wasn't one. An interesting take on the show: fun with no stand out features.