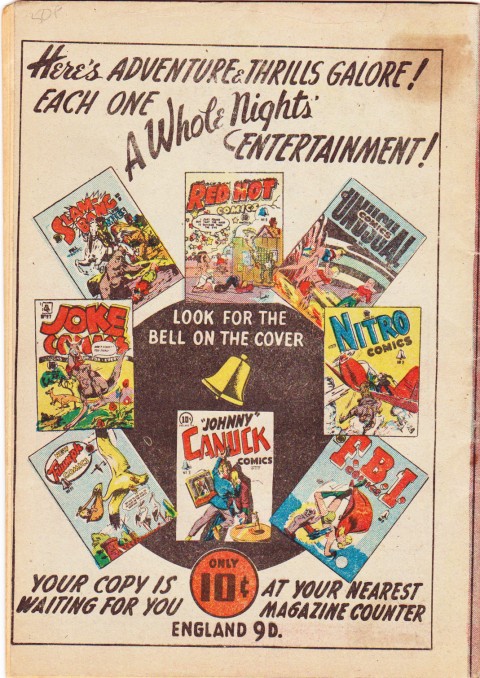 The good discussion generated by my last post needs to be seen through little. Besides, I had a busy week and have nothing up my sleeve for this week's post. The comics in the main graphic all came out in 1946, the last WECA year, and almost all of them had American reprinted guts with most covers being re-treads from older original bell comics and a large percentage of the final product was intended for the UK market as you can see in the price indicator at the bottom. Are these books Canadian and are they less Canadian than the original WECA black-and-white books?
In last week's post we brought up some of the important criteria for determining whether or not we could call a comic book our own (that is Canadian). Let me try to summarize the ones that come to mind in a list:
The comic is published and printed by a Canadian company in Canada.
The comic is assembled (writer, penciller, inker…) with a majority of creators who can justifiably be called Canadian at the time the book came out.
The comic contains a main character that is identified as Canadian.
The comic came about as a result of or response to a Canadian historical, cultural, or political event.
The comic reaches out to a Canadian audience through letter pages, contests, and Canadian advertising.
That's all I can come up with at the moment, maybe there are some others as well.
My question is this: how would you rank these in order of importance, and which of these are indispensable and which are of lesser importance?
Is a comic that has all of these criteria "more Canadian" than a comic that has just one? Can comics have a degree of "Canadian-ness?" If we can call an issue of Wolverine Canadian because the main character has revealed Canadian origins, is the book less Canadian than a Fuddle-Duddle comic or a WECA book?
I am very curious to see what thoughts everybody can share on this and it will give us some ammunition and anticipated direction for our panel at Niagara Con in a month.