We are going to take Arcs & Runs in a slightly different direction this week and look at a Silver Age run of issue #4's. Yes #4. I have listened to all the love and support for issue #2's and their value relative to #1's. I think many of them overvalued. I have always believed that issue #4's only bent the knee to issue #1 in overall popularity. They bow the knee to no issue number in terms of content. There are many other issue numbers that make a pretty cool grouping such as issue #3, 5, 28, 50, and 100. There are even some cool #2's.
I have not included any horror, westerns, or romance books here, trying to stay with the super-hero genre for the most part. Iron Man, Sub-Mariner, Captain Marvel, Not Brand Echh, reprints, and others didn't make the cut on my list, but might on your own list.
Todays top ten list of books is a countdown of my own personal favorite silver age Marvel issue #4's. It is not a list by value although it is does follow the money pretty closely. We will also feature a couple of important #4's from the distinguished competition. And awaaayyy we go!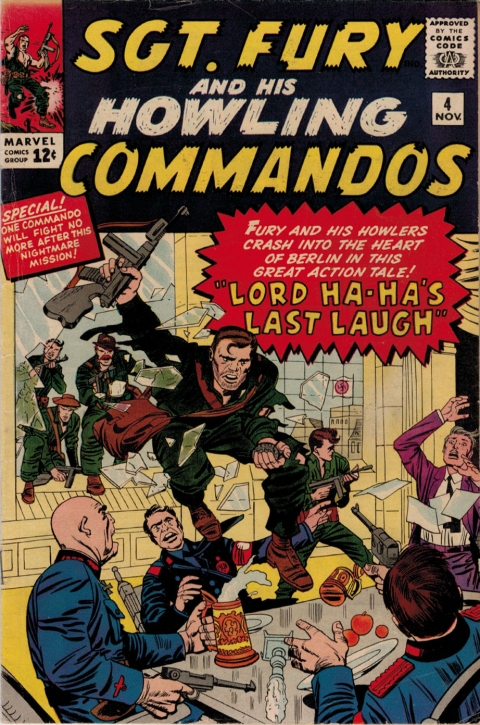 #10 Sgt. Fury and his Howling Commandos #4
This a war comic of course, although one might argue Nick Fury was a super-hero of World War 2. This story ends up being famous for the death of Junior Juniper the youngest member of the Howling Commandos, and the only member to ever be killed off permanently. The Junior Juniper character came straight out of a Hollywood stereotype, although in the war there were plenty of soldiers like him. A young, brash, sometimes underage farm boy or high school kid who would be taken under the wing of the older and more experienced members of the squad. In the movie's this character would usually be bumped off in a gruesome or unfair manner by the enemy, and was used in a propaganda type way to in-site outrage and rally support for the war effort at home. In this comic young Junior Juniper dies heroically in a battle in Germany. A traitorous propaganda minister Lord Ha Ha is at the forefront of the story. I was only twelve when I first read this book and comic heroes did not die back then like they do now. It had quite an impact on me and that is why it is on this list.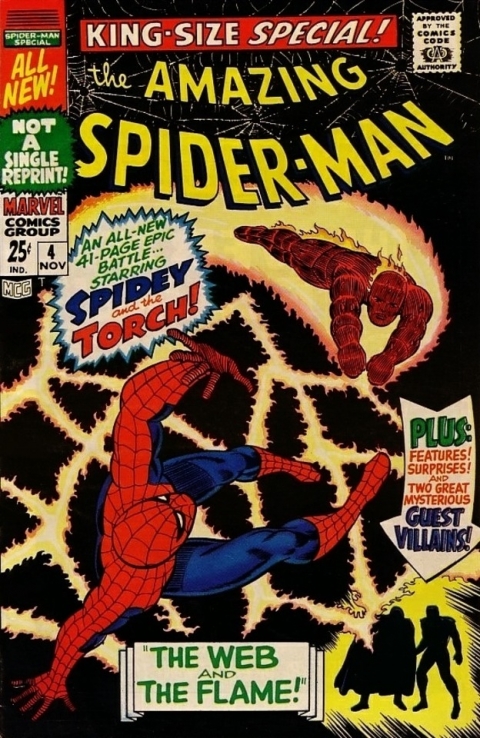 #9 Amazing Spider-Man Annual #4
One of my favourite Spider-Man annuals. A great black fire-web cover by John Romita. It would have looked even better without all the word balloons. Spider-Man and the Human Torch team-up (after the customary battle with each other first) to battle Mysterio and the Wizard. This is a fun, semi-serious romp that reminded me of stories from Amazing Spider-Man #8 and #62. These stories had more humour and less of the day-to-day emphasis on Peter Parker's problematic life. A nice change of pace. I couldn't recommend a book more for a first-time reader of Spider-Man.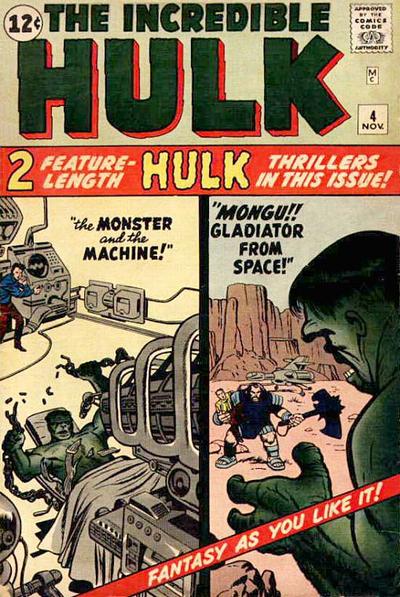 #8 Incredible Hulk #4
Well it is pretty plain to see I am not a big fan of the Hulk and it is true I am not. These early Hulk's are tough to come by and coveted by fans of the big green guy. I do like this two-story book This book , along with issue #6 have been on a maybe/want list of mine for some time but they are behind so many others I don't know if I will ever get to them. A lottery win would speed things up. In the meantime I still have story in the cheaper Marvel Collector's Item Classic form.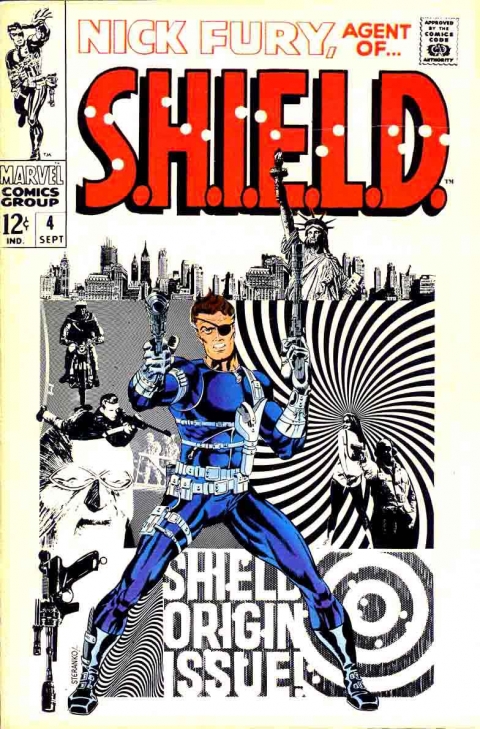 #7 Nick Fury, Agent of S.H.I.E.L.D. #4
It is not too often I can say that a comic cover is the primary reason that I have purchased a comic book but that is the case with Nick Fury #4 (and #5). A top-notch Jim Steranko cover is the main feature of the book. A retelling of the origin from Shield doesn't hurt either. The interior art is capably done by artist Frank Springer and not Steranko who reportedly missed the deadline. I have read Steranko had a new origin planned for the book. I would have liked to have seen and read that book. I was smitten by this cover the moment I laid eyes on in a spinner rack at my local grocery store and it has aged very well.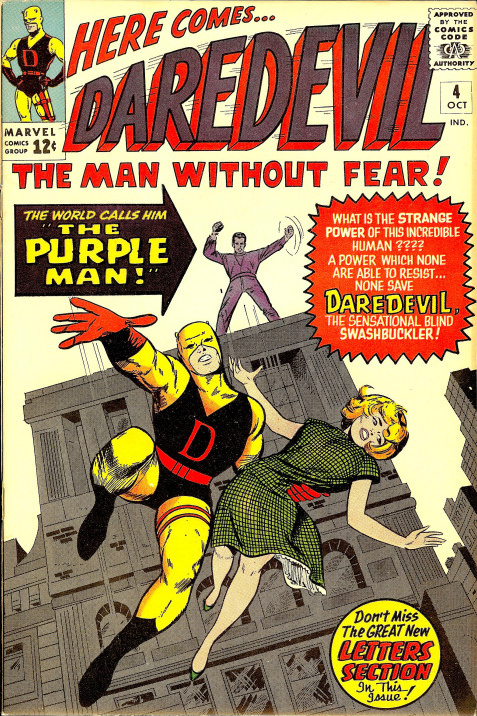 #6 Daredevil #4
First appearance of the seldom used character – The Purple Man. I believe this is his only appearance in the Silver age of comics, and is next seen in Daredevil #88. That changed going forward and he has become much more of a force in the Marvel universe than the other yellow costumed Daredevil's early villains. I really like this book and would let my skin turn purple to have that Purple Man's power! This book even seems to be getting a little more love from the marketplace now as well. It is a far superior book to issue #2 which is worth considerably more.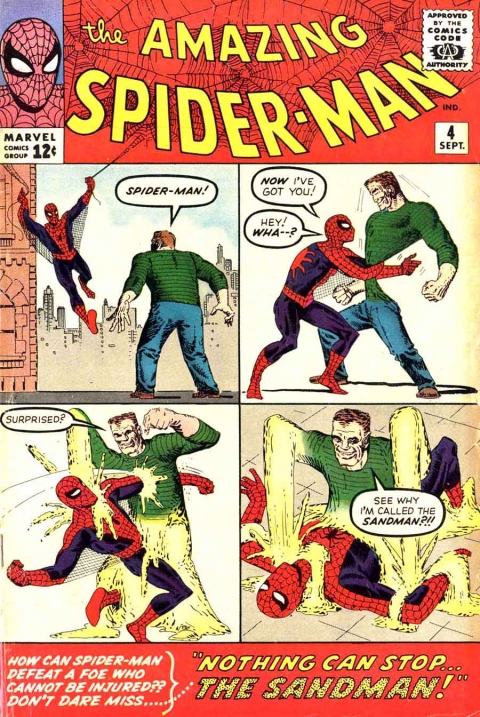 #5 Amazing Spider-Man #4
Another terrific villain for Spider-Man – The Sandman! I shouldn't say just Spider-Man as the Fantastic Four, Human Torch, and the Hulk also become regular foes. Who would've thought that a character made out of sand, and could be beaten by a vacuum cleaner, would become so powerful and learn to use the sand in so many ways. It was always creepy the way he could hide himself around you. This story contains Spider-Man's first battles with the Sandman and the Sandman's origin. Needless to say, it is worth a long dollar, but cheap compared to our next book…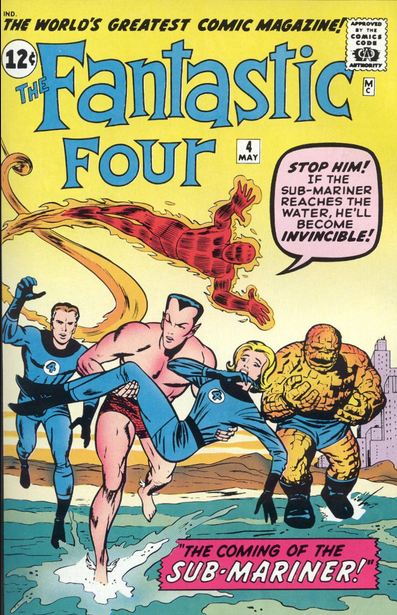 #4 Fantastic Four #4
This book features the return of the long forgotten Sub-Mariner. The Sub-Mariner is the second character of the golden age Timely/Atlas big three to return to Marvel's new silver age. The Torch was the first although the new Torch is human (Johnny Storm) and a member of the Fantastic Four. I do think when the Fantastic Four do return a new android Torch, invented by Reed Richards will be the ticket. I digress. The new Human Torch discovers the trance like Sub-Mariner in civvies and fly's him out to water. The Sub-Mariner revives and goes on to terrorize the Fantastic Four and the rest of the Marvel universe and human race for the next ten years, sometimes dabbling as a good guy. I didn't say Johnny Storm was a bright kid. The Sub-Mariner for me has always been an "excellent B character" best served in smaller does. Having said that he did more than hold his own in his own series for a period of time. A very important return of a character in the early days of Marvels renaissance.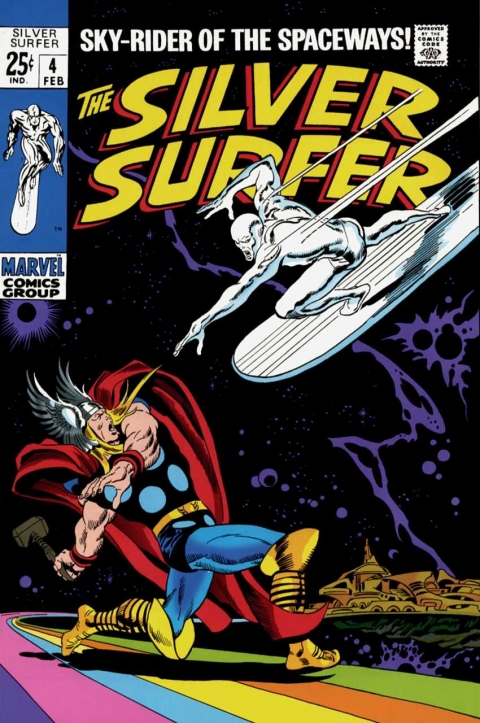 #3 Silver Surfer #4
One of my first Arcs & Runs posts was a critical look at the first Silver Surfer series in 1968. It was cancelled after eighteen issues because of poor sales. It did fail commercially but did produce one of the finest books of the sixties in my opinion in Silver Surfer #4. This book, for me has it all. A dynamite cover, terrific John Buscema art inside and out, an inspired story from Stan Lee, the scheming Loki, and a battle issue featuring two true cosmic heavy weights in the Silver Surfer and Thor. An added bonus is it's a 25 cent giant size book – my favourite comic format of the sixties. If this isn't enough for you I'll call on Dennis De Pues to join in a sing the praises of this book as well. No I'm not going actually to sing.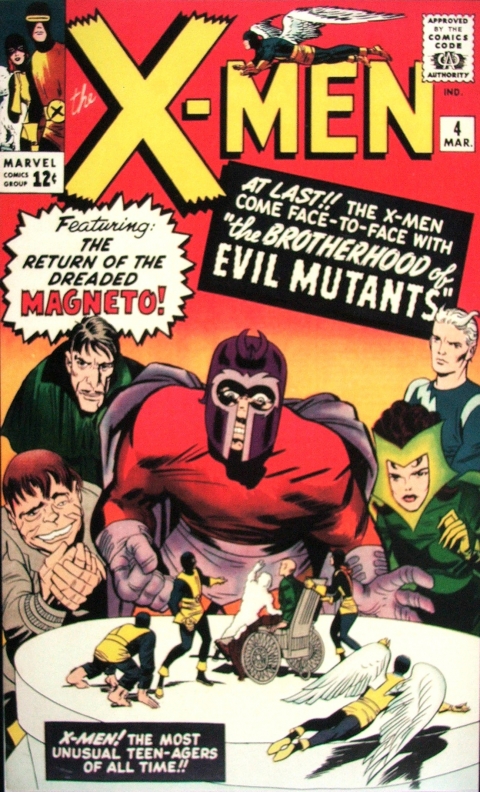 #2 X-Men #4
Awesome book. Great cover. First appearances of Quicksilver, Scarlet Witch, Toad, and the Brotherhood of Evil. A watershed book for the early X-Men.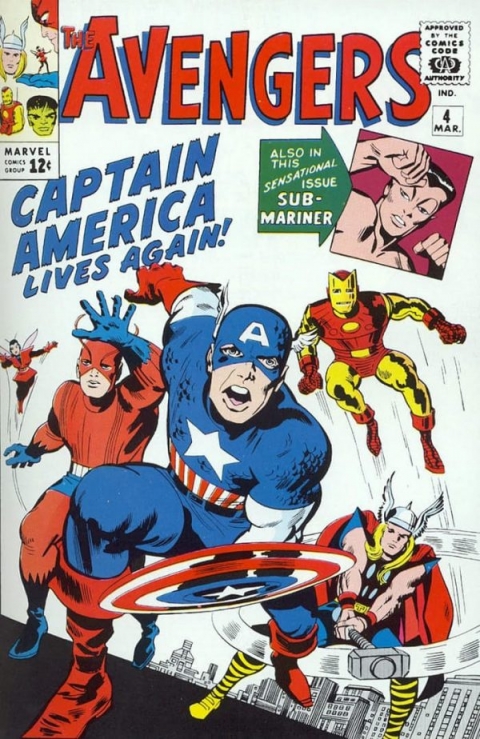 #1 Avengers #4
The return of Captain America. Nuff Said!
As it turns out I have just recently covered these two books in Arcs & Runs and won't be rehashing all the merits of these two books. Suffice to say they are number 1 & 2 on my list that contains many great books. Both of these books were published in March 1964 – a very good month.
And listed below are two stalwarts from the Distinguished Competition that had an impact/influence on Marvels early days.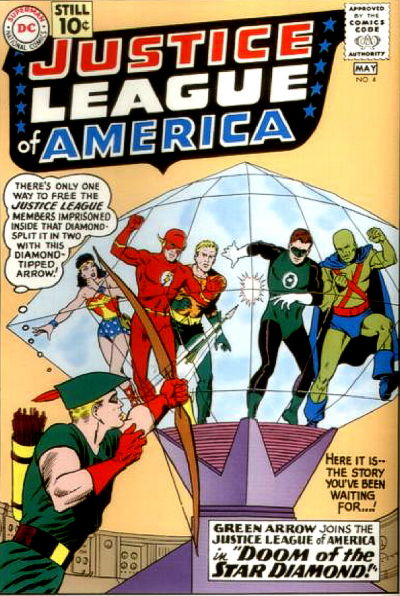 #2 Justice League of America #4
The Justice League of America was first introduced in The Brave and the Bold (#28-30) before moving on to their own title. In this issue #4 they are adding a new member from days gone by – The Green Arrow. The Avengers are clearly made up in the same manner as the Justice League of America. The Fantastic Four was also influenced by the JLA and Kirby's Challengers of the Unknown. Stan Lee made up the Avengers almost as soon as he had the requisite number of characters established in the Marvel universe to do so.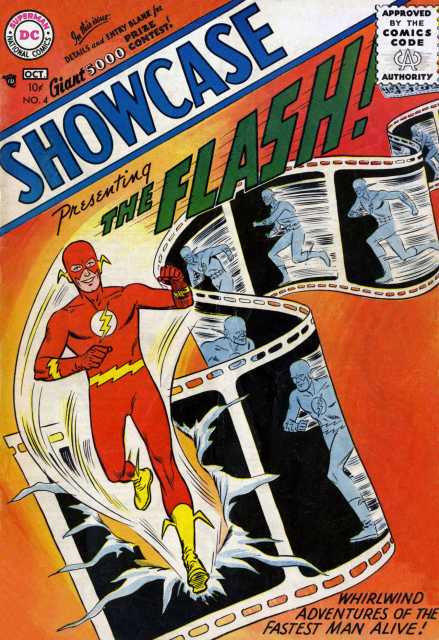 #1 Showcase #4
And finally, the granddaddy of all #4 issues – Showcase #4. There is no definitive beginning to the silver age of comics, but I would hazard a guess that at least 95% of comic collectors have anointed this book as the beginning of the silver age. The comic marketplace certainly thinks so. The book features an awesome cover and the return of The Flash. I personally think the price for the book is a bit overdone for a B+ character like the Flash. The influence on the age though is undeniable. Many other golden age DC characters return and Marvel certainly followed suit as a couple of the books on my list including my #1 can attest to. Nice having a trump card like this on your list of #4 issues versus other numbers 😊.
---
Making lists like this is a lot of fun. I will endeavour to make a few more in the future. Listed below is the 46th Overstreet Price guide prices for the books listed here today. Good Luck with the books on your own "lists".
| | | | | |
| --- | --- | --- | --- | --- |
| | 6.0 | 8.0 | 9.0 | 9.2 |
| Sgt Fury 4 | $90 | $216 | $483 | $750 |
| Amazing Spider-Man Annual 4 | $39 | $69 | $140 | $300 |
| Incredible Hulk 4 | $498 | $1370 | $3085 | $4800 |
| Nick Fury 4 | $24 | $51 | $96 | $140 |
| Daredevil 4 | $108 | $259 | $580 | $900 |
| Amazing Spider-Man 4 | $837 | $2302 | $5201 | $8100 |
| Fantastic Four 4 | $1080 | $3300 | $8400 | $13500 |
| Silver Surfer 4 | $129 | $318 | $722 | $1125 |
| X-Men 4 | $516 | $1419 | $3210 | $5000 |
| Avengers 4 | $705 | $1939 | $3210 | $5000 |
| Justice League of America 4 | $204 | $544 | $1222 | $1900 |
| Showcase 4 | $16000 | $36000 | $68000 | $100000 |