It's time for another update from BIFF SOCKO, TWO-FISTED NEWSHOUND. Biff Socko covers Comic Book News like zits on the A-V Club. Faster than Perry White! Stronger than J. Jonah Jameson! Hotter than Cat Grant. He is…BIFF SOCKO!
DATELINE: DC UNIVERSE–  Starting next week all the DC NEW 52 titles will be taken over by THE VILLAINS. I spoke to one of those Bad Guys to see if I could get a little inside scoop. His issue will be in SUPERMAN 23.1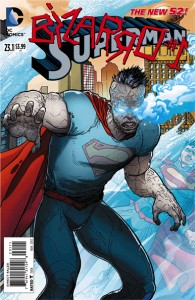 ME: Bizarro, thank you for being here.
BIZZARO: Me happy to be here.
ME: Oh, good because I got the feeling from your press agent that you were not looking forward to it.
BIZARRO: Me looking forward to it with all my heart.
ME: Oh wait, this is you doing that "opposite" thing you do, right?
BIZZARO: Left.
ME: So you are NOT happy to be here.
BIZARRO: That am lie.
ME: Moving on: How did you feel when you found out you were going to be featured in this issue?
BIZARRO: Bizarro just stare at phone, not talking.
ME: Meaning…you stared at your phone and talked a lot?
BIZARRO: No. Bizarro no have phone.
ME: Ohhh..
BIZARRO: Me so unhappy about funny book, me call Bizarro Lois on phone–
ME: But, you don't..have..a phone..
BIZARRO: You exactly wrong, me don't…but work out fine cause Bizarro Lois no have phone either.
ME: So you were…happy..about being in the comic?
BIZARRO: Yes! Bizarro heartbroken with joy! Me and Bizarro Lois go in to dinner, pay check, THEN order food.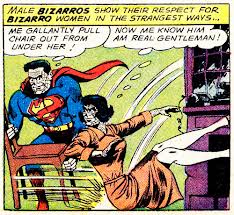 Food so delicious we spit in it and send it back to Bizarro Chef. Waiter was rude and mean so we double tip him give us. Go home, put Bizarro Super-Dog in bag, and take him back to restaurant. Go back home. Have such wonderful time, Bizarro has to sleep on couch. Bizarro Lois get pregnant.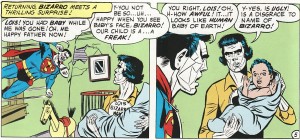 ME: Is my nose bleeding?
BIZARRO: Can Bizarro be humorous for just moment?
ME: I…suppose…
BIZZARO: When DC Old 52 tell news, Bizarro overcome with emotion, sort of like getting kicked in Bizarro nards with steel boot.
ME: A-HA! So, you were UN-happy about it!
BIZARRO:. Not really.  Bizarro REALLY into whole BDSM scene.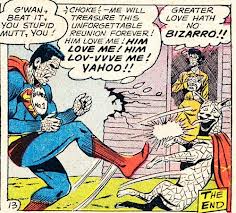 STAY INFORMED, DISCERNING READERS! STAY ALERT, INVOLVED CITIZENS! STAY CLASSY, SOPCHOPPY, FLORIDA!! FOLLOW BIFF SOCKO ON TWITTER @bsocko