It's time for another update from BIFF SOCKO, TWO-FISTED NEWSHOUND. Biff Socko covers Comic Book News like zits on the A-V Club. Faster than Perry White! Stronger than J. Jonah Jameson! Hotter than Cat Grant. He is…BIFF SOCKO!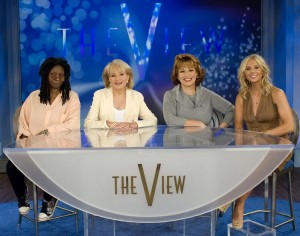 DEADLINE:  Asgard–    Marvel used ABC's "The View" to introduce the first female to  portray THOR in its new comicbook series. THOR will be written by Jason Aaron with art by Russell Dauterman. Aaron emphasizes, "This is not She-Thor. This is not Lady Thor. This is not Thorita. This is THOR. This is the THOR of the Marvel Universe. But it's unlike any Thor we've ever seen before." Ironically, the "View" broadcast had to be delayed a half hour while the production staff explained to the cast what a comic book actually was. And for a couple, what a BOOK actually was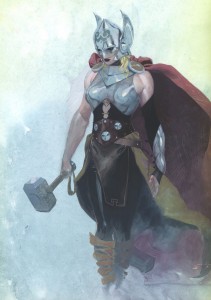 DATELINE:   Midgard– The reaction to the new female THOR was swift and wide-spread. The collecting community was abuzz with discussion of variant covers. The connoisseur community was abuzz with talk of how this affects continuity. The cosplay community was abuzz as female cosplayers began making plans to do male versions of the new female THOR.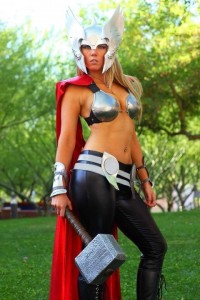 DATELINE:   The Rainbow Bridge-– Twitter, Instagram and Facebook were on FIRE following the announcement of the female Thor, especially from the Entertainment World.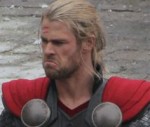 –"I thought I was doing a pretty good job! Who did I piss off?" -CHRIS HEMSWORTH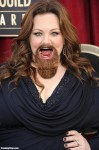 –"When they make Volstagg a chick, gimme a call" -MELISSA McCARTHY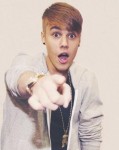 –"Hee-hee! Look! Side-boob!" -JUSTIN BIEBER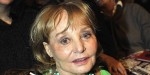 –"I'm certainly glad I dodged this bullet on THE VIEW! Imagine how badly I would have screwed up reading 'Mjolnir' off the teleprompter -BARBARA WALTERS
STAY INFORMED, DISCERNING READERS! STAY ALERT, INVOLVED CITIZENS! STAY CLASSY, BIFROST! FOLLOW BIFF SOCKO ON TWITTER @bsocko