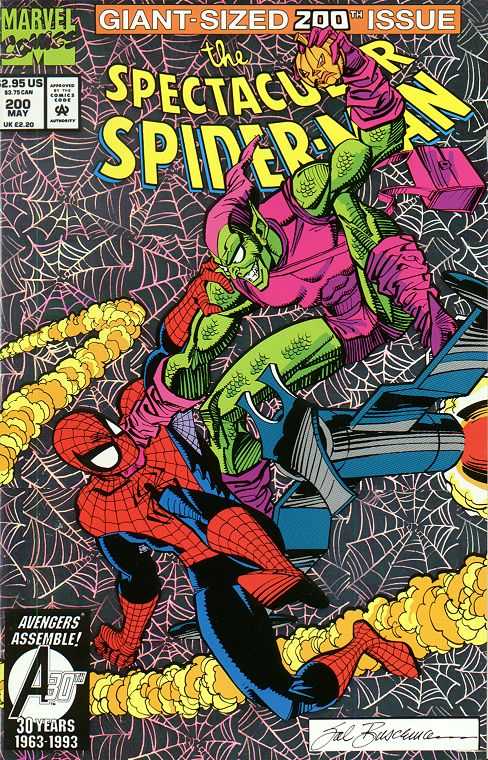 In the glory days of 1990s comic book collecting we were often drawn to shiny things. Like easily distracted birds we flocked to whichever anniversary issue had the best foil/glowing/die-cut/super-special cover on the promise that by purchasing such a collector's item our retirement fund would be assured. We dreamt of seeing the same exponential returns that previously would have only happened on a copy of Amazing Fantasy #15. After all, if that was worth thirty or forty grand then surely one day Spider-Man 2099 would also be worth just as much?
You all know how well that worked out, but we still had some really great stories right? Unfortunately, not every story was very good, and many were barely readable, as more emphasis was placed on spectacle than substance. However, there were some shiny covers that held excellent stories within, and my favourite of those is what I would like to share with you today.
Tale of the Tape
Spectacular Spider-Man #200
Published 1993
Written by J.M. DeMatteis
Art by Sal Buscema 
Coloured by Bob Sharen 
Lettered by Joe Rosen
44th ed. Overstreet Guide puts a 9.2 at $5
Available on Marvel Digital Unlimited
Legacy characters always have a tough road to travel in order to achieve success. They need to have a direct connection to a hero or villain, but they also need to forge enough of their own identity to be different and interesting. Despite the fact that Norman Osborn is automatically the Green Goblin in people's' minds (and rightly so), his son Harry had an excellent run as the masked villain for almost two decades. It was thought that Norman died during the battle that killed Gwen Stacy, but in reality he was healing and hiding in Europe. During this time Harry became corrupted and mentally unstable by taking the Goblin formula and took on his father's legacy.
Harry was first introduced in Amazing Spider-Man #31 and had long been an important supporting character and friend to Peter Parker. Over the course of several years of storytelling it was also revealed that Harry had a drug problem. These two elements make any of Peter's and Harry's interactions as their alter egos even more personal and harrowing. Throughout the late seventies and eighties Harry oscillates between rejecting the guise of the Green Goblin and fully embracing it in a fit of madness or a misguided attempt to protect his family. During the Inferno crossover Harry once again put on the Goblin Mask and harassed Peter continually until Spectacular Spider-Man #200.
The issue is filled with quiet, talking moments and then peppered with intense action, which was an inversion of the model commonly used at that time. Harry kidnaps Mary Jane for the purpose of letting her know that she will be safe, and that his rage is only directed at Peter. Harry mournfully longs for the good old days when all them were friends and just having fun. There is a great sadness in seeing this group of friends no longer together, and Peter and Harry now carry such a hatred for each other that it clouds both their judgements.
The final battle of the issue shows a drug crazed Harry defeating Spider-Man and setting off a series of bombs in his house, only to regain lucidity and realize that his son, Normie, and Mary Jane are still within. Peter is unable to move, and Harry uses the goblin glider to save Mary Jane, his son, and finally Peter. The effort proves to be too much for him though and the goblin formula causes a heart attack. His final words talk about his friendship with Peter.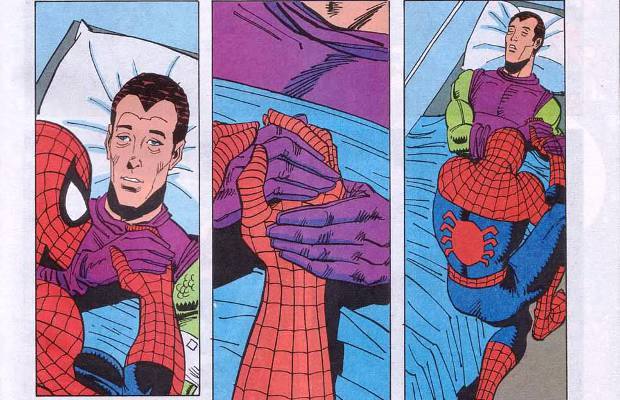 There are many great Harry as goblin stories for fans to pick up, but I feel that this issue best demonstrates the relationship between Harry and Peter, Harry and Norman, and is heart-wrenchingly tragic.
I would also mention that Sal Buscema is one of my favourite Spider-Man artists and so terribly underrated. He had a very long run on Spectacular and because it was considered a second tier book perhaps didn't get the respect he deserved.
If you are looking for more solid Goblin/special cover stories I would also suggest picking up Spectacular Spider-Man #189 ($6), which has one of the Spider-Man 30th anniversary holograph cover. I bought three copies back in 1992.