I started following Tonci Zonjic on Twitter because I like his art and he lives in Toronto so I had hoped to hear about any signings or events directly. I was checking my feed just before heading to Toronto when I spotted this.
on the occasion of #CanadaDay: this one's hidden in the french edition of munoz's Joe's Bar @TheBeguiling https://t.co/hNsC6FoyaI

— tonci zonjic (@tozozozo) July 1, 2015
It was referencing this old tweet from October 2014, about World Art Drop Day 2014.
#artdropday, part two: This drawing is still hidden at @TheBeguiling — pic.twitter.com/142wCFxIui

— tonci zonjic (@tozozozo) October 1, 2014
Well, that seemed easy enough. I went to the Beguiling and located the following image in Joe's Bar; it still took me fifteen minutes to find the book on that shelf.
I took it to the front cash and handed it to the sales person but he just looked at it and said he had no clue what it was about. He went and checked with other staff but no one knew. He suggested the owner may know but he wasn't there. I tweeted Zonjic about it.
@tozozozo found it but no one kn@TheBeguiling knew anything about it. Please let me know how to get the drawing! pic.twitter.com/wMJQJ6pABZ

— Scott VanderPloeg (@VDPloeg) July 4, 2015
He contacted Peter Birkemoe about it but because San Diego Comic-Con was coming up Peter didn't have time to look for it until after the show.
Fast forward a few weeks and I was again in Toronto and after contacting Zonjic again to confirm everything I went into The Beguiling, handed Peter my ticket and received this wonderful piece of artwork. Yay!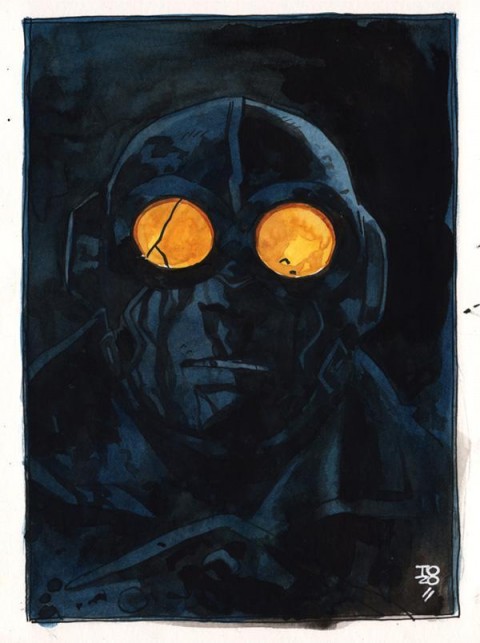 Tonci Zonjic was wonderful throughout the experience and deserves a big thanks for not only participating in Art Drop Day but staying the course and encouraging the art to be found, all these months later.