In case you've missed all the web news Wizard magazine has been shut down.  There has been a lot of snarky good riddance pieces on the comic sites and that's just completely unfair.  Yes Wizard as a print magazine has been in decline for some time, but to be fair so have most niche topic print publications.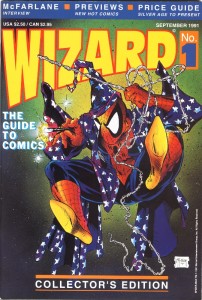 Let me clarify my position: I miss Wizard magazine from my youth.  Before Wizard you could locate comic news in ads, fanzines and other low volume publications.  Overstreet Update had a good print run but the content other than prices was retailer oriented.  Wizard seemed to encapsulate everything that a comic fan would want to see and read about in one convenient place.  Let me emphasize this was a mainstream magazine that was in bookstores and lots of retail outlets including comic stores: very big exposure and accessible to all walks of comic readers.
I have the first five issues of Wizard, the rest recycled years ago, and decided to flip through and see what was so magical about the content.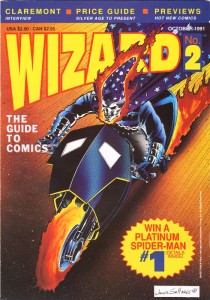 The price guide took the most pages and for me was never that interesting since I relied on Overstreet; they did put writer and penciller on a lot of issues which made tracking down your favourite creator books a lot easier.
Interviews, usually more than one per issue.  By issue five they had interviewed Todd McFarlane, Eric Larson, Chris Claremont, John Byrne, Bart Sears, Simon Bisley, Javier Saltares, Ron Lim, Walt and Louise Simonson, Fabian Nicieza, Peter David.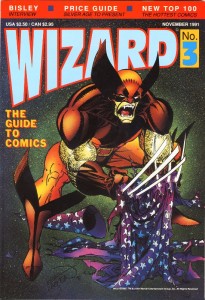 Contests.  Platinum Spider-Man #1, autographed Silver Surfer #50, autographed New Mutants #87, autographed Punisher #10.  Big books from hot creators.
Staff picks and shipping lists.  You could actually get decent information about upcoming comics.  In the same vein they had Top 100 and Market watch, a look at what was selling; this was the 90s and comic speculation was very real and rampant.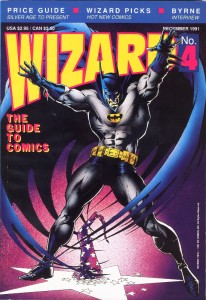 Character, genre and creator profiles.  They looked at Horror comics, Wolverine, Batman, the launch of Valiant, starting a comics section in your library, DC's science fiction heroes.
Rounding out were comic toy and card sections, a fold out poster of the cover, columns like Collecting in the 90s and Hollywood Heroes.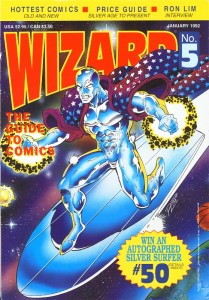 All together it was a great reading experience about and for the hobby of collecting and reading comics.  Unfortunately that formula ran its course and the internet came along to do all the same things for free by thousands of people; take a look at the top 20 comic sites and they're doing the same thing.  Wizard tried to adapt and provide a collected experience but it didn't work: I stopped buying about six years ago.
My day job is in IT: since high school I've been reading about a dozen computer related magazines a month, or at least I was.  Right now I'm reading three a month as that's seems to be all that's left on the North American market, and they're have to adapt just to keep going.  Most magazines faced the same hurdles and if they succeeded with finding unique content they're still around.