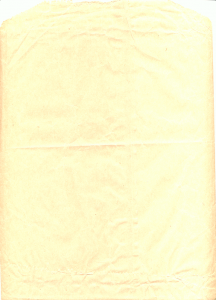 When I started collecting comics in the early 80s your comic shop purchases were slipped into a brown paper magazine bag and it was taped closed. There was no mention of bag and boards, just fresh new comics in your taped paper bag.
I just received an eBay lot of comics, all from the 1970s, and they came nicely wrapped and well protected, but inside that the actual comics were in the attached brown paper bag. Sure it was old and crumpled, but that vintage paper was a time machine: I was flooded with happy memories of countless trips to small comic shops, a few titles slipped inside.
My grandmother was visiting at some point in my adolescent years and she had stopped at the flea market to pick up some comics for me, and when she came in there was that thick brown paper magazine bag practically bursting with ten or so comics. Pure magic. Like most things from our childhood the memory is far better than current reality, but some things do hold up.
There were promotions from Marvel and DC throughout that period with printed bags, paper and plastic, which for some reason I still have shoved in the back of a comic box. Maybe I'll dig some out for a later post. But the comic shop always went back to the crisp paper bag.
Silver Snail had their own plastic bags, white with black imagery, but they didn't seem to shield and protect the comics like a crisp paper bag did. Give the side a folder over and it was a tight bundle that could survive inside a backpack or gym bag.
I can't remember when comic shops stopped using them; probably when white t-shirt style plastic bags became cheap and ubiquitous. Sure, the paper bag was only good for a few titles at a time, but it was that bag, contents inserted, top flipped over and taped, that signified treasure.