On my trip to New York, New York earlier this month I had the chance to visit the Society Of Illustrators and see two exhibits. The Art of The Avengers and Other Heroes and Tales from the Crypt: The Revolutionary Art of MAD and EC Comics just happened to be overlapping while I was there, so it was a great time to visit.
All the art is framed and there is significant glare from the glass, so I took my photos on an angle in the hopes of reducing that.
The Art of The Avengers and Other Heroes was the main exhibit, occupying the main gallery and the basement gallery. On the whole, there was very little Avengers art so I can only guess the title was meant to attract fans of the movie. There was a significant amount of Hulk and Spider-Man art, along with a good amount of Walter Simonson work.
Highlights for me were the Avengers 16 cover, which is my all-time favourite and not only did I get to see it in an Artist's Edition, but now live and in person. The Ditko Spider-Man pages were awesome, as was the Rafael Grampa Strange Tales cover.
Tales from the Crypt: The Revolutionary Art of MAD and EC Comics was in the third-floor restaurant, making viewing very difficult. I was there late morning and we had to manoeuvre around people having an early lunch to see the artwork.
Many fantastic pieces here as well, but I most enjoyed the complete The Shell Game story from Piracy issue 2 by Al Williamson.
My son accompanied me, and it's always interesting to me to get his perspective on things I take for granted. He took his time and read every comic page in the Avengers exhibit; that's him in the chair above. To him, there is no historical or nostalgic point of reference: it's all just comic books. He breezed through the EC exhibit, not really caring for the material. About the same as I was at his age, only getting an appreciation for comics without capes in my late teens.
I picked up the exhibition catalogues for both shows. The reproduction quality is excellent and the size is a bit small at 8.5″ x 11″, and only a selection of the exhibited art is reproduced; only the first two pages of The Shell Game are included. The store had three EC Artist's Editions for sale, along with one on display as part of the MAD portion. Nice.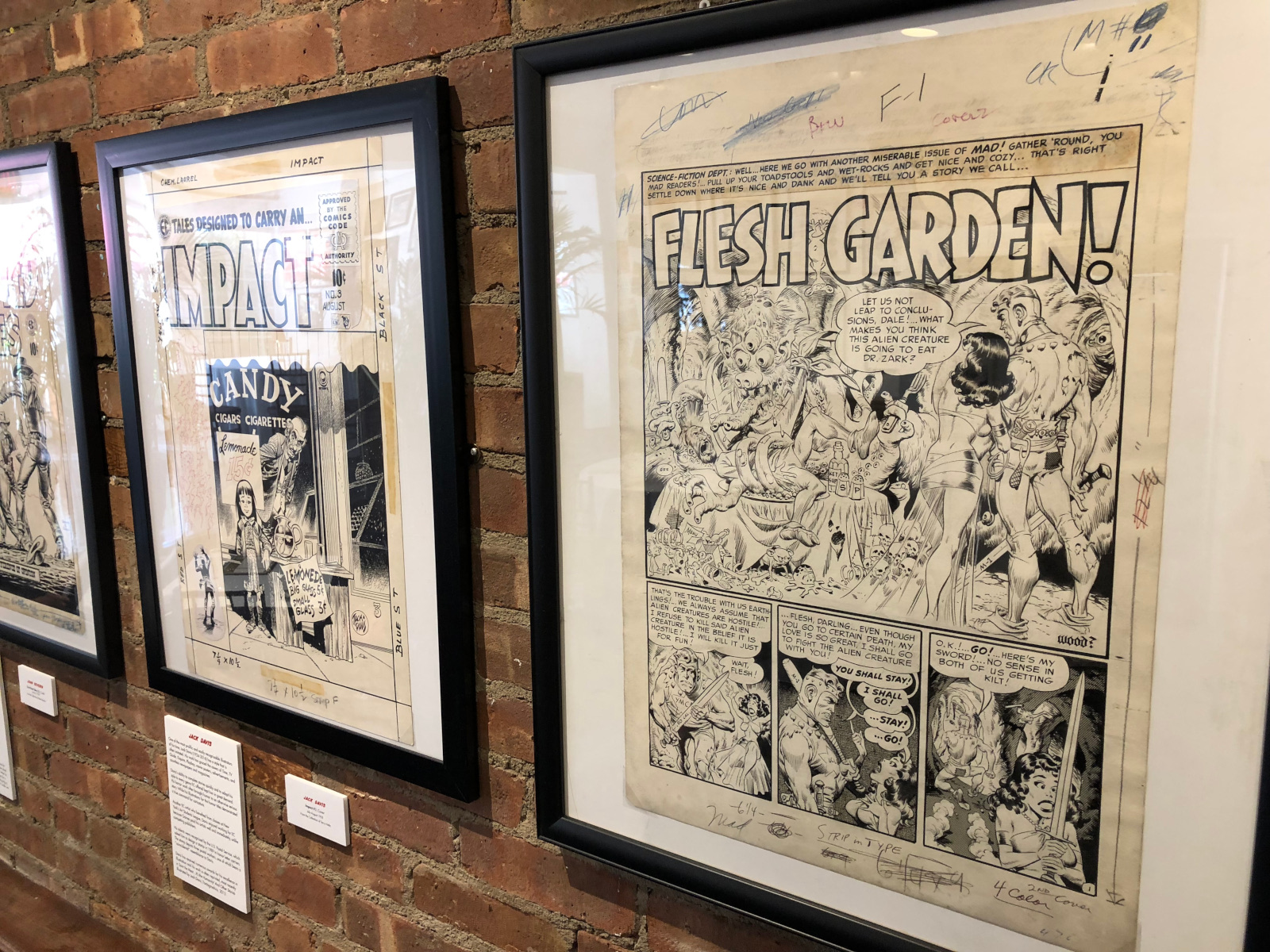 The highlight of the visit for me, since I had seen a lot of this art already in Artist's Editions, was this N.C. Wyeth painting hanging in the foyer. Wow.