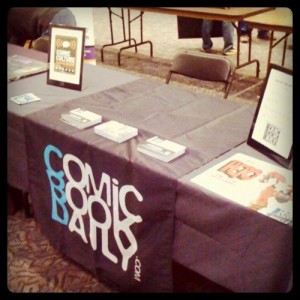 Remember that interview I coyly mentioned in my tweets or that thing I said I was researching on but couldn't give more details on?  Here's an insider look at how things are set up for interviews and how they can change in a second.
The Beginning
Last week through using a very nice contact, I managed to get a hold of Geof Darrow.
Now for those of you who aren't too sure who he is, first of all, SHAME ON YOU! Secondly, Geof is an American artist with a very European style. He's most famous over here for Hard Boiled and The Big Guy and Rusty with Frank Miller along with his concept work on the Matrix films. His work is super detailed and amazing to look at.
The minute I saw he was on the guest list, I knew I wanted to try for an interview. I've loved his work for a long time now and I'm curious how the guy thinks and how he works. I got a hold of his email (which made a crappy day at work suddenly disappear) and dropped him a line and a tentative interview was set up. Now for all of you guys out there who are wanting to get into any form of journalism, especially nerd journalism, contacts are important. Any bridge you burn might burn eight others you aren't aware of.
I also tend to do a lot of research. I hit up Wikipedia and a few other websites along with jotting down and setting to memory other notes I had for the interview. I was going in full prepped and ready if for nothing else, so I didn't look like a complete schmuck in front of one of my favorite artists.
Speaking of contacts…
The Morning Of The Con
Remember how I mentioned how things can change really quickly?
I got into Toronto ComicCon Fan Appreciation Day early in part to Comic Book Daily's pressence in the convention. My plan was pretty simple; walk the floor a bit with my girlfriend, then find Geof Darrow, figure out what time was best for him to do the interview, do the interview, have lunch.
As I began walking the floor I get a text message from Comic Book Daily's Editor in Chief, Pete DeCourcy. It read something along the lines of
"Want to host a panel for Geof Darrow and Bob McLeod?"
Does a bear crap in the woods?
Pete manages to find me before I even text a reply. Turns out the guy who was supposed to host it called in sick. Pete happened to be with Hobbystar's Kevin Boyd at the time and my name got brought up. The panel was to start in 15 minutes.
Wait…who's Bob McLeod?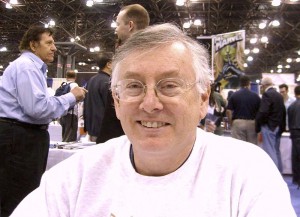 My knowledge of comics is pretty good and I got rather frightened rather fast that I was about to host a panel involving a creator that I had only a vague notion of who he was.
The name sounded familiar but I had to confess to Kevin that I wasn't sure who he was. Kevin was kind enough to give me a quick briefing and this awesome book of comic knowledge he happened to have on him I got up to speed and I suddenly became surprised that I didn't recognize Bob's name right off the bat and felt a bit ashamed.
Bob McLeod is one of those artist and inkers that all of us have seen his work. He co-created The New Mutants, he inked over Mike Zeck on Kraven's Last Hunt. He inked the first cover of Marvel's GI Joe! He's been a steadily working artist or inker on dozens of books I have in a long box.
Now that I had that under my belt and the two gentleman came into the room and we started the Q&A with the audience.
Notes From The Panel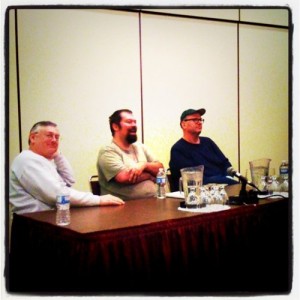 Unfortunately in my excitement and nervousness, I completely forgot to set out my voice recorder for the panel but luckily Jamie Coville from The Comic Books caught it all. We discussed how each man worked (which is really great because both Geof and Bob have had completely different careers but both appreciated each others work). Listen to it if for nothing else then for Darrow's impression of Mike Mignola. As someone who's met Mike, the inflections are dead on.
Talk turned quickly to Darrow's Shaolin Cowboy. Geoff confirmed a rumor that a few of us had heard that Shaolin Cowboy will be returning but from Dark Horse Comics as opposed to Burleyman (The Wachowski Brothers comic company). When I followed up on it with Geof, he told me that he felt like he needed a better corporate structure then what Burleyman was currently able to provide.
Following up on the Shaolin Cowboy novel that I had discussed with author Andrew Vachss a few months ago, Geoff confirmed that the story was complete and had been for a while. The project came out of a conversation Geof had had with Vachss and Darrow figured he'd see the novel in five years. Two months later, Vachss delivered the book. Geof also confirmed the pulp novel presentation is still very much a part of it.
Bob McLeod's next project is inking the pencils of Neal Adam's son, Josh. Bob mentioned it was kind of coming full circle as Neal had gotten him his start in comics.
When asked what it was like to work with Chris Claremont, Bob chuckled. McLeod related that the scripts used to come in with way too much for a regular comic so as an artist you'd have to delete things. You couldn't change things, only delete things.
Both men smiled brightly when I brought up the subject of Jack Kirby. Darrow had met Jack when both worked at Hanna Barbara and Bob had run into him on a number of occasions. It was amazing to see how both men who's career paths are very different held Kirby in the same high esteem.
I made an effort to drop by both men's tables afterwords to say thanks and as it turned out, my girlfriend was also very acquainted with Bob's work as well. McLeod created Superhero ABC which is stocked in a lot of libraries (Gen's a librarian. We read a lot). Super cool and down to Earth with probably a million more stories that he can share. Highly recommend saying hi to him the next time you see him at a con.
Geof was great fun. A great sense of humor and a good guy. A lot taller then I expected though. We ended up buying a few prints from him for our townhouse. He even inquired to what it was Gen was knitting during the panel.
And if you get a chance, as Mr. Darrow to tell you about a pencil sharpener in Poland. One of the funniest stories I've heard in a while.
Special thanks go out to Pete DeCourcy, my wonderful EiC and especially to Kevin Boyd who set this all up. And Kevin, if you're reading this, I'm totally available for panels at Fan Expo.