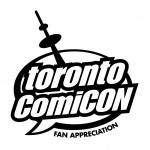 "Are you guys with the Harlem Globetrotters?"
My day started with that question, and my day only got more awesome from there.
I was at the Toronto ComiCon Fan Appreciation on Saturday.  I have been to Fan Expo before, however this was my first time attending a convention in a professional capacity (I consider this sort of a profession).  Never being at a convention, trying to think of ideas to write for a story, was very new to me.
My day started with heading down to the big city with Pete DeCourcy (Editor In Chief of CBD), Ryan O'Reily (CBD's "I was a Hero" writer and artist) and Ryan Parent ("I was a Hero" colourist and photographer).  When we walked around Rogers Centre, a person asked us "Are you guys with the Harlem Globetrotters?", we regretfully said no, then joked "wouldn't it be the Washington Generals?"
We entered the convention center and I was introduced to the Comic Book Daily crew.  It was great to finally put a face to the names I have been reading on this site.  I quickly walked around the convention floor, watching the vendors set up, and scoped out what I wanted to pick up.  When the final call came, the doors were opened and the crowd flooded in.  There were a couple guys running to get in line first to meet Ethan Van Sciver.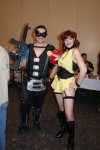 The comic book retailers had a very good selection of comic books and trades.  I was impressed with the prices.  There were lots of good deals to be had.  There was something for everyone.  Toys, T-Shirts, Manga, Celebrities and Costume Play (cosplay), there were several fans dressed up, some of those costumes were really well done.  At times, it was difficult to get around with the amount of people, but the traffic flowed really well.
I walked around artist alley (with photographer Ryan Parent), looking at the different prints that were available for sale.  There were prints available for any price range.  There were some beautiful 8-1/2″ x 11″ for only $5, a great deal.  We waited in line for Ethan Van Sciver to sign Ryan's copy of Green Lantern: Rebirth. Ethan signed the book and did a great head shot of Hal Jordan, for free.  That's right, he would sign your book for free.  I heard other people had the same experience (so when you get a signature, try to get the hardcover version signed, the artist will put extra effort into it).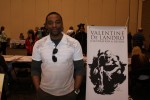 When I was in artist alley, I came across Valentine DeLandro.  It was recently announced that he would be a guest at the Canadian G.I. Joe Convention (which I am definitely attending).  We talked about collecting G.I. Joe.  He told me he used to have quite a few Joes, and had the boxes for them as well, then his Mom gave his collection away.  Many great collections have gone that route.  Valentine also told me, he once headed to a Toronto comic shop to meet Larry Hama (Valentine worked with Larry on G.I. Joe Declassified).  I enjoyed my conversation with Valentine.  I look forward to seeing him at CanJoeCon.  He said he is working on some special prints for that show as well.  I can't wait to get my hands on a copy of those prints.  I bought a Daredevil print from Valentine, it is displayed proudly on my wall.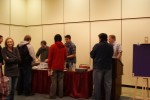 In the afternoon, I attended the Pat Gleason/Chris Sprouse sketch duel.  Ethan Van Sciver was the moderator for the event.  Both artists would have to draw a sketch in 15 minutes,  there were 3 rounds of sketches, and a draw would determine who (from the audience) would win the sketch.  Ethan Van Sciver would take sketch ideas from the audience and he also held a question and answer session.  There were some very interesting questions asked, they were about the creation process, inspiration and deadlines.  Ethan told stories about the comic book industry and his dealing with other artists.  Everyone in the room was sworn to secrecy so I can't tell you anymore (sorry, you should have been there).  After the duel was done, I preferred Chris Sprouse's drawings.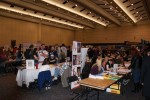 After grabbing some lunch, I stayed around the Comic Book Daily booth and talked to some of our readers.  It was getting later in the day, there were still lots of people, but the crowd was dying down.  I can see the show becoming a bigger event.  Free admission is great to get people in to see what the show is all about.  It was perfect for families as well.  With the amount of space, it was easy for families to move around the show.
I wished I could have been at the show for Sunday as well, but it didn't fit into my schedule.  We packed up to head home, all of us (Pete, Ryan, Ryan and I) were humming the tune that was stuck in our heads all day, the theme song to Dragnet (duh duh dun dun…).