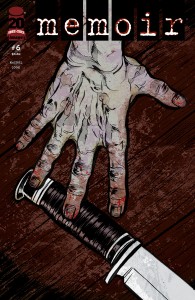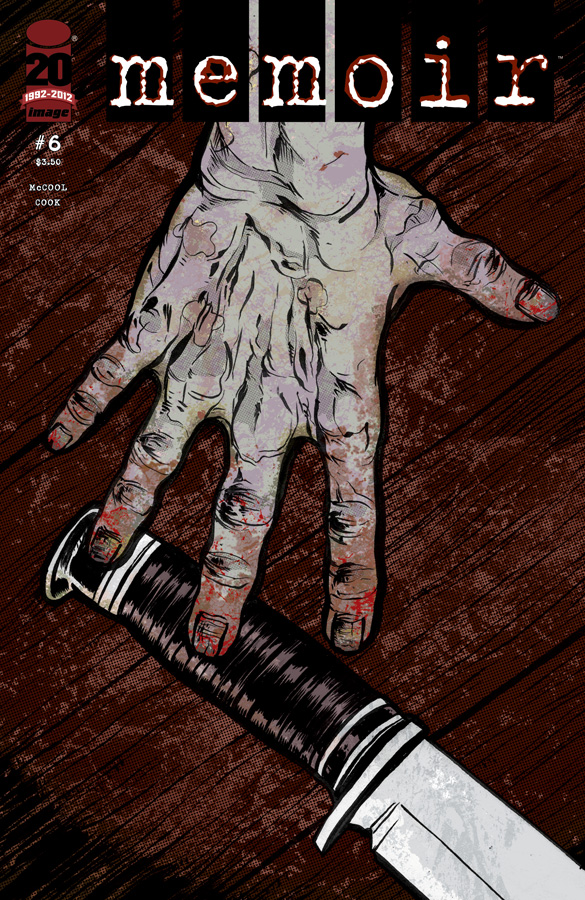 Image has been impressing me for several years with its willingness to give new horror titles a chance, from the stellar THE LIGHT by Nathan Edmondson and Brett Weldele to the tragically short-changed GREEN WAKE by Kurtis J. Wiebe and Riley Rossmo. MEMOIR by Ben McCool and Nikki Cook was another that showed promise, but publishing delays plagued the title, and thus it probably lost many of its readers. But now that the first arc is finally complete, does the title live up to its auspicious beginnings? Here I'll argue that it does, but not as well as it could have.
The six-issue MEMOIR began in January 2011 and had all the hallmarks of a hit. The first issue sold out in a week, and Warner Bros quickly optioned the story with the intention of turning it into a television series. Then the publishing dates began to slip. First a month between issue #2 and #3, then 2 months between #3 and #4, then half a year before #5 printed in December. Then… nothing. Talk about a cliffhanger. Fast forward to September 2012, and lo and behold MEMOIR #6 shows up on the shelf, like the shadow of a ghost from 2011.
Perhaps it was worth the wait. All told, MEMOIR improved with each issue. Issue #6 is easily the best of the series, having shored up some of the weaknesses in earlier issues.
The book is full of interesting ideas. What if a whole town lost its memory? If you were trying to recover from amnesia, how could you trust anything you read or were told about yourself? What if you suspected some of the people in your town weren't who they said they were?
Although the story's concept is strong, Ben McCool's characters are a little wobbly out of the gate. Main character Trent MacGowen is (at first) unlikeable as a person and unbelievable as a journalist. Why would a reporter seek out publicity before undertaking a shoe-leather reporting project? What television station would interview a reporter about an "upcoming investigation?" His true motivation for undertaking the project are somewhere between murky and non-existent.
I want to like Trent. Sure he's young and full of himself, but so many great characters are. But the way he treats the whole world with disdain, especially the residents of Lowesville, whom he is supposedly trying to do justice with his reporting, is difficult to enjoy. It's not until well into the series that we see an ounce of empathy from him, and it comes perhaps too late.
Eventually, Trent's connection to Lowesville is revealed to be more complicated, and subsequent revelations about his past and current demons offer a reason to sympathize. While the setup feels a tad fumbled, the payoff is worth it. And as the backdrop mythology of Lowesville emerged, I began to find it more fascinating than the memory loss, and I hope that future books set in this world delve deeper into that.
Cook's artwork is all unnatural shapes and heavily lined faces. The effect is disorienting, and I can't help think that it was intentional. Black and white can be so effective in horror comics, but it's not necessarily easy to pull off. It's hard to stress just how much Cook's artwork contributes to the creepy, unsettling mood of the book. While I reveled in the inky atmosphere, I did occasionally have trouble distinguishing between some of the side characters, and what is up with some of those people's necks?
In some ways the arc wrapped up right as the place was getting interesting, but the best stories always leave you wanting more. Luckily McCool stated on his blog that more stories set in the MEMOIR universe could be on the way.
With such a strong concept, it's unsurprising that MEMOIR received so much initial interest, but some shaky writing early on and publishing delays probably took a toll on its audience. It's a shame, because the improvements between #1 and #6 elevated the book above many of its peers. I hope the series is collected into a trade paperback soon, because tracking down the floppies required a bit of shoeleather of my own, and I'm not sure many other horror fans will be willing to do the same.