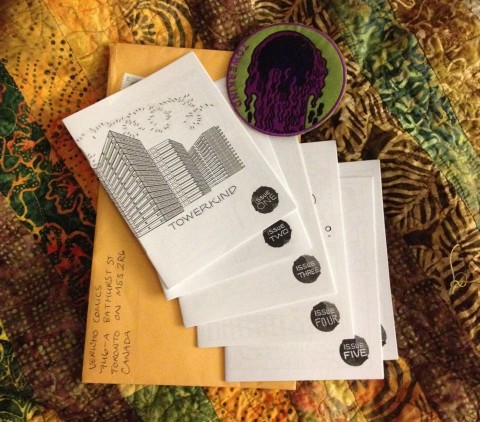 There is a whole world of "subscription comics" that I'm just beginning to explore. One of my favorites so far is Towerkind by Kat Verhoeven.
The subscription comics model probably sounds familiar: You pay a specified amount up front, and periodically the publisher will send you new issues of a publication. But in this case, the publisher is usually one or a few dedicated creators and the publications are lovingly-crafted minicomics. I've come across several besides Towerkind. Oily Comics and Cartozia Tales are two that come to mind, but there are many more available out there. And while there are lots and lots and lots and lots of comics that are published monthly, there's something uniquely charming about a subscription. Long after you've made the financial investment, you continue getting packages in the mail. And who doesn't like getting real mail sent by real people.
I first stumbled on Towerkind through Twitter, which, along with Tumblr, has become an indispensable resource for learning about new self-published comics.* Towerkind is a 13-issue, black and white comic about strange and magical children who inhabit a housing project in Toronto. Each issue is 12 pages, and at $10 for a full subscription, it might also be the best deal going in comics.
Although the series began in May, I didn't learn about it until a bit later, so I received issues #1-6 all at once, along with a sweet patch. Issue 7 should be arriving soon.
Each issue so far has focused on one or two inhabitants of the Towerhood, as it's called. Ty is a self-proclaimed monarch, and in his frustrated rage bullies the other kids into building a castle for him out of scrap wood and boxes. Moses is the bookish nerd who would prefer to be left alone, until he meets Dina, who impresses him with her ability to manifest imaginary beasts and environments. Then there are the twins, who use some form of empathic ability to trade messages back and forth by scratching them into their skin. Don't even get me started about the sweet little girl who talks to dead animals.
While these little dramas play out around the towerhood, a few characters have apocalyptic visions. And somehow the dark shadow of these visions doesn't diminish the charm of Towerkind's cast. One of the great things about comics is how quickly you can develop affection for a character. All it takes are a few brush strokes to tell you all you need to know about Moses, and before the end of Dina's first page you'll already love her.
Verhoeven has taken a cast and setting that probably seems unexciting and made it fascinating and perhaps even a little ominous, and she has a rare gift for communicating volumes of information with body language and subtle facial expression. I'm looking forward to #7 and beyond.
Sign up for Towerkind at Kat's website at verwho.com. She's also on Twitter @VERWHO.
* I'm always RT'ing and posting about new comics on my own Twitter account, @zeigert. And although I don't post much, I do find myself following more people and looking at Tumblr more frequently as of late. Follow me at http://zeigert.tumblr.com/