In 1990 I made the decision to take the roof off of my house and put on a full second story. Talk about an adventure. An adventure that went terribly wrong. The contractor vacated the job and left me with a shell that needed to be finished. Wiring, soffit and fascia and drywall, paint and trim. I spent the next year trying to finish it off to a point where it could be lived in. I became a very handy guy, with the help a two people I will always be indebted to for their knowledge and hands on help! My money supply ran dry and I had two little girls who were living through this turmoil. You probably have figured out where this is going. I had no cash left and no ability to get any more except one: my beloved comic book collection.
I bit the bullet and decided I had no choice. I had pretty well an extensive run of Marvel Silver Age books. Spidey from #1 up, FF from #40 up, complete Surfer, Hulk, Thor, Doc Strange, X-men, Nick Fury, Sub Mariner; it was a glorious collection. I got $10,000 for it and I turned my back on comics vowing to one day get them back. This was around the time of Spidey's Black costume, The Secret Wars and Jim Shooter causing no end of pain in my favorite pastime. Todd McFarlane was just exploding and the Image label and foil covers were just getting ready to help cause the speculation bubble to burst, so I got out while the getting was good. I didn't know it at the time.
I did what I had to do. I got enough to help me get my house done. Mission accomplished. At least for a short period of time. Then I got divorced and sold the house! That's life.
Every once in a while I would pick up something just to see what was going on.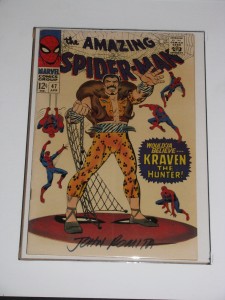 In 2002 , ten years later I heard that John Romita Sr. was going to be in Toronto at a Con and decided to go. Although I didn't really know it at the time, the day had come when it was time for me to begin the journey of once again rebuilding my collection.
I picked up a VF/NM raw copy of ASM # 47 and had a chat with JR Sr. and got my book signed. I also picked up a raw FF#69 with Stan Lee's signature. Another VF/NM copy. I took them home, framed them and hung them on my office wall.
This really is a great hobby, with some great people in it. From that Con, I met the people that would help me rebuild a large part of my collection. I also met people that I stay away from as well. But the great thing about the whole journey, which continues to this day, and I have no doubt will continue till the day I die, is that there is an incredible rich history in this hobby that always keeps you learning more, always keeps you finding amazing new discoveries ,and when you least expect it, you find something that really surprises you. Like eBay for instance. But that is another story…
Merry Christmas everybody, and happy collecting!