Monday evening Alice Quinn (from TDot Comics) and The Comic Book Lounge threw an all Ladies Comic Nerd night where geeky ladies could get together and talk about their love of nerdery. No men were allowed; even the owner of the shop got kicked out so the ladies could have free reign. I have experienced women only events on multiple occasions, but I have never attended anything nerd related where that was the case. I happily volunteered to man (or should I say womaned) the bar (I got to stand around the booze and food all night) giving me a great opportunity to talk to practically every woman that came to the event, and what great women! Plus, there was blueberry wine.
We all know women can be catty or snide, but not these women. Everyone was welcoming and warm and right away you could tell this is a community anyone would love to be a part of. The best part is this was a community I was part of without even knowing it existed. I know there are a lot of geeky women out there and I have been lucky enough to meet some of them outside of events like this, but it is still hard to meet women with nerdy interests especially if you don't frequent the same comic book stores or are shy. Even more so now with the growing suspicion of "fake geek girls" becoming so popular.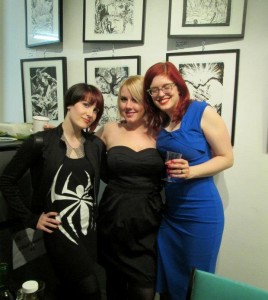 While playing the role of bartender I was able to be in and witness a lot of conversations. Many of the conversations of the night started with "so, what makes you geeky?" I loved this question! Everyone knew they were in a safe space so they could bring up, rant, and rave about the nerdy thing they were in to. Faces would light up when they realized the women on the other side of the conversation could reciprocate instead of the "huh?" expression one would normally receive. And because of the recent talk of fake geek girls, it is comforting to know that no matter what you're interested in or the level of involvement you have in it, this community of women is happy to welcome each other, the wine didn't hurt either.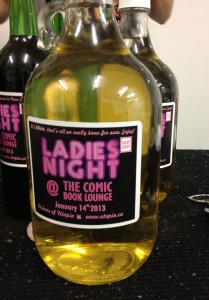 A lot of business cards were passed around, good connections were made and I think that we will start seeing more women out at other comic events because of ones like this. It's hard to go to an event when you don't know anyone, even harder for women to walk into a room full of men (let's face it: the majority of comic events are populated by men) but events like this allow them, especially the ones new to the community of comics, games etc.,  to know that they won't be as harshly judged as they might think. It also allows them to meet others in the community without the possible "stare factor" that can sometimes happen when a woman walks into a testosterone packed comic book store.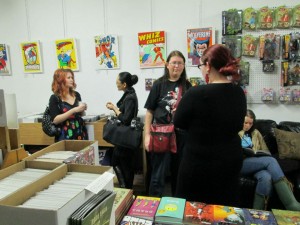 Overall it was a very good night, and I think everyone who came out had a great time. If you are a woman reading this and are in the Toronto area, The Comic Book Lounge is hoping to have another Ladies Night in the near future. If you are a man and you are reading this, sorry but you will have to miss out on the fun because now it's the ladies turn!