This weekend I packed up all my nerdy stuff, packed myself into a tiny car full of dudes, woke up at the crack of dawn and made my way down to Boston for PAX East. (Penny Arcade Expo)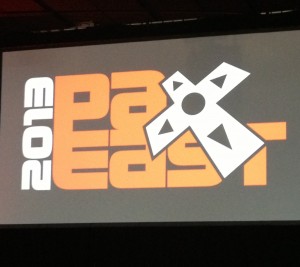 After three years of coming to PAX East, there is one thing that stands out above and beyond all other cons I have attended in the past and that is organization. I think all other con organizers should take the time to come to PAX and learn a little something. All of their "Enforcers" also known as volunteers, are educated and knowledgeable of what is happening in and around the con. If for some reason you can't get an answer from one Enforcer, there is another 10 feet away with the answer you need. All lines are clearly laid out by tape or metal barriers and there is an enforcer at the end of every line with a clearly labeled sign indicating the end or if the line is closed. They also have "queue rooms" if there isn't any space for a large line up in the hallway outside of a room; the Enforcers would have everyone organized in snaking lines all through an extra empty room. This goes for every panel, event and game demo, no matter how large or small the line up is.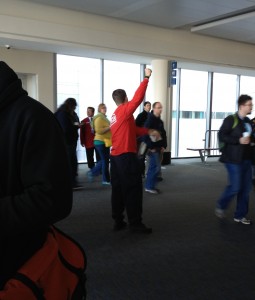 The organization of PAX goes way past the volunteers. They have now come out with their own app. This app includes a map, list of panels and exhibitors and where they are located. My favourite part is that there is a schedule of events, you can select the events you want to go to and create your own schedule where you can set timed reminders so you make sure you don't miss anything. It's app is made to work with WiFi and without. This way if you get stuck in a bad Internet connection area, you can still have access to everything in the app. This app along with constant Twitter updates and free WiFi at the con (which I must admit is spotty at best) makes the stream of communication between con goers and organizers easy and constant. And with over 80,000 people attending, that's a pretty amazing feat.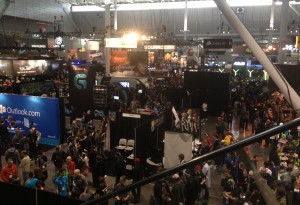 The best part of it all is that these 80,000 people all treat each other with respect and kindness; PAX has a zero tolerance policy. The creators of PAX were bullied and teased as children for loving gaming, and they want PAX to be a place where everyone can feel comfortable and enjoy the things they love without harassment or scrutiny. They want this con to be a haven for gamers of all kinds.
I love PAX East and I would recommend any gamer or con lover go at least once. As I said before, this is my third year attending and it won't be my last!
ps. I also got to meet R.A. Salvatore…I just had to throw that one in there.