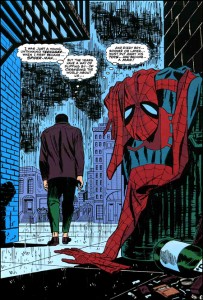 'If the rumors are true, prepare to hear an awful lot of "the director who's caught in Spidey's Webb" jokes in 2010.
"New York Magazine's" Vulture blog is today reporting that Sony Pictures has offered the Spider-Man movie franchise to "(500) Days of Summer" director Marc Webb. As the site has learned, the director makes a good fit for the studio not only because he's coming off a year where his quirky dramedy starring Joseph Gordon-Levitt and Zooey Deschanel won critical accolades and award nominations, but Sony also zeroed in on Webb because as a young director, he demands a much lower salary than the three-time box office champ Raimi. Combine that with the fact that Raimi and Maguire would have claimed a chunk of the box office receipts for a continued "Spider-Man 4" and the picture becomes even clearer.
Reportedly, Webb's offer will set the director up to create three movies centering on the life of teenage Peter Parker – extending the franchise out and keeping Spidey in Sony's hands for many years to come.
Vulture anticipates an official announcement from Sony shortly on Webb's hiring. If this proves to be true, it will put the studio back on track for their intended 2012 reboot of the franchise.
UPDATE: Deadline Hollywood has confirmation from Sony that Webb has indeed landed the job. Full press release follows:
CULVER CITY, Calif., January , 2010 – Marc Webb, the director of the Golden Globe nominated Best Picture (500) Days of Summer, will direct the next chapter in the Spider-Man franchise, set to hit theaters summer 2012, it was jointly announced today by Columbia Pictures and Marvel Studios.
Written by James Vanderbilt, Webb will work closely with producers Avi Arad and Laura Ziskin in developing the project, which will begin production later this year.
Commenting on the announcement, Amy Pascal, co-chairman of Sony Pictures Entertainment, and Matt Tolmach, president of Columbia Pictures, said, "At its core, Spider-Man is a small, intimate human story about an everyday teenager that takes place in an epic super-human world. The key for us as we sought a new director was to identify filmmakers who could give sharp focus to Peter Parker's life. We wanted someone who could capture the awe of being in Peter's shoes so the audience could experience his sense of discovery while giving real heart to the emotion, anxiety, and recklessness of that age and coupling all of that with the adrenaline of Spider-Man's adventure. We believe Marc Webb is the perfect choice to bring us on that journey."
Arad and Ziskin added jointly, "Over the years, the Spider-Man comics have been told with bold and creative new writers and artists who have re-calibrated the way audiences see Peter Parker. Marc Webb will do for the new direction of the films what so many visionary storytellers have done with the comic books. He is an incredibly talented filmmaker and we look forward to working closely with him on this new adventure."
Webb said, "This is a dream come true and I couldn't be more aware of the challenge, responsibility, or opportunity. Sam Raimi's virtuoso rendering of Spider-Man is a humbling precedent to follow and build upon. The first three films are beloved for good reason. But I think the Spider-Man mythology transcends not only generations but directors as well. I am signing on not to 'take over' from Sam. That would be impossible. Not to mention arrogant. I'm here because there's an opportunity for ideas, stories, and histories that will add a new dimension, canvas, and creative voice to Spider-Man."
Stan Lee, co-creator of Spider-Man, added, "I'm excited that Sony has chosen a director with a real penchant and understanding for the character. This is a brave, bold direction for the franchise, and I can't wait to see what Marc comes up with next."
Added Marvel Studios President Kevin Feige, "The idea of re-imagining the on-screen story for one of the world's most iconic superheros is sure to deliver an exciting new dimension to Spider-Man fans everywhere. There are volumes of comics and material available to inspire fresh and compelling takes on Peter Parker and his journey as Spidey and we look forward to seeing this come alive onscreen."
Marc Webb has won acclaim with his film debut (500) Days of Summer. He has several MTV VMAs™ including 2009's Best Director award for Green Day's "21 Guns," 2006 Best Rock Video for AFI's "Miss Murder," and Best Group Video for The All-American Rejects' "Move Along." The Music Video Production Association honored him in 2006 as the Director of the Year for his work with Weezer, AAR, and My Chemical Romance.
In addition to two Golden Globe nominations including Best Picture (musical or comedy), his first feature film, (500) Days of Summer, starring Joseph Gordon-Levitt and Zooey Deschanel, has been nominated for three Independent Spirit Awards, including Best Feature. Webb was also awarded the Spotlight Award, which honors outstanding directorial debuts, by the National Board of Review.