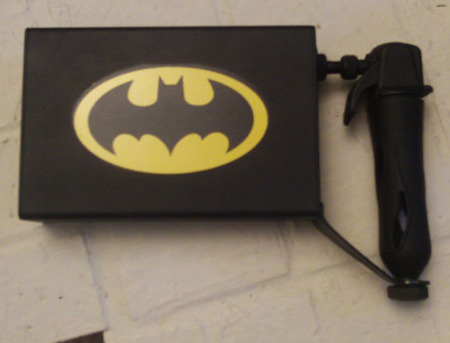 So, many of the team at CBD love Batman. And many of the team are married. But did any of the CBD team have a Batman Gun that shoots garter belts for their wedding reception? No. No they did not.
Yeah, this is on eBay now. Check it out here.  Here is the description:
This is a one of a kind, custom made garter gun, done to look like Batman's grapple gun from the animated series. I made this for my wedding but sadly was not able to use it to do the garter toss. Now you have the chance to use it on your special day if you love Batman like I do. (FYI my wife was totally for it, it just didn't make it to the reception) The gun is based off a bike tube inflater that uses CO2 cartridges (threaded or not). It fits a standard size garter and shoots it about as far as you can flick it on a full charge. It's made from an aluminum project box, pvc tubing, bike valve and some sheet metal. Looks cool, sounds cool, feels solid. Could be youtube worthy if you actually use it in your wedding!
Fanboy, I salute you.