Torpedo is a Spanish comics series written by Enrique Sánchez Abulí and drawn by the alte great Alex Toth, and then by Jordi Bernet. The Series depicts the adventures of Luca Torelli, a heartless hit man and the cycles of violence in which he lives.
It's hard to really explain this series without pointing out just how darkly funny it is. There are moments of genuine gutter laughs similar to the ones you get, like when say – The Coen brothers really let loose with their particular brand of violence.
Alex Toth drew the first two stories in 1981, but the collaboration ended when Toth decided he did not share Abulí's darkly humorous view of mankind, and withdrew from the project. He was then replaced by Jordi Bernet, whose gritty, if stylized, artistic style was well suited for the dark and violent subject matter.
Most of the stories are eight page tales of the Torpedo basically outsmarting and/or killing people in a variety of cold blooded ways. Torelli is not a good guy by any stretch of the imagination. He has no code of honor or really anything he holds sacred. He's a thoroughly evil man living in a thoroughly evil world.
The next few pictures are from ComicTwart a comics jam page that features a 'who's who' of comic book illustrators. This week they decided to do the Torpedo and the turn out is pretty beautiful stuff.
"…so to be clear, torpedo isn't sad about killing a lady. he's sad he had to break the whiskey bottle to do it… "
Chris Samnee

The initial layout and pencils for this can be seen over on his blog.

(God, what I wouldn't do to read a Philip Marlowe story by this guy.. amazing.)
Andy Kuhn

I love the benday dots in this.

To see his roughs for this piece CLICK HERE.
"A terrible scoundrel, as immortalised by comics greats Alex Toth and Jordi Bernet. GREAT fun to draw."
here's a muted coloured version.
Two by Franco Francavilla
[of the wonderful blog Pulp Sundays – a must read for fans of pulp fiction.]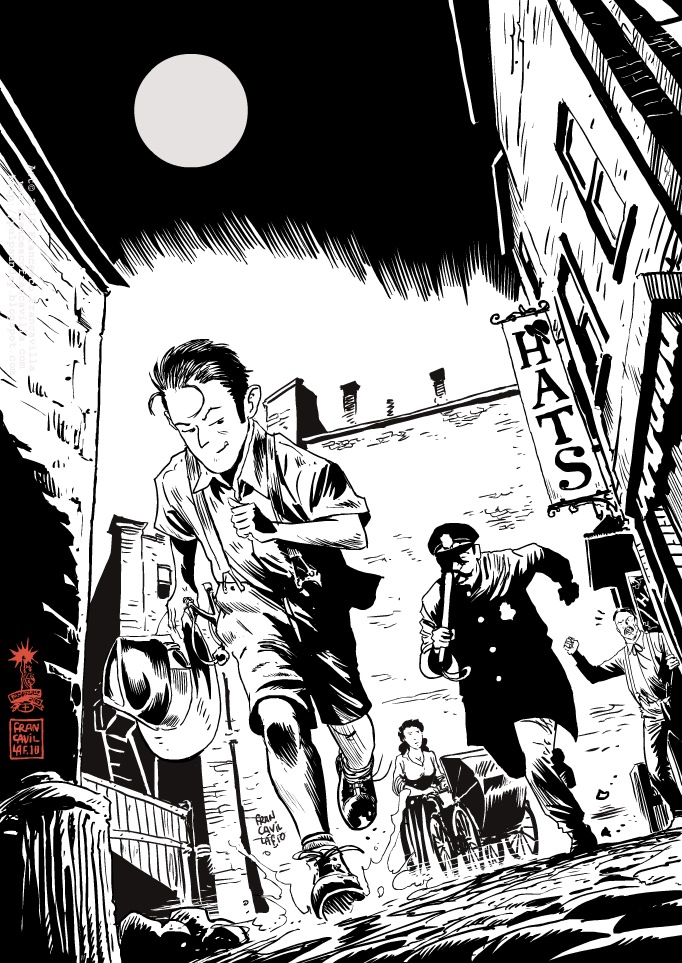 Above you see his entry for the jam: a very young Luca Torelli in a little scenehe titled "My First Fedora" 🙂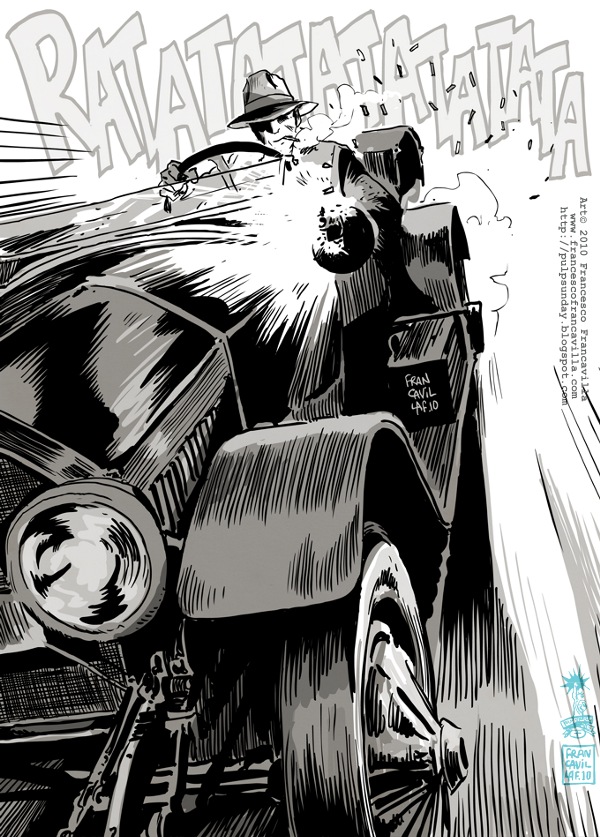 I'd really strongly checking out the rest of the site; they're constantly choosing the coolest characters to showcase: be it Zorro, Rocketeer, or this week's G.I Robot*.
*click the link for those of you unfamilar (or not quite as nerdy) with GI Robot… he's all kinds of awesome.