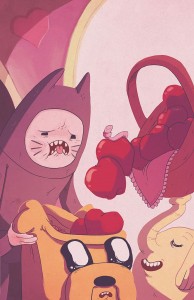 Here's an interesting offer from KaBOOM!, a kids imprint of BOOM! Studios: 50 all-ages comics for $19.99.
KaBOOM! Trick or Treat Pack
This Halloween you can go down in history as the coolest house on the block by giving Trick-or-Treaters the one thing they love more than candy…COMIC BOOKS! For a limited time we are offering packs of 50 Assorted KaBOOM! comics including ADVENTURE TIME, REGULAR SHOW, PEANUTS, GARFIELD and HEROBEAR AND THE KID (a $200.00 value) for a special discounted price of $19.99. It's a healthy alternative to the sweets, not to mention a sure-fire way to impress your neighbors.
All orders must be placed by October 22nd, packs may contain duplicate issues, and individual comics will not be placed in bag and boards.
With this date in place for ordering only U.S. addresses will get it in time (plus free shipping on U.S. orders over $19) but makes an interesting move into the comics instead of candy movement started a few years ago by Diamond and their mini comic assortment. These are regular comics at a steep discount, and being all-ages are perfect for anyone. If you can get a handful or business cards or stickers from your local comic shop and throw those in along with the comic to pay it forward.