Wheat haters beware! Chaff Smasher is here.
Brian Wood and Becky Cloonan are interviewed about their take on Conan.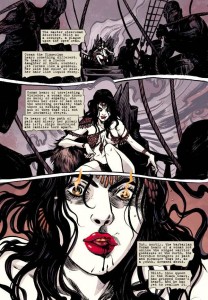 [quote]One of the biggest things I try to keep in mind while drawing Conan is the world-building! We are doing something completely new so none of it is informed by the film adaptations — I'm going by descriptions in Howard's original stories, and filling in most of the blanks by looking back at historical costumes and settings that correspond to the maps of Hyboria![/quote]
The Girl With The Dragon Tattoo graphic novel details announced. Oddly Lee Bermejo gets a lot of mention yet he's only providing the cover…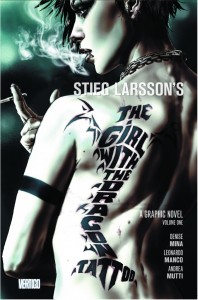 [quote]Best-selling comic book and graphic novel publisher DC Entertainment announced today the creative team for the highly-anticipated new graphic novel based on Stieg Larsson's international sensation THE GIRL WITH THE DRAGON TATTOO.  Crime author Denise Mina will write the book, with the cover image created by Lee Bermejo and art from Leonardo Manco and Andrea Mutti.   DC Entertainment's Vertigo imprint is working closely with the estate of Stieg Larsson and Hedlund Literary Agency to adapt the book, which will be released in November 2012.[/quote]
Dynamite Entertainment is reprinting The Shadow: Blood & Judgement series from DC. The old out of print DC trade paperback is readily available used for less than $10 on Amazon.com. I hope they do some colour updates on the material, but that's doubtful.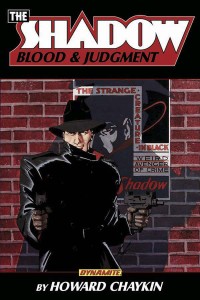 [quote]"THE SHADOW: BLOOD AND JUDGMENT was the first job I produced after moving to California–a new state, a new studio and a new lifestyle," says acclaimed writer/artist Howard Chaykin.  "I loved doing this book, and learned an awful lot about what it took to revive and recreate moribund characters in the process."

"I can't begin to describe how important Howard Chaykin's The Shadow: Blood and Judgment was to me," states Dynamite Entertainment President and Publisher Nick Barrucci.  "In the 80's, it helped change the face of comics.  It is a privilege that Dynamite is able to put one of the finest comics ever created back in print![/quote]
[quote]Featuring a variety of different genres and storytelling sensibilities, the titles in the "Second Wave" will be helmed by some of the most legendary writers and artists in the comic book industry, and will also feature the first ongoing comic book series written by acclaimed novelist China Miéville.[/quote]
Titan announces the next two volumes in their Simon & Kirby library.
[quote]The Simon and Kirby Library: Science Fiction will span more than 20 years, beginning with the first stories Joe Simon and Jack Kirby ever produced together (beginning in June 1940)—their ten-issue run of Blue Bolt adventures. Then the Cold War years will be represented by Race For the Moon, featuring pencils by Kirby and inked artwork by comic book legends Reed Crandall, Angelo Torres, and Al Williamson. [/quote]