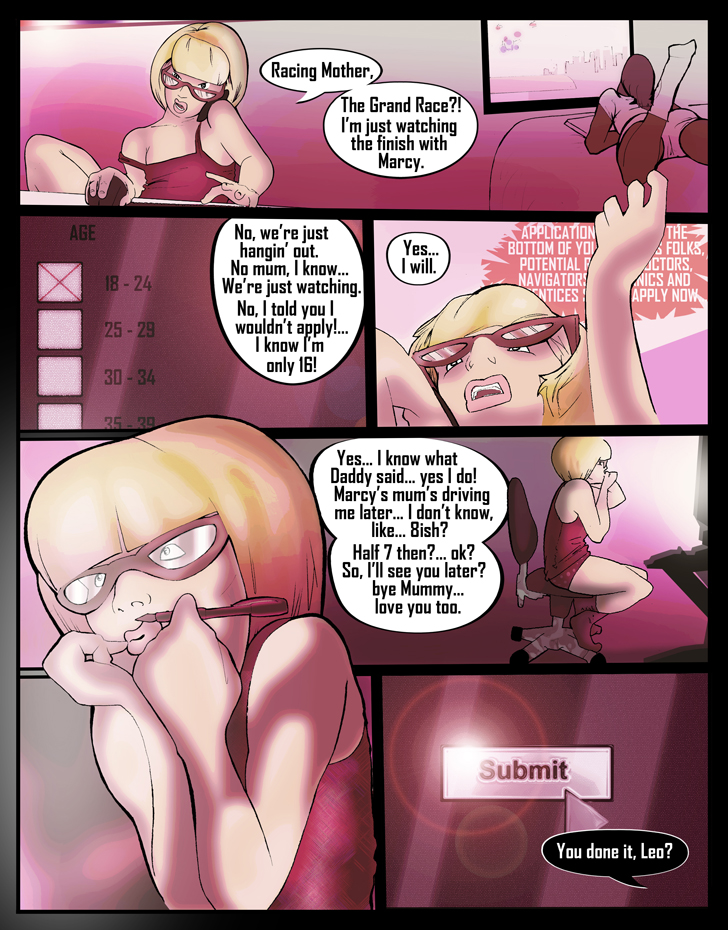 Leona Dureau
AKA Penelope Pitstop, Penny, Pitstop or Pit-Stains due to her nervous nature.
Apprentice
Leona
Of German origin.  The meaning of Leona is 'Brave as a Lioness'.
Dureau
As a boy's name is pronounced "dur-ROW" and is of French origin.  The meaning of Dureau is "strong".
Leona's nickname refers to the fictional character: Penelope Pitstop from — popular cartoon — Wacky Races whom drives the 'Compact Pussycat', a pink, stereotypically feminine car with personal grooming facilities built in.   To carry over the theme, fictional Penelope also wears a bright pink racing uniform, white gloves, maroon tights, white go-go boots and is introduced by the race announcer as "The glamour-gal of the gas pedal".  Leona Dureau is extremely feminine, her real name is actually quite ironic as she is in fact (potentially) the shyest, weakest and most cowardly applicant, ever to apply for a grand race crew vacancy – though, she wants so much to change.
Apprentice:
noun
A person who works for another in order to learn a trade.
A learner; novice.
Capable of being or becoming: a potential leader or champion.
The owner of a latent excellence or ability – that may or may not be developed.