A lot of news has been made over the closing of Dragon Lady Comics, a Toronto comic shop that's been around for a long time, first on Queen Street and then on College Street since 1996. A good amount of the coverage comes from Toronto media outlets, bemoaning the closing of a legend in the industry. It's sad for any business to close and people to lose their jobs.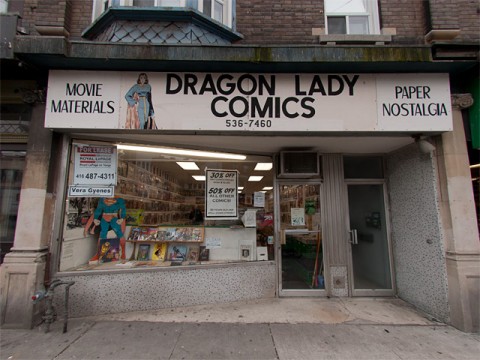 The articles list street construction and rent costs as major factors for the store closing but really it comes down to one thing: we stopped shopping there. I remember going into Dragon Lady Comics when it was on Queen Street, browsing and picking up items I couldn't find in Hamilton. I picked up the Watchmen French edition portfolio there, which included a signature sheet by Moore and Gibbons along with the six French edition covers: a real collector's item still. Then the moved to College Street and it was out of my way so I stopped going there.
I really didn't give Dragon Lady Comics much thought until I started seeing them at local Toronto comic conventions, selling very old merchandise that appealed to a limited customer base. The staff were friendly and I picked up a few old newspaper strip reprints but it didn't make an impact.
Now the store is closing and there's a flurry of press about Toronto losing a comic legend. It's funny I hadn't seen any articles in the last few years promoting the store and saying the same things to drive customers in. How often do we drive by stores and restaurants we've known for years and say "what a shame, I'm going to miss them" when we can't remember the last time we were there. If you want to keep a beloved store open and vibrant go in and spend some money.
Image courtesy of Torontoist.