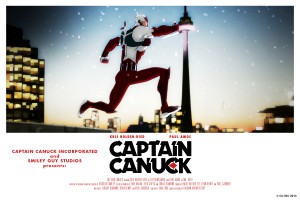 Things seem to be moving forward on all things Captain Canuck.
Writer Arne Olsen (Mighty Morphin Power Rangers: The Movie) continues work on a script for the movie adaptation of the Captain Canuck property. Captain Canuck creator Richard Comely is collaborating and I'm told a finished script is close.
Of course once the script is done we'll need Mind's Eye Entertainment to secure a production deal for the film, lets all cross our Canucks!
I can personally tell you that back issue copies of Captain Canuck comic books are heating up in the marketplace. At last weekend's Toronto Comic Con I sold 1 CGC 9.8 copy of Captain Canuck #1, I also sold 2 of those sealed 3 packs that contained issues #1-3 in them, I sold at least 10 raw copies of the 1975 #1  and I blew through a dozen or so of Comely's recent Legacy #1.5. It was a busy day for Captain Canuck comics, the demand was most definately there.
Speaking of the demand being there, we have news that a new animated web series is in the works. Toronto's Smiley Guy Studios have been tapped to produce a five-episode animated online series based on the iconic champion.
Voicing the Captain is Kris Holden-Reid, while arch-rival Mr. Gold will be voiced by Paul Amos (Lost Girl).
Toronto-based comic book artist Kalman Andrasofsky is working with Captain Canuck INC to reimagine Captain Canuck, and animation director Sam Chou is also on board.
Newly formed Captain Canuck Inc. has announced an Indiegogo campaign that will kick off at The Great Hall, 1087 Queen St. West, Thursday, March 28th. Their press release is below.
Captain Canuck calls out for Crowd Supporters!
Toronto – March 28, 2013 – After a huge response at Comic Con Toronto, Captain Canuck Incorporated (CC INC) is hosting an event to launch an Indiegogo crowd funding campaign for an animated Web Series based on the iconic Canadian Super Hero.
As superheroes dominate the big screen, Canada's own iconic champion, Captain Canuck has been reinvented for 2013 and is stepping into the limelight in an exciting new, 5 part, animated web series. And fans are being involved from the get go.
Actors Kris Holden-Reid and Paul Amos are set to take on the rolls of Captain Canuck and Mr. Gold respectively. Both stars appeared at Comic Con Toronto (March 9th & 10th). Along with Kalman Andrasofszky, they were signing and giving away free posters of the new Captain Canuck. Dean Henry, Chief Creative Director for CC INC said "The response at Comic Con was truly amazing, I was shocked at how the crowd responded." Dean added "It's clear that the fans really want this and we want to get them involved in giving Canada the hero it needs"
"Indiegogo has been a part of our plan for a while" says Mike Valiguette, Head of Development at Smiley Guy Studios. "It's a way to show an uncompromising vision of our project and taking it to the crowd is a way to not only make money, but more importantly show viability." Mike added "The response that the Veronica Mars movie has gotten is encouraging to us. If we can get a similar response on a Canadian scale, that would be amazing."
Toronto-based comic book artist, Kalman Andrasofszky (NYX: No Way Home, X-Treme X-Men, X-23) worked closely with CC INC in reshaping the look of Canada's original superhero. Also attached to the project is acclaimed animation director, Sam Chou (Style5.tv).
CC team wants to connect with fans and with the response on facebook it's happening faster that we thought it would
The indiegogo campaign will launch with a wide variety of incentives, from Tshirts to Associate Producers credits. Fans can even appear in the series as an animated version of themselves.
The event is open to anyone who likes the Captain Canuck face book page and will be held at The Great Hall, 1087 Queen St. West, Thursday, March 28th. There will be computers and wifi available on site for requests to contribute at the event. Special promotional items will be available to contributors and there will also be some surprise announcements.
For more information please contact:
Info@captaincanuck.com