Mark your calendars for March 13th 2012 because Corto Maltese: The Ballad Of The Salt Sea will be hitting North American bookshelves in English.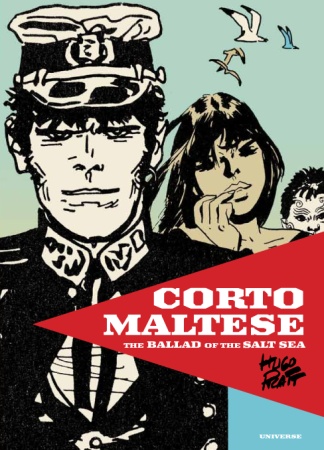 [quote]Treasure hunter, sailor, and adventurer, Corto Maltese remains one of the most popular characters from graphic literature in Europe and maintains a devoted cult following among American readers and creators. Originally published in 1967, Corto Maltese: The Ballad of the Salt Sea introduces our hero for the first time. The story begins with Corto Maltese adrift at sea in the Pacific during World War I. He is picked up by a Russian pirate/privateer named Rasputin. The graphic novel follows Corto and the adventure that ensues.
Corto Maltese: The Ballad of the Salt Sea is sure to appeal to fans of swashbuckling action-packed tales and sophisticated readers seeking elegant stories alike.[/quote]
Rizzoli New York through their Universe imprint has picked up the gauntlet and will be bringing English-speaking readers the first Corto work since 1987.  It's $25 and in paperback; no page count listed.  Unfortunately it's 6×9″ so we won't be able to enjoy the art in its original format.