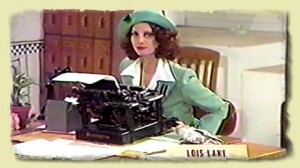 This is pretty — wow… I don't even know how to describe this… you must watch it.
"It's a Bird.. It's a Plane… It's Superman!" Was a 90 minutes  1975 TV special (based on the 1966 Broadway show.) As the text at Google Video explains,"This aired once, in the 1970s. It was never rebroadcast. You be the judge of why." Imagine the camp of Adam West's "Batman" crossed with the songs of "Bye Bye Birdie" composers Charles Strouse and Lee Adams.  The plot pitts Supes against a sort of Lex Luthor analogue called Dr. Abner Sedgwick who builds a death ray to destroy the world's symbol of good after being denied the Nobel Prize on ten occasions. The last son of Krypton also contended with rival reporter Max Mencken for the heart of the Daily Planet's perky Lois Lane.
It's really horrible.. but it has Lesley Warren in it, and I've always had a weird thing for her.
The best part? Superman singing: ""Why must the strongest man in the world be the saddest man, tell me why? Don't they know the strongest man can cry?""
Even better: There's a revival of "It's a Bird… It's a Plane… It's Superman!" planned for 2010!
Man, how creepy is Perry White.. he really comes off as a guy who has numerous bodies in his basement.